Worries over the economy and global debt levels have caused investors to rush to safe havens such as U.S. Treasury bonds amid the volatility in stocks.
Yields on the 10-year Treasury note recently dipped below 2% even though Standard & Poor's downgraded its triple-A rating on U.S. government bonds. Bond yields and prices move in opposite directions.
The jump in Treasury bonds has led to renewed talk of a bond bubble. The bond bears think the rally is setting up the market for an even bigger plunge when interest rates eventually rise, reports Sue Shellenbarger for The Wall Street Journal.
For years, many investors have been warning that U.S. Treasury bonds are in the final stage of a multi-year bubble that's set to burst. So far, it hasn't panned out.
The Federal Reserve's decision to keep rates near zero until mid-2013 should keep a lid on yields.

However, as rates remain low, the Treasury market will remain bloated, which has helped support pricing on everything else. When Treasury yields do rise, though, the losses will be felt throughout the market, remarked Elaine Stokes, co-manager of the Loomis Sayles Bond fund.

Eventual rate hikes may force bond holders to sell bonds at a fraction of what they paid for, with longer-dated Treasuries most at risk — higher rates diminish the total value of a bond holding.

For those who believe the bond run is due for a pullback, inverse Treasury funds that profit from lower bond prices include:
ProShares Short 20+ Year Treasury (TBF)

click to enlarge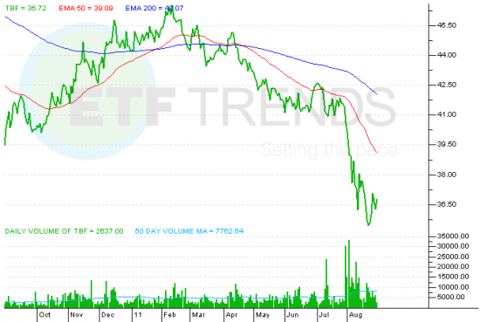 Max Chen contributed to this article.
Disclosure: None