By Bryan McCormick
Sector breadth in the S&P 500 has improved significantly in the last week. The graph below shows a broadening of activity away from the so-called "safety" sectors of health care, utilities, and consumer staples. Money now is flowing into energy and consumer discretionary as well.

Bullishness in consumer discretionary is potentially important as an indication of risk appetite because they are more aggressive than sectors like consumer staples and utilities that are green for the year. Amazon.com (NASDAQ:AMZN) has been key to the strength in the discretionary space. The online retailer accounts for almost 7 percent of the sector, which is just below McDonald's (NYSE:MCD) weighting. AMZN is up almost 12 percent in the last week, while other big names have climbed 2-5 percent range in the same period. This stock will remain key for the direction of the consumer-discretionary index.

Still, the conservative sectors of utilities, health care, and consumer staples sectors are still getting more of the bid overall. With gains of 8.2 percent, 6 percent, and 5.6 percent on a year-to-date basis, respectively, the preference is leaning in favor of the safety trade. We will have to see how long energy and consumer discretionary can maintain their bid. Despite some lift in the financials, they remain deeply underwater, and are down 16 percent on the year.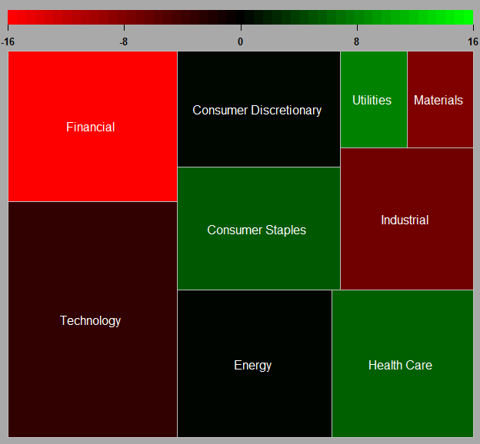 Click to enlarge


(Graphic courtesy of DeepFoo Analytics)