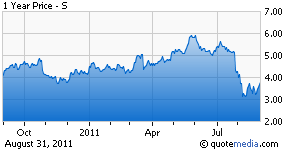 Sprint Nextel (S) shares are popping as the Department of Justice officially files a motion to block the AT&T/T-Mobile transaction. The deal, which would have combined the second and fourth largest cell phone providers in the U.S., would have been a negative for Sprint, making it the much smaller third player behind the now larger AT&T and Verizon Wireless, owned by Verizon Communications (VZ) and Vodafone Group (VOD). Even though AT&T (T) will continue to fight for the deal to be allowed in court, both its shares, and shares of T-Mobile's owner Deutsche Telekom (OTCQX:DTEGY), are taking a hit. For today, at least, the market seems to think Sprint is a big winner after the DoJ's decision.
So does today's announcement by the DoJ make Sprint a better investment? The short answer, in my opinion, is no, for a few reasons.
First, the deal is not completely killed, since AT&T will be going to court over the matter. The $3 billion break-up fee AT&T agreed to pay if the deal was blocked is very large, and it makes me believe AT&T had a strong conviction that it would be able to win approval for the deal, either without objection from the DoJ, or through a court battle. Second, removing a hurdle that was in front of Sprint is different than providing a tail wind to Sprint's business. A combined AT&T/T-Mobile would be a formidable competitor, and would make it harder for Sprint to set prices and attract handset makers. However, the deal failing does not make it any easier for Sprint to compete on price, or give it better leverage with handset makers. Apple's iPhone is still not available on Sprint, although rumors are that Sprint will be selling the iPhone 5 this October, bringing the iPhone line to Sprint four years behind AT&T and eight months after Verizon Wireless. It will continue to be hard for Sprint to compete if AT&T and Verizon Wireless continue to have such a head start selling new products.

That is not to say all is dire for Sprint. Business is improving, with net wireless additions over 1 million for the last three quarters, and $4.3 billion in cash, cash equivalents and short term investments at the end of Q2. It also signed an agreement with LightSquared which will bring in $9 billion in cash over 11 years, though the deal hinges on LightSquared getting FCC approval to operate its network, which can interfere with GPS systems. There are also rumors of Sprint acquiring the remaining shares of Clearwire (CLWR), possibly with the backing of Comcast (CMCSA), Cox Communications and Cablevision (CVC). Discussions are preliminary, but any such deal would be a large positive for Sprint, bringing in cash and access to new customers by cross selling through the cable companies.

Overall, I think Sprint is a company that could go either way. The case for it failing is easily made, as the company is a much smaller third player in the U.S. cell phone service space, with high debt levels and no profits. The bull case is that either through LightSquared or a buyout of Clearwire and a partnership with a cable company, Sprint will receive financial help building out its 4G network, giving it a leg up on competition for the new faster generation of services. Either scenario is plausible to me in the long term, but neither case was strengthened by the DoJ's announcement today. With that thinking in mind, I think Sprint shares are overreacting with the 7% jump today, and would expect them to give back today's gains as the euphoria wears off. The real upside catalysts for Sprint will be a FCC approval for LightSquared, or a partnership with a cable company, not this DoJ news.