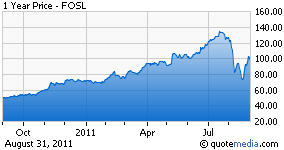 Fast growing stocks don't often come on sale, which is why investors should pay attention when companies such as Fossil (NASDAQ:
FOSL
) sell off sharply. The high-flying maker of time pieces and leather goods has dropped some 30% from its recent high, despite posting Q2 sales growth of 34.9%.
Focus On Sales And Earnings, Not Margins
Investors apparently weren't impressed by Fossil's record $556.7 million in quarterly sales, which was driven by a 32.1% increase in watch sales and a 30.4% increase in leather goods. Instead, they focused on margin pressures. But selling Fossil on margin worries is risky, because the company is growing revenue and earnings in a strategic move to grab market share. And while margins are taking a small hit, they're being made up for by rising sales.
Just last quarter, for example, those record sales helped spike operating income to a record $86 million; 34.1% above last year. Gross profit climbed 31.7% to $312 million. And earnings per share in the first two quarters of 2011 rose 24.8% to $1.66 per share. Ex-out the currency benefits, and total sales still increased a strong 28.4%. And all this happened despite margins dropping to 56% from 57.4% last year.
The majority of its sales come from its wholesale business, which accounts for 76% of revenue. But its direct-to-consumer sales are rising nicely too. In the quarter, direct-to-consumer sales were up 25.7% thanks to an impressive 22% gain in comparable sales. Fewer discounts helped, as did more stores. The company's e-commerce sales were also up a very respectable 20.2%.
Sales Are Growing Worldwide
The company's sales growth is widespread. North American wholesale sales were up 36% thanks to a 40.7% increase in watches. Sales to foreign distributors in Latin America were up a robust 64.4% and even in austerity conscious Europe, wholesale sales climbed 16.8% on watch sales growth of 18.5%. And those Europe sales would've been even better but inventory hiccups pushed some sales to Q3, which will provide tailwinds this quarter. In July, Fossil reported European wholesale sales were 35% above last year. The growth would've been better, but inventory delays pushed some of the sales to Q3. This will provide a slight tailwind to the current quarter. For example, Fossil reported July European wholesale sales were 35% higher than last year.
The brand is picking up steam in Asia too. Sales in the region increased 35.3% thanks to a 40.5% increase in watches, bringing sales from Asia to 16% of total revenue, up from 14% the prior year.
The balance sheet remains solid as well, with $332.2 million in cash and equivalents and only $13.7 million in debt. The company is leveraging sales growth against costs, with operating expenses falling to 40.5% of sales from 41.8% the prior year. And Fossil's cash flow allowed it to buy back 343.4 million in stock, some 5.2 million shares, in the past year.
While September is notoriously troublesome for retail sales and market returns, Fossil offers investors a strong growth story heading into the holiday shopping season. With guidance calling for Q3 and Q4 sales growth of 22-24%, and full year 2011 earnings per share of $4.44-$4.50, investors should consider using September weakness to build a position.
Disclosure: I am long FOSL.