Eleven companies have done especially well heading into September, with gains of 10% or more this month. Do these companies have the ability to keep moving up into the next month or should we expect them to drop in September?
Click to enlarge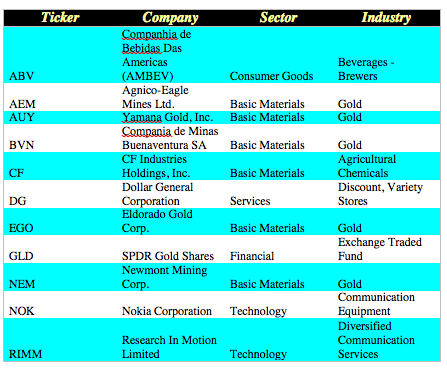 Here is how these selected companies have done over this past week and month, respectively:
Click to enlarge

We would like to know if there is a pattern developing in the month following a 10% or more gain for any month. We looked at the past 32 months and have compiled the following data:
Click to enlarge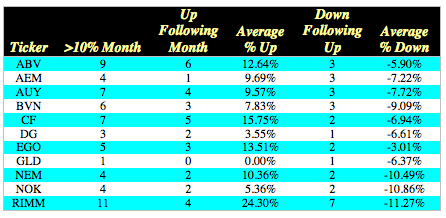 Interpreting the data: The first column shows how many months since the beginning of 2009 (32 months) each stock has increased 10% or greater in a month. The next set of data shows how many of the months following these large gains we saw a second up month. We then determined how much the stocks averaged moving up in this following month. Surprisingly ABV, AUY, CF, DG and EGO on average move up more frequently in this succeeding month. Even more interesting is how much some of these stocks continue to rise: ABV, AUY, CF and EGO all increase on average more than they will decrease, with ABV, CF and EGO averaging another 10% or more gain in that month.

If we see an even mediocre market in September, we like what we have seen historically from ABV, EGO and especially CF. Each of these stocks have the ability to continue to rise and have seen it in the past. In our previous article, we determined that CF has been rallying consistently over the past week, month, quarter, half year and year, and has consistently been a strong buy. Compiling these two stories together gives us a very strong feeling that CF will be an incredible buy in September, especially seeing its slight drop in price today – although we would like to see some solid drop in price.
Click to enlarge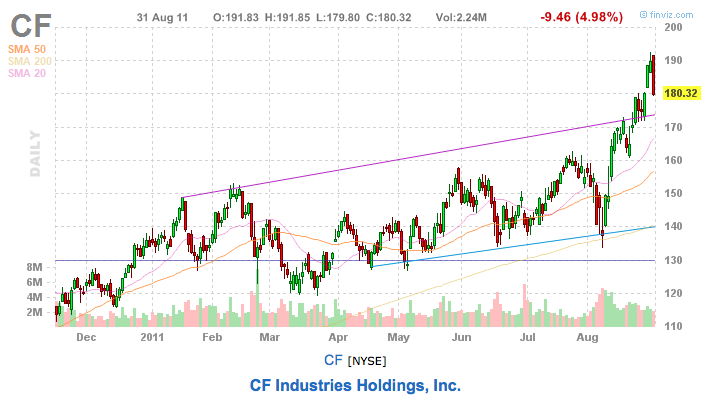 Eldorado Gold (NYSE:EGO) is a nice way to play the rise in gold. While we believe the move is overdone, we would like to be in a gold miner as they will definitely be able to outperform the market with downside hitting them less and upside being stronger on good days since they are in the stock market versus commodities market.
Disclosure: I have no positions in any stocks mentioned, but may initiate a long position in CF, ABV, EGO over the next 72 hours.