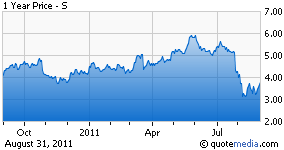 For years, Sprint Nextel (NYSE:S) has been relegated to third place in the U.S. wireless market, and bleeding customers, market share and profits. On the surface, it may seem like an uninvestable company. But as the saying goes, one man's garbage is another man's treasure, and we think Sprint Nextel is a treasure.
Many investors pass on Sprint because all they see is a dying network (Nextel) and a network that is struggling without the iPhone in an iPhone world. But we think if readers were to look beneath the surface, opinions would surely change. Sprint has over 52 million customers and it still does not have the iPhone. While Sprint has certainly lost customers, recent rumors about Sprint receiving both the iPhone 4 and upcoming iPhone 5 are gaining traction. (click here) We think it is all but certain that Sprint will be carrying the iPhone, which should not only stem post-paid subscriber losses, but also attract customers to Sprint, for it is the only major national network with unlimited data plans.
While the iPhone will be a short-term hit to margins, and since Sprint's subsidy to Apple (NASDAQ:AAPL) will be much higher than an Android phone (about $400), we think it is worth it in the long term. The impact on Sprint's network will be large, but Sprint has seen what has happened to AT&T (NYSE:T) and Verizon (NYSE:VZ), so we think the company has prepared its network so that it is not overwhelmed. But perhaps the most important reason for investing in Sprint is one that the company has been criticized for heavily.
Sprint controls 48% of Clearwire (CLWR), which operates Sprint's 4G network. While Sprint has been criticized for embracing WiMax instead of LTE, we think that Clearwire's move to migrate to LTE should mitigate this. In addition, Sprint has reduced its stake in Clearwire just enough so that it is not liable to pay for its debt should the company default, which we do not think will happen. While Clearwire may seem like an also-ran in the wireless space, its assets beg to differ. It holds billions in valuable spectrum, something that is not reflected in its stock price. Clearwire's market capitalization is just under $750 million, but its spectrum is worth over $4.3 billion.
Click to enlarge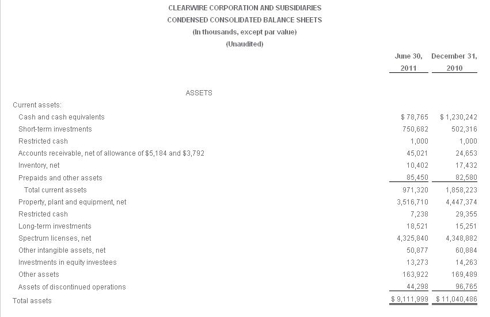 This spectrum is worth around $17/share, a huge discrepancy from where Clearwire now trades. Sprint's stake in this spectrum (48%) is a bit over $2 billion, (69 cents/share), something we think is not reflected in the stock price. With this spectrum, Sprint wins no matter what happens. Should the spectrum be sold, Sprint will see a huge gain, since the demand for spectrum is insatiable. Should Clearwire retain the spectrum, Sprint will still have a stake in it. Should Sprint acquire Clearwire (at a premium to its stock price, not its assets) it would gain control of all of this valuable spectrum.
We will not shy away from the fact that Sprint has the worst balance sheet of any company we have a position in. However, it is not deteriorating, and the debt load, while large, is manageable, given Sprint's cash flow.
Click to enlarge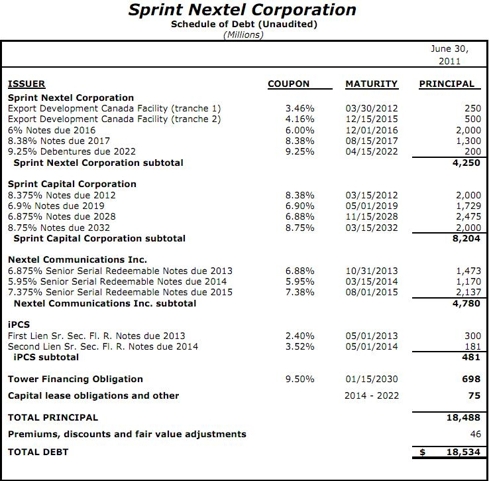 It is important to note that we have not yet mentioned the AT&T (T)/T-Mobile merger, which the Justice Department has sued to block on antitrust grounds. We have not mentioned it because we believe that it is not relevant in the longer term. The merger would cause prices to rise for customers and would allow Sprint to position itself as the national value carrier by removing T-Mobile from that role. Net-net, the merger, in our opinion, is neutral for Sprint, because either it removes T-Mobile as a competitor for the "value segment" or it does not change the competitive landscape if it fails, which is looking more like the outcome.
We think now is a good time to add or initiate a position in Sprint. It is trading at a discount to its true value, and analysts agree. Credit Suisse values Sprint at $8, S&P at $6, and Argus at $7, which provides a great deal of upside from its current level of $3.75. While the most recent quarter was disappointing, the arrival of the iPhone should address most of the concerns with post-paid customers. And Clearwire's losses are slowly but surely narrowing. Credit Suisse says that "We continue to believe that there is more unrealized value in Sprint than any other stock in our universe. However, the next leg of upside may take longer to play out than hoped, based on these trends." While these "trends" (customer defections, margins and Clearwire losses) will take some time to resolve, Credit Suisse did not downgrade the stock or lower its price target. This thesis will take time to play out, but for investors who are willing to wait, we feel it will be well worth the reward.
Disclosure: I am long S.