With the recent market drop, it may be the time to invest in quality companies that are now paying higher yields. I have reviewed several other industries in the services sector as I make my way through the list. As a result of my review I have written about several companies, including Intel (NASDAQ:INTC) and Safeway (NYSE:SWY).
I have now moved to the Recreational Activities industry, and only one stock made the list.
I hope this is of as much value to you as it has been to me. I set up an EDGAR online screener to find the companies in the sector that pay a dividend. I don't want to look at all the stocks that pay a dividend, so I filtered the results based on the following:
Must trade at least 200K shares a day on average.
Dividend yield must be a minimum of 3%.
Must not have a payout ratio over 80% based on the last quarter.
Carnival Corporation (NYSE:CCL)
Yield: 3.03%
Carnival Corporation operates as a cruise and vacation company. The company was founded in 1974 and is headquartered in Miami, Florida. In the last month, the stock has increased in price 0.43 %, with a one year change of 4.74%. Compared to the S&P 500 price changes, the price performances are 6.81% vs. the S&P 500 from a month ago. The year-to-date difference is -25.73% vs. the S&P 500 price change.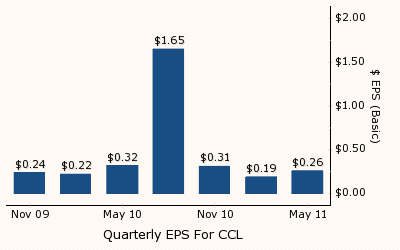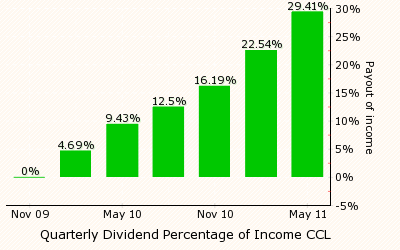 Remember, you must buy a stock at least three business days before the record date (at least one business day before the ex-dividend date) to qualify for a dividend.
I use a proprietary blend of technical analysis, financial crowd behavior, and fundamentals in my short-term trades, and while not totally the same in longer-swing trades to investments, the concepts used are similar.
Nothing in the article should be considered investment advise, but you may want to use this article as a starting point of your own research with your financial planner. I use Seeking Alpha, Edgar Online, Google Finance, MSN Money, cnbc.com, Zacks and Yahoo Finance for most of my data.
Disclosure: I have no positions in any stocks mentioned, and no plans to initiate any positions within the next 72 hours.