Israel is well known for its cutting edge biotechnology and pharmaceutical companies. The country boasts about 17 companies in this space; most are tiny start-ups with no or little in the way of revenues. However, Israel also has world-class pharmaceutical companies. Teva Pharmaceuticals (NYSE:TEVA) is the leading generics pharmaceutical company in the world.
From Thomson Reuters:
Teva Pharmaceuticals Industries Limited (Teva) is a global pharmaceutical and drug company. It develops, produces and markets generic drugs in all treatment categories. The Company has a pharmaceutical business, whose principal products include Copaxone and Azilect. Teva's active pharmaceutical ingredient (NYSEMKT:API) business provides vertical integration to Teva's own pharmaceutical production, manufactures and sells generic pharmaceutical products in a range of dosage forms, including tablets, capsules, ointments, creams, liquids, injectables and inhalants. As December 31, 2010, it had direct operations in approximately 60 countries, including 40 finished dosage pharmaceutical manufacturing sites in 19 countries, 28 pharmaceutical research and development (R&D) centers and 21 API manufacturing sites. During the year ended December 31, 2010, it acquired Laboratoire Theramex, Corporacion Infarmasa (Infarmasa) and Merckle ratiopharm Group (ratiopharm).
Before going on, I want to address the perceived risk associated with investing in Israeli companies. Some writers comment on the geopolitical situation in the Middle East and consider Israel-based companies to be riskier than the company's competitors located in other parts of the world. I think these writers are wrong for several reasons. First of all, companies such as Teva and Perrigo manufacture, research and sell their products worldwide. Secondly, the Israeli economy is stronger that most others, including that of Europe. The financial crisis that roils Europe and the U.S. has a very manageable impact on the Israeli economy. Where southern Europe is bankrupt, Israel has a healthy financial system. The omnipresent terrorist threat from Hamas and Hezbollah poses no existential threat to Israel. The threat from Iran will be existential when Iran obtains nuclear weapons and the means to deliver them. At that time, all Persian Gulf states, including Saudi Arabia will face the same threat.
The U.S. pharmaceutical industry accounts for 27.3% of the healthcare sector and is characterized by high investment needs. Most of the mature pharmaceutical companies have high margins and high dividend pay-outs. However, these same companies also face patent cliffs which will severely damage revenues for the foreseeable future. Though most pharmaceutical companies have new drug discoveries in their pipelines, the inevitable uncertainty of drug trials and regulatory approvals are sword hanging over their heads.
Some say that with the looming patent cliff, generic competition will wipe out some $60 billion from U.S. industry sales over the next five years. Furthermore, healthcare reform will place greater pressure on both consumers and the healthcare profession to utilize generic drugs.
Recently, Teva received a favorable ruling from the U.S. District Court for the Southern District of New York in regard to the company's patent infringement lawsuit against Novartis AG (NYSE:NVS), Momenta Pharmaceuticals (NASDAQ:MNTA) and Mylan Inc. (NASDAQ:MYL)/Natco Pharma Ltd. The suit is in regard to Copaxone, Teva's drug for the treatment of multiple sclerosis.
U.K. drug maker Sinclair IS Pharma PLC Wednesday said it has licensed rights to its oncology care product Episil in five European markets to Teva Pharmaceutical Industries Ltd. Under the deal, Teva will market the treatment in Germany, Spain, Poland, Switzerland and the Czech Republic.
Morningstar describes Teva "as the generics industry leader thanks to an aggressive history of acquisitions and a highly profitable portfolio of branded pharmaceuticals. Teva's branded pharmaceuticals, massive economies of scale, and vertically integrated operations create some of the highest profit margins and returns on capital in the industry. Although Teva faces near-term headwinds from impending generic competition on its highly profitable drug, Copaxone, we think Teva has the drug pipeline, manufacturing capabilities, and low-cost operations to assure its dominant position over the long term."
Significant institutional investors in Teva include Wellington Management, Thornburg Investment Management, Capital Research Global Investors and Goldman Sachs Asset Management.
Teva has had a rough year, seeing its share price decline about 21% over the past twelve months and 15% over the past month alone. Looking at the statistics, it would seem that Teva is oversold and offers a great buying opportunity.
EPS for the quarter ending 06/30/11 came in at $0.64 versus $0.88 in the year ago period. Sales rose to $4,212.0 million in this quarter compared to $3,800.0 million in the year-ago period. For the trailing twelve months, EPS was $3.48 compared to $2.81; revenues were $16,960.0 million compared to $14,805.0 million.

Looking ahead, analysts project solid growth. FY11 EPS projections range from a low of $4.90 to a high of $5.25. The consensus for FY11 is $5.07 per share. Growth continues into FY12 with earnings estimates ranging from $5.36 to $6.15 and a consensus of $5.70.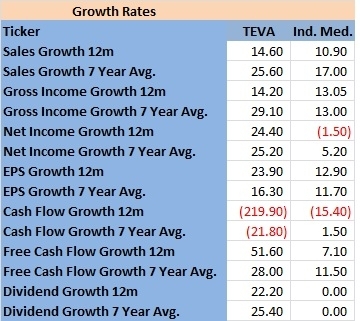 Historically, the company has grown at a rate that is greater than the industry median. Cash flow growth for both the trailing twelve months and the long term is a disappointment and turned negative for both the trailing 12 months and last fiscal year. On a positive note, free cash flow, at $4.61 per share exceeds reported EPS by a substantial margin. The free cash flow underpins the dividend of $0.88 paid out in the past twelve months and permits the continued growth in the dividend.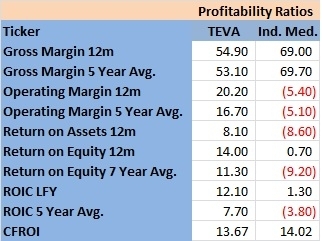 As we see, Teva's gross margins are somewhat less than the industry median. We attribute this to lower margins available to generics rather than a higher cost of goods. Otherwise, we see that Teva operates at a high level of profitability when compared with the industry median.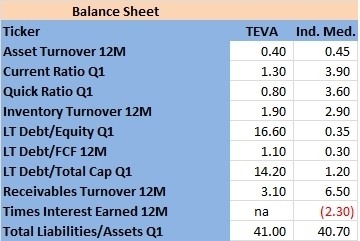 Arguably, the most important part of any analysis is the balance sheet. Companies can report sales or earnings growth even as they borrow themselves into bankruptcy. Teva has very manageable levels of debt. It is able to pay-off all long-term debt with about one year's free cash flow.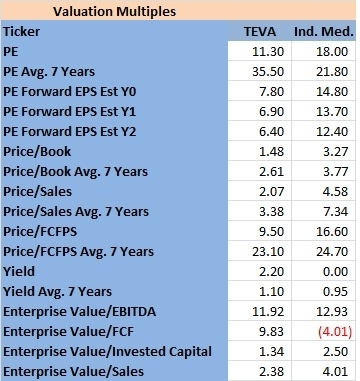 This is where the rubber meets the road. Is Teva overvalued, undervalued or fairly valued when considering earnings, free cash flow, debt, growth rates, etc.? With a current PE of about 11X, Teva sells at a discount to the market median and its own long-term average PE. Considering forward estimates of EPS, Teva is selling at both a discount to its industry median but at a bargain price with a PE of less than 7X. The same observation is made with the other valuation metrics. It is difficult not to conclude that Teva is seriously undervalued.
We believe that Teva's strong position in the generics market and the addition of patented drugs will drive solid top-line and bottom-line growth in the coming years.
Disclosure: I have no positions in any stocks mentioned, but may initiate a long position in TEVA over the next 72 hours.