Apple regularly beats its guidance and analyst expectations. Now it's about to enter a new super cycle of earnings beats.

Apple gives investors extraordinary visibility, unique to this company. As I discussed, in the first 2 parts of this series, Apple engages in UPOD; under promise, over deliver. No other company gives guidance, and then, blows that guidance away quarter after quarter. Knowing how to use that guidance is crucial to forecasting Apple's earnings and therefore, the direction of share price.

Apple earns more each quarter and posts increasingly better numbers, far better than their guidance suggests. The last 22 quarters charted below have all demonstrated strong guidance beats. Apple has upped the bar for the upcoming quarter, suggesting $5.50 EPS, much higher than any previous guidance given.

In my previous two articles, I reviewed how Apple's the difference between EPS and guidance is rising exponentially, a veritable crib sheet to predict the company's next earnings cycle. This time, I'm looking at EPS as a percentage beat of guidance. By doing so, investors will see Apple is moving into a "super cycle" of earnings.

Below is the graph of the last 22 quarters; number 22 is Apple's last quarter. Over those five years, Apple has beaten its guidance by 19 to 61%, a remarkable feat.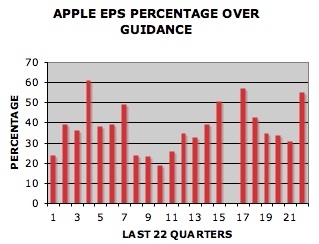 The best "beats" occurred in clusters: Q 2 to 7, Q14 to 18, and Q22. What happened during those periods?
The first period, Q2 to 7, the iPod ramped up. Apple surprised the world with this product's remarkable sales volume.

The second period, Q14 to 18, the iPhone shocked the world with its enormous popularity. Literally, over night Apple launched a product that would redefine communicating and displace Research in Motion (RIMM), Nokia (NYSE:NOK), and Motorola (NYSE:MMI) from their cellular perches. (Note Q16 is left out -- Apple changed its accounting system making it impossible to compare earnings and guidance for that quarter).
With Q22, we are starting a new cluster of high percentage beats. Last quarter, Apple's EPS came in 55% better than guidance. It was marked by huge iPad and iPhone sales. The company posted record EPS during what is usually a seasonally weak quarter. This is the first of a new monster cluster of remarkable earnings, one that will last for good long time. EPS should beat Apple's guidances by 35 to 62% over the next three to five quarters.

Apple is in a sweet spot now.

We are at the start of a new Apple supercycle of booming earnings.

Disclaimer: The opinions in this document are for informational and educational purposes only and should not be construed as a recommendation to buy or sell the stocks mentioned. Past performance of the companies discussed may not continue and the companies may not achieve the earnings growth as predicted. The information in this document is believed to be accurate, but under no circumstances should a person act upon the information contained within. We do not recommend that anyone act upon any investment information without first consulting an investment advisor as to the suitability of such investments for his specific situation.

Disclosure: I am long AAPL