Ok, so that's a catchy title to correspond with the new Facebook app that Monster Worldwide (NYSE:MWW) created to counter the trend towards social media recruiting especially by LinkedIn (NYSE:LNKD).
In reality, 2011 has been the year to not own MWW. Clearly any investor holding this top S&P 500 loser all year doesn't want to be known by the public. Times might be changing though as anybody buying since mid August could've participated in the 21% gain on Tuesday.
The move might be short lived as the jump corresponded to insiders buying a little over 87K shares for over $700K. Considering they bought at $8.17 and the stock hit over $10 Wednesday it might not be such a bad move to follow them. Typically though insider transactions aren't the best indicator for stock gains, though it never hurts.
Ultimately the reason to own MWW is that it still maintains a healthy brand in the online recruiting space and the recent launch of BeKnown on Facebook gives them the opportunity to not only catch up with LNKD, but possibly to capture a good share of the social media audience.
For now, LNKD only captures the more educated and business leaders that focus on networking in between jobs, amounting to just 100M+ users on their platform. Facebook, on the other hand, has monthly users above 750M leaving plenty of users looking for jobs not wanting to use a completely different social media source.
Another reason is that MWW has actually reported very solid revenue growth and earnings this year contrary to its stock price movement. The market fears the LNKD competition as well as huge concerns over the weak job market adds up to a very weak stock whether justified or not.
The Monster Index has shown a steady improvement along with the government job growth numbers. Remember, MWW makes money based on the number of job seekers and open jobs, not the net job growth headline number reported by the government. Hundreds of thousands of people change jobs each week whether or not a single job is created.
The forward PE has even dipped to 12, making the stock very cheap assuming the economy doesn't crater and the "E" can be trusted. That makes MWW a cheap stock with a major catalyst, not something crossed often in this market.
BeKnown has received decent reviews even with the stock price cratering. Has the market forgotten about this catalysts already? It was just recently out the door when Q2 ended, so maybe the market expected too much from the app when the earnings results were reported.
John Bersin posted to his blog a bullish overview of the BeKnown app. He points out how the demographics of Monster fit really good with Facebook, suggesting that the untapped market is likely to move towards a Facebook app whether BranchOut or BeKnown rather than LinkedIn.
Whether BeKnown becomes the professional social network of choice for Facebook will be crucial to the stock price of MWW, but the evidence suggests that it has a good chance of success. This provides for a great risk/reward situation with MWW stock especially as it pulled back Wednesday from the 21% rise on Tuesday.
According to independent Facebook metrics provider AppData, Beknown is continuing to gain share on BranchOut. BeKnown hit all time highs yesterday after a swoon in mid-August. Though DAU only hit just below 80K so it's not a major his as of yet. The key for now is too beat BranchOut rather than LinkedIn. Considering BranchOut hasn't become established and MWW has the brand name, it would be natural for MWW to overtake them. Beating LinkedIn is another story, but for now they really aren't the competition as they serve different job markets.
Buying MWW on a further pullback closer to the 13ema just might make for an attractive risk/reward scenario, considering the marjor catalyst that the Facebook app could provide.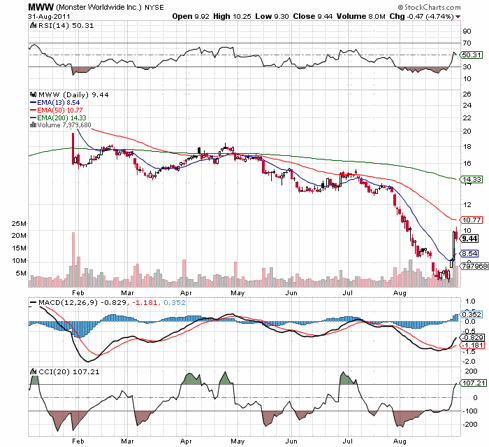 Disclosure: I have no positions in any stocks mentioned, but may initiate a long position in MWW over the next 72 hours.
Additional disclosure: Article is provided for informative purposes. Please consult your financial advisor before making any investment decisions.