I don't know know about you, but I like to follow the two most important rules of investing:
1. Don't lose money.
2. Don't forget rule #1.
Of course, these are the wise words of the Great Benjamin Graham, popularized by Warren E. Buffett and pretty much any other true value investor (ie. Pabrai, Munger, Klarman, Greenblatt, etc.). This volatile market of course has made this rule harder to follow than usual as Mr. Market has been really testing every investor's resolve. I for one though like to look for opportunity in turbulent times as many "investors" many times give in to fear when they should be looking towards greed.
A great opportunity I see today is in Eastman Kodak (EK).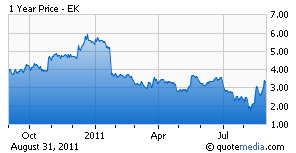 The investment thesis in EK is real simple (I like simplicity, especially when it comes to investing) in how it's a deeply undervalued company on a sum-of-parts and comparables basis when looking at its patent portfolio: assuming a $0 value to its quite valuable brand name ("make it a Kodak moment" is still a recognizable tagline folks).
As most people know, on Aug. 16 EK started its surge from a $2.14 close to an Aug. 17 $2.69 close and currently started the week at ~$3.01 as more people warm to the idea that the extremely cash rich tech companies (think AAPL, MSFT, INTC, even GOOG) still have plenty of cash left and are looking to continue to stock profitable patents in the rather cheap EK, even when factoring in its $1.2 B underfunded pension. Moreover, there's been some noticeable insider buying in May, June and July of this year all the way up to the $3.20 price, showing evidence that senior management has confidence in the company.
Real simply though, I see a great, relatively safe opportunity that I myself have used with Oct 2011 $2 and $2.5 EK calls. At today's EK ask price of $3.03, you can sell the extremely conservative Oct $2's at a $1.1 bid netting you $.07 on a $1.93 total investment if EK gets exercises ($3.03 purchase price - $1.1 premium = $1.93 invested). This translates into a $.07/$1.93=3.6% return in the 54 days until expiration which translates into a 24.5% annualized return for a stock trading 51.5% above the strike price and well above even before the news hit the wires of these valuable patents.
For the riskier investor looking for a great reward, the Oct $2.5 call gives you a $.78 current bid, netting $.25 on a $2.25 total investment ($3.03 - .$78 premium) translating into a .25/2.25=11.1% return in 54 days meaning a 75.1% annualized return. This still shows some great downside protection as EK is currently trading over 21% above the $2.5 strike price, however, that is above the $2.14 close it had on Aug. 16, the day before the patent news became widely known.
This is a risk I'm happy to take when I see that at best, cash lying around can get you 1%; commodities seem a little too rich at the current moment, and the current financial sector seems to show great value. But I've fallen into a value trap before and that seems to be the case right now when I see Bank of America (NYSE:BAC) giving away some valuable equity at a very expensive 6% when they are having a tough enough time lending (ie. mortgages) and getting 4%.
As always, I recommend using limit orders, especially in the relatively illiquid options market. Always consult with a finance professional before risking your hard-earned money
Disclosure: Author is long EK, Oct 2011 $2 and 2.5 call options.