Abbott Labs Inc. (NYSE:ABT) is a diversified pharmaceutical corporation that has had somewhat recent analyst activity. Morgan Keegan downgraded the stock from "Outperform" to "Market Perform" on August 24th and lowered the price target from $60 to $57 a share. About a month before, on July 12th UBS upgraded the stock, boosting EPS estimates and the target price to $59/share. Citigroup issued a "sell" rating on the stock for some reason on August 30th, and lowered the target price.
After Abbott's Q2 earnings report on July 20th, 2011 the higher-than-expected EPS wasn't reflected in the stock's price action, which took it from its highs of about $53 a share close to $47 a share in the depths of the latest stock market crash following the S&P downgrade of US debt. The shares have recovered from their lows in August, and assuming no horrific news about the economy, Abbott shareholders should expect relatively little turbulence in the coming months as the market gets back on track.
Abbott earnings have reached a new high as of 2011, hitting an EPS of 1.23. This is fed by a steadily increasing revenue stream which has shown relatively steady growth over the last 10 quarters. Dividends have been increased over the years as well, and have just been boosted again earlier this summer. In general, financial data for Abbott implies that the company is continuing to grow its product line in slow but predictable ways which suits investors focused on reducing volatility and collecting dividends. While this is true of most large-cap pharmaceutical companies, Abbott has extra-strong presence in diagnostics and other side-branches, which makes it great for diversification in a healthcare portfolio and has much more stable trends than certain pharmaceutical giants like Pfizer (NYSE:PFE) who have scary events occurring in the future (generic Lipitor being one of the most significant).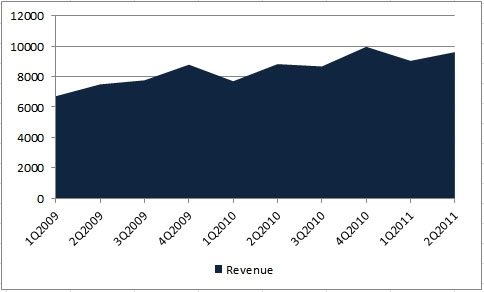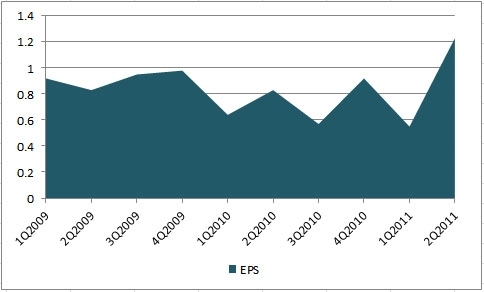 On August 22, ABT received FDA clearance for its new prognostic test which is used to detect Chronic Lymphocytic Leukemia (CLL), the most common type of Leukemia in the US and Europe. The FISH genetic panel contains probes which search for genetic variations that are known to affect the progression of Chronic Lymphocytic Leukemia. The market for this should be quite significant, as oncologists around the globe often lack ample evidence for a clear prognosis. This FISH panel should make it very quick and easy to acquire genetic information about patients that may have been less efficient prior to the introduction of Abbott's product.
Another new FDA product approval came on August 26. A molecular diagnostic test called the "ALK Gene Test" is an efficient way for doctors to examine cases of non-small-cell lung cancer, another very prevalent disease especially in the United States. Not too dissimilar from the FISH probe for Chronic Lymphocytic Leukemia, this product will have ample market share to boost Abbott's revenue in the coming years.
Abbott has moved back to its position from before the market crash in August. While this may irk some value investors, the P/E is only a mildly expensive 16 and the yield is large at 3.66%. In addition, the company has had double digit revenue growth in many key niche and competitive markets in the last year including molecular diagnostics and emerging markets pharmaceuticals.
Considering the growth prospects of the firm and the dividend yield, the risk-to-reward ratio for shares of ABT is very favorable for any investor looking to establish positions in healthcare equities. It is similar to other safe haven healthcare giants like Johnson & Johnson (NYSE:JNJ), but I'd argue that it's an even better bet. Johnson & Johnson has a great dividend and will not be decreasing it, but it's being crushed by its own weight. Revenue growth isn't there, and the equity very unlikely to appreciate unless there is a significant change in the company's performance.
Abbott on the other hand has a clear uptrend, and may have some noticeable appreciation in stock value on top of its larger dividend. If you are looking to invest in a healthcare company, ABT is one of the most assured bets you can make in this market.
Disclosure: I have no positions in any stocks mentioned, and no plans to initiate any positions within the next 72 hours.