Buy Clearwire Corp. (CLWR)
: CLWR provides wireless broadband networks for the delivery of residential and mobile Internet access and voice services. CLWR customers connect to the Internet using licensed spectrum, thus eliminating the confines of traditional cable or phone lines. The company offers its service in 50 U.S. markets, as well as in Europe. CLWR stock was up 11.5% yesterday.
We issued a buy on CLWR earlier on August 4, when the stock was trading in the $2 range, and it is up over 60% from that level in the last three weeks. We continue to believe in the value of its spectrum assets, which some have speculated could fetch as much as $20 billion in an auction. Also, the company continues to be the target of takeover rumors by its partner Sprint Nextel Corp. (NYSE:S) and also cable companies. Furthermore, we also believe in the company's recent decision to embrace rival LTE technology for its 4G implementation, as by doing so it has taken up some insurance against its own irrelevancy as its technology is no longer tied completely to WiMax, a technology that is in danger of becoming obsolete. And finally, yesterday's news on the Justice Department blocking the merger of AT&T (NYSE:T) and T-mobile is also positive for the company. The merger would have created a virtual duopoly in the U.S. wireless industry, along with Verizon Communications (NYSE:VZ), and weakened its partner Sprint's and CLWR's competitive position for offering 4G services. At yesterday's $3.21 closing price, CLWR is a bit expensive compared to when we recommended it earlier in the $2 range, but we continue to believe in its long-term value.
Buy Openwave Systems Inc. (OPWV)
: OPWV provides open standard mobile phone software and services to telecom and media industries. Its products include service mediation products that enable telecom service providers to operate an open, all-IP platform; messaging products including mobile, e-mail and voice solutions; and location products to enable location-based services such as for emergency and commercial uses.
OPWV shares were up 29.9% yesterday on news that it filed legal action with the International Trade Commission (ITC), requesting that the ITC bar the import of smart phones and table computers that infringe OPWV patents covering how mobile devices connect to the Internet. This included Apple Inc.'s (NASDAQ:AAPL) iPhone 3G, iPhone 3GS, iPhone 4, iPod Touch, iPad, and iPad2 products; and Research in Motion Ltd.'s (RIMM) Blackberry Cure and Blackberry Playbook products. Notably absent from the list was Google (NASDAQ:GOOG) as its Android powered devices may also be similarly infringing on OPWV patents, fueling speculation that OPWV may already be in discussion with GOOG on licensing its patents. At yesterday's closing price of $1.91, OPWV's market cap is still only $162 million, and it has almost $100 million in cash and investments on its balance sheet. We believe yesterday's announcement signals the company's intent to try to monetize its patents going forward, and with speculation about a GOOG licensing settlement in the works, the stock is a steal at current prices.
Sell Adventrx Pharmaceuticals (ANX)
: ANX is a biopharmaceutical research and development company whose business strategy is to commercialize leading edge medical research through licensing agreements with prominent universities and research institutions. The company's current efforts focus on treatments for cancer based on the improvement of existing drugs and addressing limitations with their safety. The stock rose 10.6% yesterday, following a 14.3% rise on Tuesday, after the company announced that it has scheduled meetings with the FDA on three late-stage products. This includes a Type A meeting regarding its NDA for Exelbine for the treatment of non-small lung cancer; and a Type B and clinical meeting on two other late stage products. We
recommended a sell earlier on August 10
, and continue to stand behind that. Based on the CRL issued by the FDA, it seems highly unlikely that Exelbine will be approved without another pivotal trial, and the company will need to raise more money to conduct that trial. Hence, Tuesday morning's news on a Type A meeting with the FDA does not seem significant, and any rally resulting from that non-event presents a selling opportunity.
LTX Credence Corp. (LTXC)
: LTXC manufactures automated test equipment used in the fabrication of ICs for wireless, computing, automotive and consumer markets. The stock fell 13.9% yesterday after the
company reported disastrous guidance
for the October 2011 quarter in its July quarter report. While it narrowly missed current July quarter revenue and earnings, it guided down October quarter revenue to $35-$39 million versus analyst estimates of $64.9 million, and it guided to a 6c-10c loss for the quarter versus analyst estimates of a 26c profit. LTXC has over $160 million of almost $3.25 per share in cash on its balance sheet, and we believe at yesterday's $5.69 close, the company has already priced in most of the negatives from yesterday's announcement. The semiconductor equipment industry is cyclical, and the occasional soft forward guidance is not uncharacteristic in the industry. Furthermore, the softness seems industry-wide and not company-specific.
Fibertower Corporation (NASDAQ:FTWR), American Tower Corp. Cl A (NYSE:AMT), Crown Castle International Corp. (NYSE:CCI), and SBA Communications (NASDAQ:SBAC)
: FTWR provides microwave- and fiber-based backhaul services to wireless carriers for the transport of voice, video and data traffic; and AMT, CCI and SBAC operate cellular towers used by wireless service providers. All four were up yesterday on news that the
U.S. government filed an antitrust complaint
surrounding the proposed merger between AT&T and T-Mobile USA removing negative overhang risk for these companies, with FTWR being up the strongest at 46.9%, SBAC up 4.2%, CCI up 2.6% and AMT up 1.2%.
FTWR has been in a tail-spin since topping out at $18 in late 2009, as revenue growth has flattened out while the company continues to incur significantly lower but still huge losses relative to its revenue. Between 2007 and 2010, revenue increased from $27 million to $76 million, gross profit improved from ($45) million to $15 million, and the company reduced operating losses from $246 million in 2007 to $36 million in 2010. However, revenue and operating losses have been almost flat over the last five quarters since June 2010, and the company still lost $11.5 million on $23.4 million in revenue in the June 2011 quarter. The stock has also been very volatile recently, rising almost 150% in two trading days in late May and then again, in the second week on June, on the back of rumors of a possible acquisition of the company. Both rallies were quickly reversed giving back most of their gains. We would look at yesterday's rally as another selling opportunity, as the company-specific fundamentals in terms of flat revenue and high losses will need to be improved first before the stock can mount any sustainable price improvement.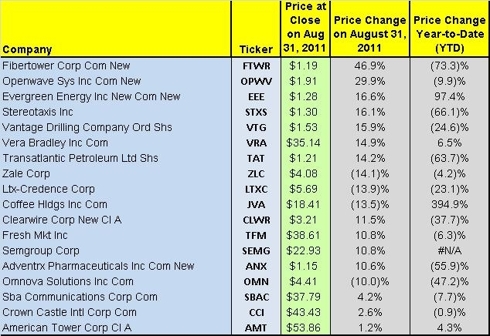 Credit:
Historical fundamentals including operating metrics and stock ownership information were derived using SEC filings data, I-Metrix by Edgar Online, Zacks Investment Research, Thomson Reuters and Briefing.com. The information and data is believed to be accurate, but no guarantees or representations are made.
Disclaimer:
Material presented here is for informational purposes only. Nothing in this article should be taken as a solicitation to purchase or sell securities. Before buying or selling any stock you should do your own research and reach your own conclusion. Further, these are our 'opinions' and we may be wrong. We may have positions in securities mentioned in this article. You should take this into consideration before acting on any advice given in this article. If this makes you uncomfortable, then do not listen to our thoughts and opinions. The contents of this article do not take into consideration your individual investment objectives so consult with your own financial adviser before making an investment decision. Investing includes certain risks including loss of principal.

Disclosure:
I have no positions in any stocks mentioned, and no plans to initiate any positions within the next 72 hours.