Volatility returned to the markets in a big way during the month of August, as negative news flow was plentiful. The debt ceiling debate in Washington, the S&P downgrade of the U.S. credit rating, continued weak economic readings in the U.S., and concerns of a deteriorating situation with the European debt crisis all contributed to investor confidence falling to levels not seen since the early 1980's (yes, worse readings than in 2008-2009).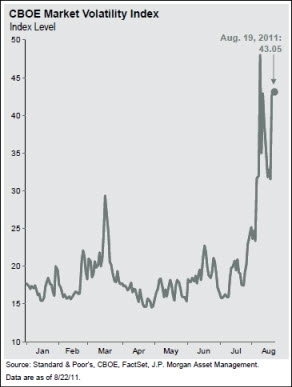 Investors fear levels, as measured by the VIX index, jumped 50% higher on August 8th, the Monday following the S&P downgrade. It has consistently remained above the 30 level, and closed at a high this month of 48. This compares to a level of 25.25 at the end of July and just 16.50 at the end of June. Since then, the VIX has traded in a range from just above 30 to the 45 level. At today's close, the VIX sits at 31.62.
While hindsight is 20/20, the VIX has dropped 34% since its August 8th high close. The VIX historically trades in a range from 15 to 22 in a "normal" market, and while the timing is debatable with obstacles still ahead for the global economy, sooner or later market participants will once again become complacent, and the VIX will fall. A move from today's levels back to this historical normal range would result in a 30% to 50% drop – an opportunity for investors.
Barclays offers two ways for investors to play a decline in volatility through long investments, both with iPath exchange traded notes. On the surface, it is difficult to determine the difference between the iPath Inverse S&P 500 Vix S/T Fut ETN (NYSEARCA:XXV) and the iPath Inverse Jan 2021 VIX ST Fut ETN (NYSE:IVO) (the purpose of this article is not to compare the two investment vehicles), but when evaluating a chart of the two, it is clear that IVO provides a more magnified return than XXV and neither XXV nor IVO provide a -1 correlation to the actual VIX. Regardless of potential tracking error, it is apparent that if the VIX drops, investors should make money through either of these investments.
During the month of August, IVO declined 37.56%. To recover this loss (or regain its closing value of July 29th), it must rise nearly 60%. Yes, it is possible that volatility could spike again first before falling. However, considering the potential return and the fact that volatility could decline even in a sideways market, this investment appears attractive. Or, for a more risk-averse investor, consider XXV, which declined a more measured 8.09% and would require nearly a 9% return to recover its monthly losses.
After enduring August's bumpy ride, is a market return to normalcy on the horizon? Or will September, historically the worst month of the year for equity markets, bring additional signs of investor distress? Time will tell, but one thing is certain – volatility levels will fall. The big question is when.
Disclaimer: Articles written by associated persons of Kenjol Capital Management ("Kenjol") may contain a discussion of, and/or provide access to, Kenjol's (and those of other investment and non-investment professionals) positions and/or recommendations as of a specific prior date. Due to various factors, including changing market conditions, such discussion may no longer be reflective of current position(s) and/or recommendation(s). Moreover, no client or prospective client should assume that any such discussion serves as the receipt of, or a substitute for, personalized advice from Kenjol, or from any other investment professional. Please remember that different types of investments involve varying degrees of risk, and there can be no assurance that the future performance of any specific investment or investment strategy (including those undertaken or recommended by Kenjol), will be profitable or equal any historical performance level(s).Kenjol is an SEC registered investment adviser located in Austin, Texas. Kenjol and its representatives are in compliance with the current filing requirements imposed upon SEC registered investment advisers by those states in which Kenjol maintains clients. Kenjol may only transact business in those states in which it is registered, or qualifies for an exemption or exclusion from registration requirements. Accordingly, the publication of an article written by an associated person of Kenjol on the Internet should not be construed by any consumer and/or prospective client as Kenjol's solicitation to effect, or attempt to effect transactions in securities, or the rendering of personalized investment advice for compensation, over the Internet. For information pertaining to the registration status of Kenjol, please contact the SEC or the state securities regulators for those states in which Kenjol maintains a notice filing. A copy of Kenjol's current written disclosure statement discussing Kenjol's business operations, services, and fees is available from Kenjol upon written request. Kenjol does not make any representations or warranties as to the accuracy, timeliness, suitability, completeness, or relevance of any information prepared by any unaffiliated third party and takes no responsibility therefore.