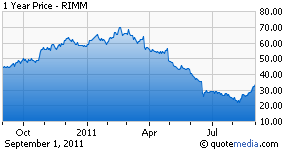 In a previous article, I gave you three reasons why Research In Motion's (RIMM) stock is poised to double. But before we move on, let's first agree that the stock has already reached its bottom. I think we can safely agree on this. In this down market, I have not had too many reasons to boast lately, but calling it right on RIM three weeks ago is one thing on which I can hang my hat on at least through the end of the year. Regarding RIM, In the latter article, I said this:
On Thursday (8/11) RIM surged 9.4% to close at a price of $24.18 on 29 million shares. If you have been following my articles over the past several months, you will see that I have been a long time

bear of Research In Motion

. I have called it the market's

falling knife

as well as suggesting that its management

come out with their hands up

after holding the stock price hostage for most of the year. But I can't help to realize that the company might have just reached its bottom on Monday, at a price of $21.60.
The stock price was just an arm's length away from

my short target of $20

and seeing how it has bounced off of that price suggests to me that it may be time to take a second look at the stock. I am now bullish on the company and feel that most of the negative news has now been priced into the stock and more realistic expectations have been set regarding its recent struggles. I now have a new 12-month target on the stock of $30 and feel that it is now a tremendous value.
That following Monday, I bought the stock at a price of $25.32 and as of Wednesday's close, it has already produced a return of over 25%. The obvious question now should be where is the stock heading? The clear answer is "higher," but more specifically, to what level?
On Monday, it became evident there were three reasons to expect the stock to double. You can call it my "confirmation bias," but I'm going to call it being opportunistic. I have a near term price target on the stock of $42, but my double is predicated on my cost basis, which implies a $50 dollar valuation. I will admit that this is an aggressive projection, but when one considers that the stock's all time high is in the $140s, then the projection does not seem that far-fetched, particularly when some of the events that have caused its beating have dynamically changed.
One such event was Google's (NASDAQ:GOOG) acquisition of Motorola Mobility (NYSE:MMI) for $12.5 billion or $40 a share in cash, a move that I felt was in an effort to defend its Android ecosystem from rising IP threats from Microsoft (NASDAQ:MSFT) as well as Apple (NASDAQ:AAPL). Its near-term challenges and distractions of integration as with the partnership involving Microsoft and Nokia (NYSE:NOK) could help RIM gain market share. Not only can this deal potentially deteriorate the hand of Android OEMs, but it may also place further strain on various competitors to acquire what is known as "third platform" status.
When deals of this magnitude take place, it forces other companies to take notice and consider their own options in terms of synergistic advantages. As mentioned earlier, the Microsoft-Nokia acquisition, where it might have been once on the "warming burner," may now be moving to "boiling." But this now only makes RIM the most likely acquisition target. Consider that Google offered 60% above fair market value for Motorola Mobility, if using this as the standard, this would value a RIM acquisition of a per share price of close to $50, a significant premium above where the stock currently sits.
I once agreed that RIM should acquire Sirius XM (NASDAQ:SIRI). I agreed that this acquisition was necessary primarily due to RIM's struggling effort with its own music service. However, last week investors welcomed the news that the company announced a new $5 a month cloud-based BBM Music service. There were also some intriguing revelations as subscribers will now be allowed to share songs with fellow subscribers. RIM will also allow users to select up to 50 songs per session which means the more BBM friends a subscriber has, the more music selections that will be made available to the user via the cloud, which by the way allows users to exchange up to 25 songs per month.
Another key reason to expect RIM to double was Hewlett-Packard's (NYSE:HPQ) decision to forego its tablet/smart phone plans. During the announcement, HP's CEO Leo Apotheker offered some very interesting remarks while offering some insight into just how competitive the landscape is:
"The company needs to sharpen its focus and its consideration of options for its PC business. This realization came after his first nine months on the job, during which time he "examined each of the company's businesses in depth" and "carefully considered the path forward." However, one of the most poignant statements that I read was where the CEO simply offered, "The tablet effect is real and sales of the TouchPad are not meeting our expectations."
He also said, "Due to market dynamics, significant competition, and a rapidly changing environment and this week's news." What did he mean by "this week's news?" Was he referring to Google's announcement? My gut tells me yes. If this is the case, HP is admitting that its acquisition of Palm as well as its initial tablet plans were mistakes. This will only help RIM by eliminating another potential threat not only in the enterprise, but also in the consumer space.
There Are Plenty Of Reasons To Be Excited About RIM's Future
I will be the first to admit that the company still has many challenges ahead, but at the same time, the many positives will continue to make RIM a compelling story and one that will likely go down in history as a remarkable turnaround. During the course my recent bearishness in the company, I have cited its drastic market share drop in the smart phone market. However, a lot of that has been mostly in the U.S. and not the case for its international sales.
RIM's devices still make up 42% of the smart phones currently in use in Canada. Not to mention, despite what many (including myself) would consider a tough Q4, 2010's global unit sales for Research in Motion actually grew by 38%. Despite growing challenges during that time, RIM has managed to grow earnings every year since 2005.
Another reason to have some optimism has to do with some recent events; many of which caused me to beat up its management. But in retrospect, these very same reasons may turn out to be "blessings in disguises." Admittedly, it was an unfortunate turn of events as well as horrendous timing to consider the switch to an all new operating system platform. But investors have to now consider that this delay (although unplanned) makes more sense as opposed to a later deployment.
Finally, the new QNX operating system has the potential to once and for all address the current demands of RIMs consumers, which are apps and lots of them. RIM has had the advantage of seeing the effects of the iPhone, Android as well as Microsoft's Windows Mobile phones on the market. The consumer demands have been pretty consistent. Where RIM once focused primarily on the enterprise, it should now have an opportunity to make some headway on the consumer market. For these reasons, investors should expect RIM to approach a return to its glory and a $50 stock over the course of the next 12 months if not sooner.
Disclosure: I am long RIMM, SIRI.