(Along with this article, I encourage readers to review my preliminary notes posted at my Seeking Alpha blog on August 30, 2011.)
Over the past two years, many of you have gotten to know me from my work covering various opportunities in the biotech space, namely optionable cancer drug makers.
In
late May
and
early June 2011
, I alerted investors to the biotech correction that actually occurred two months later in
early August 2011
. Some patient investors on
my site
did quite well playing the recommended iShares NASDAQ Biotech ETF (NASDAQ:
IBB
) June $105 and September $100 put options which I commented on under my
June 6, 2011
article.
This year, I have also been working to uncover other potentially good opportunities in optionable ETFs. And I believe I've found one.
Note: I use ETFs to get exposure to both long and short positions in various industries, sectors, commodities and select currencies. I neither cover nor explore the mechanics of specific ETFs.
Click to enlarge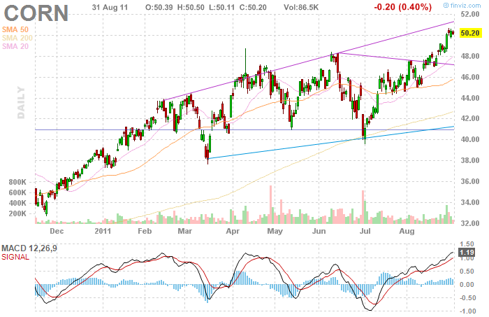 Click to enlarge
ETF SHORT IDEA: Teucrium Corn (NYSEARCA:CORN)
In case you haven't noticed, corn investors have bid prices up to all-time highs. I believe the craziness that has been surrounding corn presents investors with a potentially very good opportunity to generate some nice gains.
I don't believe for a minute that corn prices will just continue to climb higher unchecked. By the way, have you seen milk prices recently? I was floored the other day when I paid $3.59 for a gallon of milk. As I recall, we were just paying around $2.50 for a gallon of milk earlier this summer. Just so you know cows eat corn.
Whether there's a correlation between milk and corn prices, I don't know. What I do know is that corn prices will come down eventually. Nothing and I repeat nothing runs in a straight line. As such, I believe that we'll soon see a correction in corn.
The corn bulls argue that we have a supply issue. As result of dry weather, the U.S. crop is expected to come in a bit lower than what was previously expected. OK.
Meanwhile, a corn boom is forecasted in South America, namely in Argentina and Brazil.
Argentina is the second largest corn exporter behind the U.S., which only exports about 15% of its crop to foreign buyers. Regarding Argentina, the USDA Economic Research Service explains, "farmers there plant their corn after the size of the U.S. crop is known, providing a quick, market-oriented supply response to short U.S. crops."
On August 20, 2011 Merco Press
reported
:
The Argentine 2011-2012 corn harvest could hit a record 30 million tons.

"Corn output will reach a historic 30 million tons," said Pablo Adreani, head of Agripac consultancy in Buenos Aires, adding the area earmarked for corn could rise to 4.65 million hectares from 4 million hectares last season.

Argentina is the world's No. 2 corn exporter after the United States. Corn futures on the Chicago Board of Trade have jumped more than 60% over the past year.

The Buenos Aires Grains Exchange forecasts 2010-2011 corn output at 21 million tons while the USDA foresees a crop of 22 million tons.

However some industry experts say La Nina could once again hit crops this season but its effect would be moderate. "If good weather permits it, we'll have a corn crop of between 26 and 27 million hectares," said Juan Gear.
Brazilian farmers also appear to be excited about the high price of corn. There, the number of corn acres expected to be planted this season is estimated to increase by 4% to 5%.
According to the USDA Economic Research Service, "several countries - including Brazil ... have had significant corn exports when crops were large or international prices attractive."
On Wednesday August 31, 2011, the Soybean & Corn Advisor
noted
:
After two seasons of declining full-season corn acreage in southern Brazil, the strong domestic corn price is encouraging farmers in southern Brazil to plant more full-season corn in 2011-2012. More full-season corn acreage is also expected to be planted in the states of Minas Gerais and Goias as well. Total full-season corn acreage in Brazil is expected to increase 4% to 5% in 2011-2012 to 8.15-8.22 million hectares.
One hectare equates to 2.471 acres.
While U.S. farmers are now beginning to harvest, South American farmers are starting to plant and apparently like mad to take advantage of the high prices. In southern Argentina, planting should be wrapped up by December. The South American harvest runs from March to May.
Bottom Line: In addition to high prices, I believe South American corn will help offset supply constraints, presuming such constraints actually materialize. Right now, corn appears to be way overplayed. I believe prices are near their peak and likely to come down in the very near future.
The Play:
Investors can get exposure to the falling price of corn by playing either in-the-money or near-the-money puts on Teucrium Corn (
CORN
). Needless to say, I believe playing the CORN puts right here will prove to be a very smart bet.
Disclosure: I have no positions in any stocks mentioned, and no plans to initiate any positions within the next 72 hours.