The stock market's increasing dependence on the Fed has become troubling. The relationship has certainly been made clear over the last several years: stocks melt higher almost without interruption when the Fed is engaged in QE. And the hope for another round of QE is what many market participants are now boldly building their investment thesis around despite the weakening U.S. economy and deepening crisis in Europe. Hope can be a good thing, as the optimism that it provides can keep spirits (and stocks) up during difficult times. But what happens when all of the hope is gone? Put differently, what happens if these investors get the QE3 they've been longing for, and it doesn't work this time around?
Over the past week, I've seen and heard a notable number of investment professionals repeating the same mantra – QE3 is soon on its way, so it's time to be bullish on stocks. But what about the deteriorating economy both in the U.S. and the potential for crisis abroad? The response – the worse the economic data the better, because this will bring us an even bigger QE3 all the faster. And if economic activity starts to accelerate and a recovery takes hold? Of course, the bullish case also wins out. It seems that suddenly a lot of investors fancy themselves the next David Tepper, the hedge fund manager who famously pumped the markets higher with a similar sentiment roughly this time a year ago.
Such a QE3 dependent philosophy is certainly fine and good. And it may very well work. But something important stands out about it. The notion of QE3 is the almost exclusive hope that some stock investors are hanging their hats on right now. The corporate earnings story is also out there, but I'm hearing it less as the reality sets in that peak profit margins are virtually impossible to sustain in a weakening economy, particularly when most of the costs have already been cut to the bone. So the last hope is on QE3 to be the savior to once again levitate markets back into another euphoric fantasy for a while longer.
This brings rise to a very important question. What if stock investors get the QE3 they've been longing for? Taking it one step further, what if stock investors even get the maximum QE3 dose that includes more Large Scale Asset Purchases (LSAP) that continue to expand the Fed's balance sheet? And what if stock investors get it all, but it doesn't work in raising stock prices higher? What then for stocks when the last ray of hope goes dark?
The idea that QE3 might fall flat for stocks is not without basis. One has to look no further than the last four months of QE2 for evidence. From the beginning of the full implementation QE1 back in March 2009 through February 2011, when the Fed was pumping QE into the market via LSAP, stocks would levitate higher without interruption. But something strange started to happen in March 2011. This relationship began to break down. While the Fed continued further LSAP and balance sheet expansion through the end of June 2011, stocks ceased rising and instead began trading sideways for the rest of QE2.
Click to enlarge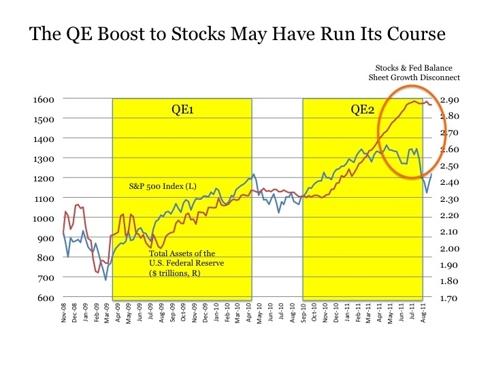 Click to enlarge
Have stocks finally reached the point where they are no longer responsive to the QE generosity provided by the Fed? Just like a patient in a hospital that develops a tolerance to medication over time, investment markets can also become increasingly resistant to policy measures. And it is very possible that we crossed that threshold in March 2011. The only way we'll truly know whether stocks are now immune to further stimulus is if a full QE3 program including LSAP is launched in the coming months.
A key risk for stocks in the months ahead is the following: If the Fed finally ends up launching a full QE3 and it turns out that it is truly no longer effective in lifting stock prices. The subsequent decline in stocks could potentially become sharp, as one of the final big hopes helping to support stock prices at current levels would essentially be gone. It will be something worth monitoring closely along with any potential QE3 announcement in the coming months.
This post is for information purposes only. There are risks involved with investing including loss of principal. Gerring Wealth Management (GWM) makes no explicit or implicit guarantee with respect to performance or the outcome of any investment or projections made by GWM. There is no guarantee that the goals of the strategies discussed by GWM will be met.
Disclosure: I have no positions in any stocks mentioned, and no plans to initiate any positions within the next 72 hours.