U.S. stocks closed out the worst month in more than a year in August, and data center-related stocks were no exception. The S&P fell 5.7% in its worst month since May 2010. The Dow fell 4.4%, while the Nasdaq lost about 6.4%. To use an understatement, the whole month was quite volatile, with some stocks swinging several percentage points within the same session.
All data center-related stocks are in the red for the month, and most performed worse than the market (click to enlarge pictures):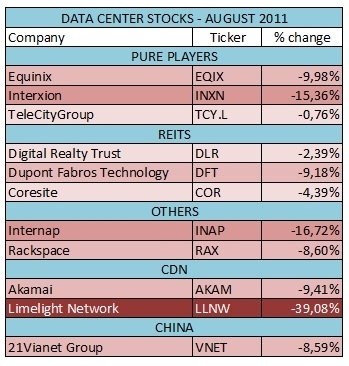 The European network-neutral data center provider TeleCity Group (OTC:TLCTF) is the best performer in this small group of companies, followed by Digital Realty (NYSE:DLR) and Coresite (NYSE:COR), both REITs. Those data center players also represent the companies that rebounded better from the bottoms reached during the month (calculated using session closing prices). As you may notice, with the exception of Limelight Networks (NASDAQ:LLNW), which lost more than 50% from the end of July, most data center-related stocks reached a bottom that was in the range of minus 20%, calculated from their closing price on July 29: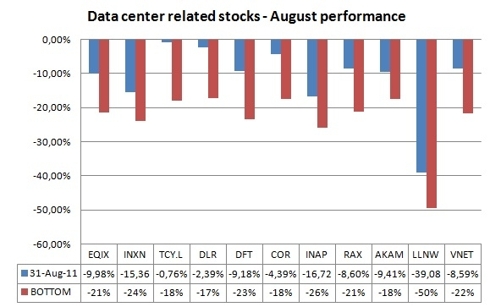 If we look at these same stocks YTD, we'll find out that CDNs have been basically cut in half, with Akamai (NASDAQ:AKAM) losing roughly 53% of its value, and Limelight Network almost 57%. REITs are the best performers in this category, with all stocks positive, and ranging from Dupont Fabros' (NYSE:DFT) plus 8.8% to Coresite's 18%. Both Equinix (NASDAQ:EQIX) and TeleCity advance about 16% YTD, while 2011 new entries, InterXion (NYSE:INXN) and 21Vianet (NASDAQ:VNET), are in the red, compared to their IPO price.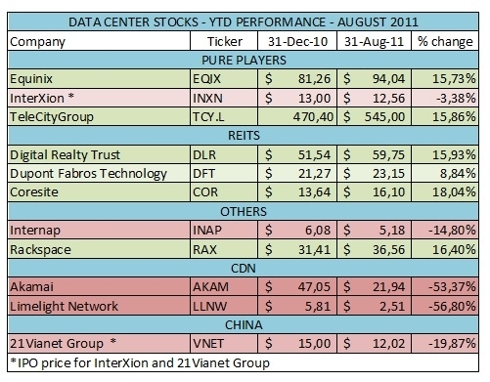 For the first time in the year, almost half of data center-related stocks are in the red, and no company exceeds a gain of 20% since the beginning of the year -- unlike in June, when 75 percent of stocks were showing gains around or exceeding this level.