Notwithstanding these varied aspects of his public life, John D. Rockefeller may ultimately be remembered simply for the raw size of his wealth. In 1902, an audit showed Rockefeller was worth about $200 million—compared to the total national GDP of $24 billion then. His wealth continued to grow significantly (in line with U.S. economic growth) after as the demand for gasoline soared, eventually reaching about $900 million on the eve of the First World War, including significant interests in banking, shipping, mining, railroads, and other industries. According to the New York Times obituary, "it was estimated after Mr. Rockefeller retired from business that he had accumulated close to $1,500,000,000 out of the earnings of the Standard Oil trust and out of his other investments. This was probably the greatest amount of wealth that any private citizen had ever been able to accumulate by his own efforts." By the time of his death in 1937, Rockefeller's remaining fortune, largely tied up in permanent family trusts, was estimated at $1.4 billion, while the total national GDP was $92 billion. According to some methods of wealth calculation, Rockefeller's net worth over the last decades of his life would easily place him as the wealthiest known person in recent history. As a percentage of the United States' GDP, no other American fortune — including those of Bill Gates or Sam Walton — would even come close. (Source: Wikipedia)
Regarded as one the wealthiest Americans in U.S. history (as adjusted for inflation), Rockefeller was most famous for building monopolies and crafting innovative trust funds. Just shy of his 98th birthday, Rockefeller spent the last 40 years in retirement collecting and reinvesting his dividends. As the legendary philanthropist said,
"Do you know the only thing that gives me pleasure? It's to see my dividends coming in"
So as dividend investing is a popular strategy that marries the lure of cash with the hunt for consistent growth, it would seem appropriate to consider five quality equity REITs (paying over 5%) that the legendary Rockefeller would have enjoyed.
W.P. Carey (NYSE:WPC) – Based in New York City, W.P. Carey provides single-tenant, self-storage, and lodging capitalization via sale-leaseback, joint ventures, and build-to-suit structures. The company is technically not considered a REIT (by definition of the fact that 75% of the rental income is not derived from real estate) although around 50% or revenues are derived from rental income investments. The remaining 50% (approximate) of revenues are fee-based advisory fees associated with a series of non-traded REIT partnerships. Founded in 1964 by Chairman Polk Carey, W.P. Carey manages a global investment portfolio of approximately $11 billion representing approximately 275 long term corporate obligors sponsoring 28 industries and 17 countries. W.P. Carey pays a 5.4% dividend and the global net lease advisor has grown dividends for around 12 years. Here is an article I published on W.P. Carey in June 2011.
National Retail Properties (NYSE:NNN) – Based in Orlando (Florida), National Retail Properties is a net-lease REIT with around 1,248 properties in 46 states. Established in 1984 as Golden Coral Realty Corporation, National retail organized as a REIT in 1998. Today the investment grade (S&P rating is BBB) owns around $2.8 billion in assets with shareholder equity of around $1.56 billion. Like W.P. Carey, National retail also has an exceptional dividend history as the company is only 156 out of 10,000 publicly traded companies to have increased dividends for 20 or more consecutive years. The most popular REIT enjoys an occupancy rate of 96.9% (as of June 30, 2011) and is currently paying a 6.2% dividend. Here is an article I wrote on February 2011.
Realty Income (NYSE:O) – Based in Escondido (California), Realty Income is a net-lease REIT with around 2,500 properties in 49 states. Established in 1969, the "monthly dividend company"® has consistently met expectations with its durably diverse income track record. From the date that Realty Income joined the FTSE NAREIT index (November 1994), through December 2010, the company has provided investors with a compounded average annualized total return of 17.39% - the 5th highest among the 68 publicly traded REITs. With a mortgage-free portfolio and enviable investment grade credit facility ($420 million), Realty Income is regarded as one of the safest REITs around. To date (August 25, 2011), Realty Income has paid 493 consecutive common stock monthly dividends throughout its 42-year operating history and increased the dividend 62 times since its listing on the New York Stock Exchange in 1994. The most recent dividend is 5.2%. Here is an article I wrote on the company in May 2011.
One Liberty Properties (NYSE:OLP) – Based in Great Neck (New York), One Liberty Properties is a net-lease REIT owning 88 properties (some are joint ventures) in 29 states (as of December 31, 2010). Established in 1982, the geographically diverse net-lease REIT invests in a variety of tenant sectors including retail (60.3%), industrial (12.9%), office (11.0%), and other (15.8%) net leased assets. With around $437 million in assets and $198 million in long-term debt, One Liberty has built a successful investment practice around its sound 98.5% average occupancy rate (as of December 31, 2010). Although not as diversely-structured as the previously referenced net-lease REITs, One Liberty is paying an exceptional 8.9% dividend. I have not written a Seeking Alpha article on the REIT: however, fellow Seeking Alpha author, H.J.Huneycutt, published this recent detailed article.
Excel Trust (NYSE:EXL) – Based in San Diego (California), Excel Trust is a shopping center REIT with 21 properties in 13 states. Unlike the previously referenced net-lease REITs, Excel Trust owns credit tenant anchored shopping centers. And with over 32 years of experience, Excel's Chairman, Gary Sabin, has assembled a first-class team and has strategically focused on purchasing assets off-market through relationships. With just over a year (IPO date was April 23, 2010) of activity, the newcomer REIT has built a diverse and growing tenant base including names like Lowe's (NYSE:LOW), Publix, Sports Authority, Dick's (NYSE:DKS), Giant Food, and JC Penney (NYSE:JCP) . In addition, the 3.4 M square foot portfolio has grown in size to around $600 million in assets, and because of management's strategic relationship-driven model and an attractive 94.9% occupancy rate (excludes two development projects), the infant REIT does not suffer from "legacy related" asset issues and instead focuses on its core investment practices of providing growth, value, and income. Excel Trust provides a well-balanced revenue and income model with a 5.8% dividend and proven track record for growth through acquisitions.
Summary
Within the 122 REITs that comprise the FTSE NAREIT All Equity REIT Index, John D. Rockefeller would have likely selected the above mentioned companies (W.P. Carey is not considered a REIT and is not part of the FTSE NAREIT Index). All five of the REIT sponsors are considered durable dividend trusts with attractive 5% (and higher) yields, and all enjoy sustainably safe revenue models with strategically sound operational fundamentals.
Make sure to include dividends in your investment strategy and remember the following Rockefeller authored advice for all to consider:
" I was early taught to work as well as play,
My life has been one long, happy holiday;
Full of work and full of play-
I dropped the worry on the way-
And God was good to me everyday. "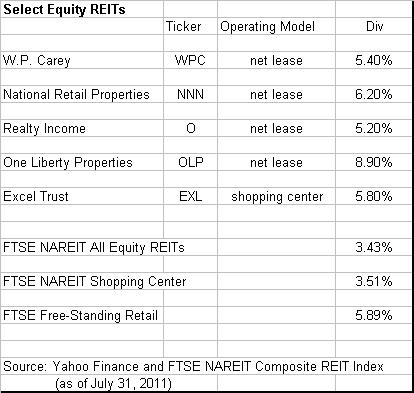 Disclosure: I have no positions in any stocks mentioned, and no plans to initiate any positions within the next 72 hours.