What's the real price of oil? It's kind of hard to tell if you only follow the widely quoted West Texas Intermediate (WTI) grade. WTI is cheap – really cheap – compared to other grades of crude oil, such as Brent crude oil.
Although Brent oil, which is deliverable in Europe, is considered to be a slightly inferior grade of crude, it now trades at a steep premium to the superior WTI oil, which is deliverable in Cushing, Oklahoma.
In fact, if you have only started following financial markets in the last year, you would probably think this steep premium is normal – as you can see on this chart of the spread between the prices over the past year.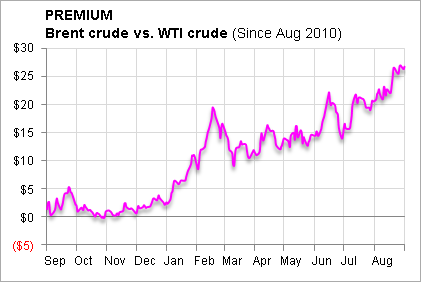 But a look over the longer term – more than 10 years – shows this spread is really quite the anomaly Brent usually trades at a price lower than WTI, or at least it had until this year.
Click to enlarge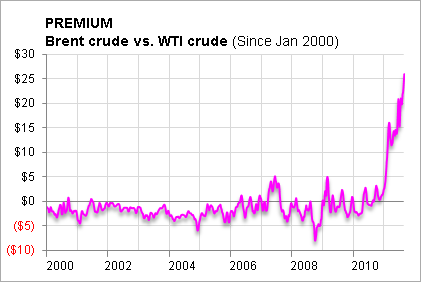 Of course today's anomalies can become tomorrow's "new normal." You would think that with such a difference in pricing, arbitrageurs would step in and move that "cheap" WTI oil landlocked in Oklahoma to a Gulf port where it can be shipped and sold for a much higher price. But evidently the logistics of moving lots of oil around take some time to deploy.
Location. Location. Location
Could that WTI oil stuck in Cushing really command a higher price if it wasn't stuck in Oklahoma? Probably. You can see that in the prices of a grade of U.S. oil known as Louisiana Light, an oil that's similar to WTI.
These charts from Bloomberg show the price of Louisiana Light and Brent, and a similar comparison of Brent vs. WTI.
Click to enlarge charts
Brent and Louisiana Light trade roughly in tandem. Why? While Louisiana Light is a U.S.-based grade of crude, its premium to WTI reflects its location. It's in Louisiana, so unlike the WTI stored in Cushing, it can easily be shipped anywhere worldwide.
Trading Two Oil ETFs: Long Brent/Short WTI
Two futures based ETFs track various grades of crude oil. And the performance difference between two of them has been striking. While the U.S. Oil ETF (NYSEARCA:
USO
) tracks WTI crude futures, the Brent crude ETF (NYSEARCA:
BNO
) tracks Brent futures.
In theory, a long BNO/short USO position would have generated some pretty decent returns as you can see in these charts of both ETFs and the relative performance between the two.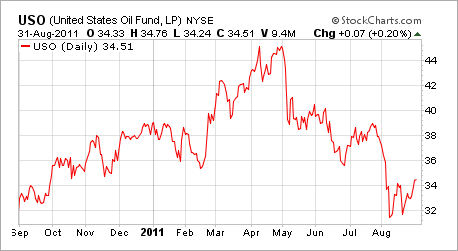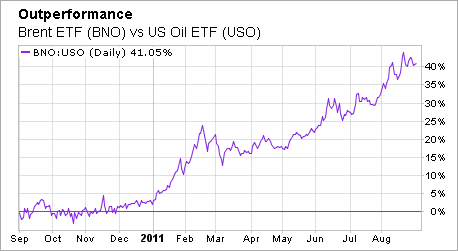 One thing to keep in mind is that futures-based ETFs have a tendency to underperform the commodities they track when those commodities are in contango. However, they can outperform when commodities are in backwardation.
Here's a look at the current contango/backwardation for these two grades of crude oil. While WTI is in contango, Brent crude is in backwardation.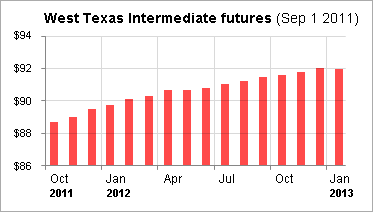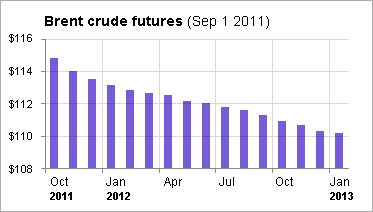 Is this long BNO/short USO trade long in the tooth? Could be. But I thought these spreads would normalize months ago – and I was wrong.
In the longer term, this could reflect a "new normal" with Brent providing a more accurate reflection of global supply and demand and WTI crude oil becoming an irrelevant relic of a global benchmark.
Disclosure: I have no positions in any stocks mentioned, and no plans to initiate any positions within the next 72 hours.