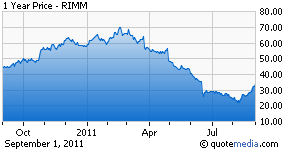 A few weeks ago, I reasserted my bearishness on Research In Motion (RIMM), but noted that the time was not right to short the stock:
While I don't necessarily agree that Google's (NASDAQ:GOOG) bid for Motorola (NYSE:MMI) makes RIMM a long - out of the blue - I can see the argument. I think RIMM remains as inept as ever, but if people keep talking about a buyout, sooner or later, some sucker will come along and fulfill the prophecy. That said, the last thing you want to do is be short a stock that has had the bottom fall out.

What if you were short MMI when GOOG called? You might have been forced to sell your Colnago to meet the margin call. MMI could have just as easily been RIMM.
While I am not sure it should, the prospects of some type of M&A activity still concern me. That said, after RIMM's recent run it might be time to go short again. First, the euphoria surrounding the stock's recent run is just that. And it will probably take another round of abject failure for somebody to finally put an end to the misery and throw a lifesaver into lakes Erie or Ontario.

If you've made money on RIMM's recent run from $21.60, good for you. You're a savvy investor. But, at the very least, take your money off of the table. If you want to keep making money, go short. RIM executives continue to head overboard. That alone should be enough of a sign that the ship is still sinking.

If not, here are just a few more reasons why.

RIM reports Q2 2012 earnings after the bell on September 15th. Given the fact that RIM's new products have barely made it to market, don't expect an earnings surprise. On its last call, RIM guided EPS down from $1.38 to a wide range of $0.75 to $1.05, according to Briefing.com. It also lowered its revenue estimate by about $1 billion. Yes, $1 billion.

As the numbers continue to roll in, it's really difficult to keep up with how much market share RIM is losing. The company continues to get absolutely crushed in the U.S. smart phone market. Given the many competitive advantages Apple (NASDAQ:AAPL) and companies offering Google's Android operating system have, namely excellent marketing and promotion channels as well as fresh, relevant devices in the market, it's tough to argue that Apple and Android will cease eating RIM's lunch.

In fact, don't expect RIM to capture much, if any, of the late smart phone adopters who consider themselves "undecided." The days of the CrackBerry buzz are over. We live in an iPhone and Android world:

Click to enlarge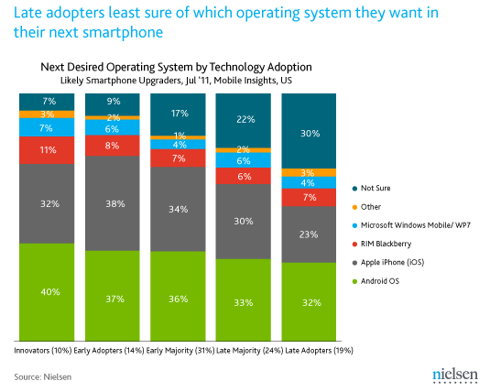 RIM continues to lose market share in the global smart phone arena as well. And, if you look forward, that's really all that matters. Without a buyout or an alliance, the Google-Motorola deal shoves the final nail into RIM's coffin. It appears, however, that RIM's management team refuses to acknowledge this reality. It's the stubborn attitude of Jim Balsille and Mike Lazaridis and comical lack of focus that prevents the company from teaming up with a winner to salvage this thing.

RIM's BlackBerry music service provides the excellent illustration of how Balsillie and Lazaridis are driving the company even further into the ground. From practically all corners, this move represents the laughingstock of Wall Street and the tech world. RIM continues to make a mockery of itself as it attempts to right past wrongs.

And plenty of wrongs exist. You can pin most of them on Balsillie. And if you're long RIMM, that's precisely what should worry you - Balsillie has to open up his mouth again on the September 15th earnings call. There's little room for anything good to come out of the call. Expect more of the same with Balsillie speaking of "exciting things" to come in a game his company lost long ago.

Technical reviews of products like PlayBook mean absolutely nothing. You have to sell the device to consumers. Lots of them. And that's not happening. RIM's a non-factor in that market. In fact, Amazon.com (NASDAQ:AMZN) might sell more tablets in one quarter than RIM will sell Playbooks in its lifetime.

If it cannot find a suitor or partner, RIM would be best advised to go the route of Hewlett Packard (NYSE:HPQ). Blow up the PlayBook at $99 a pop, blow up the rest of the business, admit defeat, get leaner and meaner and place a hyper focus on its apparent strengths - security and the enterprise market - before it loses all credibility and market share there as well.

Sadly, RIM will not do this. Instead, Balsille will further embarrass the company and, yet again, scare the living heck out of analysts and investors later this month on the Q2 conference call. All that can save RIM after-hours on the 15th and when the market opens on the 16th is more unrealistic and overly-optimistic guidance based on hype for products that will finally hit the streets in full force come early 2012.

Balsille fooled investors once by waiting too long to lower the company's FY 2012 estimates. I don't think they'll be fooled again. Either way, expect the slide back toward RIM's 52-week low of $21.60 to commence shortly after earnings. The guidance will dictate exactly when it happens and how fierce the move will be. Time stamps aside, it will happen. And when it does, the flood gates to the teens will open.

In the world of tech, you can only remain irrelevant for so long. QNX will hit the streets in "early 2012" with little fanfare. iPhone and Android will continue to dominate. Consumers will not come back to RIM simply because the company finally got around to releasing a product. It just does not work that way. The numbers will, once again, disappoint and by this time next year, RIM will trade below $10, barring a buyout or meaningful partnership.

I would play it by shorting the stock or buying long-dated, slightly out-of-the-money puts. Consider picking up the RIMM January 2013 $30 puts for the song-and-dance price of $6.30. I'm experiencing deja vu after having suggested a similar strategy back in March.

To take advantage of temporary shows of strength, you could always hedge the position with monthly or weekly calls and/or by writing weekly puts. This trades, however, must be carefully selected and timed during short bouts of strength. However, I do not expect future strength to be as intense as it has been on the run from $21.60 to $32-ish, particularly once reality sets back in between the Q2 2012 and Q1 2012 reports.

Disclosure: I have no positions in any stocks mentioned, and no plans to initiate any positions within the next 72 hours.

Additional disclosure: I may open and close long and short positions, often using options, in any of the stocks mentioned in this article at any time.