I am predominantly a short-term speculator in search of mispricing as a consequence of emotion, which will promptly correct itself. I am additionally a positional speculator that appears for options and stocks, which often depreciate in valuation or perhaps maintain the present price. I can usually generate equally as much with a stock that maintains the existing price as the ones that decrease in price because I write naked calls. This specific approach incorporates a reduced risk profile in comparison to an outright short of the stock, and I get compensated every day through option decay, irrespective what the price of the stock does.
Whenever scanning for stocks that potentially could break down and move lower, I look for a few notable characteristics. Rarely will a stock exhibit all of the criteria searched for but when I encounter those that do, I will generally will put on a position or look to put one on. The criteria are not a total mirror image of the criteria that I look for when going long on a stock by selling put options, and some of the desired attributes are even the same. I scan the top 2000 stocks by volume, and of course, they must have options available. I use a proprietary blend of technical analysis, financial crowd behavior, and fundamentals in my short term trades, and even though not totally identical in longer swing trades to investments, the concepts used are pretty similar.
The factors looked at, in no particular order:
Loved. The stock has to be currently loved and totally in favor. This is the largest factor in finding value in my view. Especially stocks that have seen big moves higher in the past week, giving investors the euphoria that the price will keep moving higher forever.
Low profitability relative to price, as seen in a high PE ratio.
High price-to-book ratio. I want to sell stocks that, when I remove things like goodwill and other intangibles, there is very little value if things don't continue wonderfully.
Small short interest. I want to be able to see any price depreciation met without shorts trying to cover causing the price to not fall very far. Also, I do not want to see shorts trying to cover if the price moves higher, creating a squeeze.
Buyouts. This works in two ways. I want to see others in the space be takeout targets that the stock under consideration may want to buy. Often, when a company buys another, it will cause the acquiring company's stock price to fall. Also, I do not want to worry about the stock in question being bought out from another. So I have to consider the stock to be a low probability take out target.
Option premium. I want to know that the implied volatility is high enough to justify writing the options. If the stock is not moving, the last thing I want to do is write some options right before volatility explodes.
I have quite a few articles with a focus on selling naked options and I welcome you to read them and calculate the performance. Here are the last three, to make finding my work easier:
An Options Play For Oversold Cablevision
A Safe Options Play For Oversold Safeway
Intel An Ideal Long-Term Hold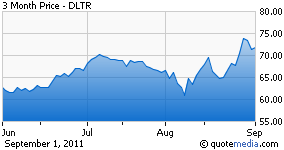 My choice today for writing a naked call is Dollar Tree, Inc. (NASDAQ:DLTR). Dollar Tree, Inc. operates discount variety stores in the United States and Canada. Its stores offer merchandise primarily at the fixed price of $1.00. The company was founded in 1986 and is based in Chesapeake, Virginia.
Dollar Tree caught my attention from the weekly chart. The weekly chart last week became overbought based on a widely followed TDCombo indicator developed by Tom DeMark. The indicator alone is not enough for me to trade the stock, but I looked further into the company to see if Dollar Tree is likely to continue the pace upwards in share price or not.
The first fundamental performance and price statistic I look at is the P/E Ratio. I want to know how expensive the stock is relative to past and future expectations of income. The trailing-twelve-month P/E ratio is 19.9, which is not all that high. The forward P/E ratio is at 18.3, which I consider high enough to believe that finding increasing amounts of money to push the stock further higher will increasingly become more difficult.
In the last month, the stock has increased in price 7.98%, with a one-year change of 57.78%. On August 18, 2011 Dollar Tree held a conference call to discuss last quarter's results. There will be no earnings reports coming out from now until the September options expire. This removes one of the biggest unknowns that can happen for a stock. Options buyers do best when the stock has sudden large moves in price.
For the same fiscal period year-over-year, Dollar Tree revenue has improved to $5.88 billion for 2011 vs. $5.23 billion for 2010. The bottom line has rising earnings year-over-year of $397.30 million for 2011 vs. $320.50 million for 2010. The company's earnings before income and taxes are rising with an EBIT year-over-year of $630.00 million for 2011 vs. $512.80 million for 2010. This company is obviously performing well. The caveat to the performance is that the optimism of the company is fully priced in, limiting the ability to have a sudden move higher.
China, in an effort to control inflation, has been allowing the yuan to rise in value against the dollar. A rising yuan is inflationary, and especially so with low cost commodity products (an example would be the cost of material is a higher component item percentage with a inexpensive $8 T-shirt compared to a Ralph Lauren (NYSE:RL) polo shirt costing $60).
Dollar Tree continues to allocate capital to share repurchase programs. I believe share repurchase programs in general are largely the result of management's inability to find higher-return company growth prospects. Company boards are not known for their ability to buy back stock at value prices, and is an indicator that I use to flag a company as fully valued.
I am watching the September and October out-of-the-money options for an entry. The September $75 calls appear to offer the best opportunity if they can be sold at or very near the offer price. I will not be selling at the bid with a current $0.10 spread.
I use a proprietary blend of technical analysis, financial crowd behavior, and fundamentals in my short-term trades, and while not totally the same in longer swing trades to investments, the concepts used are similar. Based on my criteria, I have come to the following conclusion: This one is worth the time for me to investigate further for an ideal entry price to either write call options or short the stock. Of course that in itself does not mean you should, but you may want to use this article as a starting point for your own research with your financial planner.
I use Seeking Alpha, Edgar Online, Google Finance, MSN Money, cnbc.com, Zacks and Yahoo Finance for most of my data.
Disclosure: I have no positions in any stocks mentioned, but may initiate a short position in DLTR over the next 72 hours.