Click to enlarge chart
The market started to show its upward momentum is coming to an end today as we were not able to hold onto early gains from good news out of the ISM Manufacturing Index. Throughout the day, the market continued to push lower as we moved toward the coming jobs report tomorrow. Goldman Sachs cut its estimate to 25K for the announcement and overall, the whisper number is 0. A report below 25K will probably be pretty detrimental to the market.

The big news was the ISM Manufacturing Index, which came in at 50.6 vs. expectations of 48.5. The announcement gave the market a good rise early on, but it was not able to hold. A Goldman downgrade followed by Fed action on Goldman Sachs (NYSE:GS) helped bring the market down. Overall, it seemed investors and big money wanted to take some risk off the table and sell positions.


There were not a lot of major upgrades to help as well, but we got a slew of downgrades from Oppenheimer and Stifel Nicolaus. Most notably, SAIC (SAI) was downgraded by Stifel and WW Grainger (NYSE:GWW) was downgraded by Oppenheimer. Earnings were fairly limited as well today.

And now...we know why Lloyd Blankfein is getting the lawyer of top execs at Enron and Worldcom as the Fed made a move to order the company to review foreclosures, and there may be some more action off that later. Eek!
We had another good day in the marketplace. We were able to take a solid 25% gain off the table on our short on FAZ that we initiated on Tuesday with puts we bought on FAZ for October expiration at the $43 strike. We still believe FAZ will fail $50 at some point in September, but overall, we had a nice gain and the market looks overdone. We kept all other positions open with shorting oil with SCO from the $53 level. We also continue to hold income trades with bull put spreads for September 17 expiration in IBM (NYSE:IBM) and Joy Global (JOYG) at the $145/$140 strikes and $70/$67.50 strikes, respectively.

As we continue to get more bearish moving into next week, we started a half position shorting Six Flags Entertainment (NYSE:SIX), which we recommended yesterday.
Click to enlarge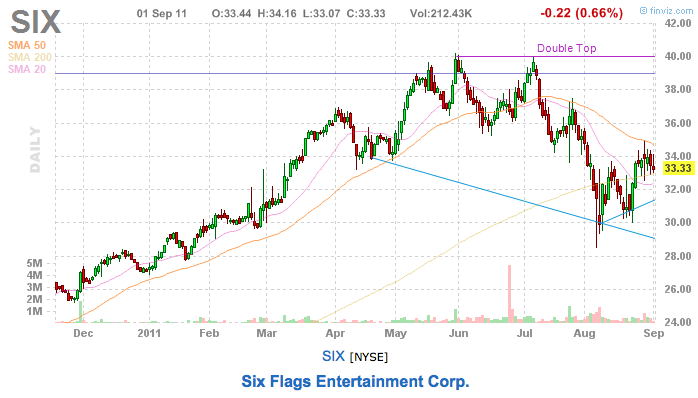 Moving into tomorrow, we are getting more bearish. The market looks quite toppy with a lot of charts showing higher RSIs and stochastics at topping points above 90. Further, we have the jobs number tomorrow, and we do not have much optimism for it. Overall, we believe that this relief rally, while great for the markets, has run its course. We should see a weaker several days in the market after the holiday and the real start of the September month.

Here are two ETFs we like for downside from here:
Ultrashort Proshares Financials (NYSEARCA:FAZ):

It is time again for Ultrashort Financials as we know financials will be one of the hardest hit sectors on a move to the downside. The financials have recovered well, and it is not on much change in the fundamentals. Look for protfit-taking to begin. FAZ is a great vehicle for downside, and we believe the move will probably be up from here. However, we expect a lower close overall for FAZ by the end of the month.
Click to enlarge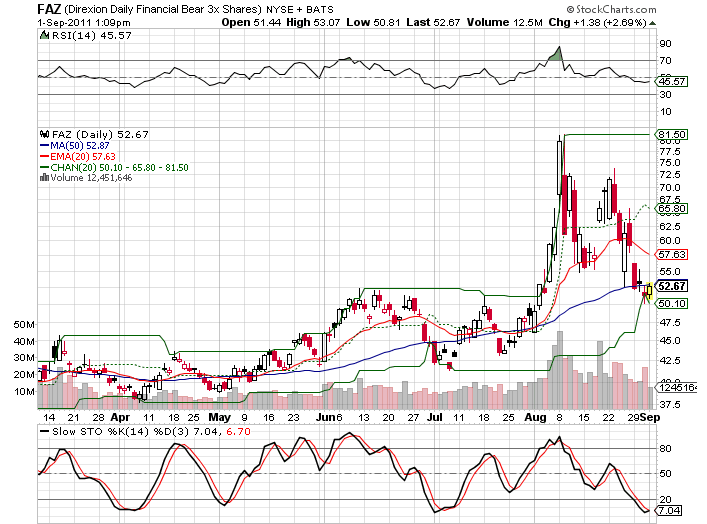 iPath S&P 500 VIX Short-Term Futures ETN (NYSEARCA:VXX):
If we start to make a move to the downside, the VIX is going to be making a move back to the upside. VXX is probably a buy right now. The move down is slowing on the VIX, and it looks like upside from here is looking good. The VIX moves well on strong moves down, and we cannot really believe that any pullback will be gentle.
Disclosure: I am long SCO, JOYG, IBM.
Additional disclosure: I am short SIX.I am looking to go long on VXX, FAZ.