Agency mREITs shareholders, including myself, are not pleased with the rumors causing agency-mREIT stock movements. The equities have uncharacteristically been quite volatile. The unfounded speculation is casting uncertainty upon the group. I'll share my thoughts and my personal action plan.
Here is a data table with key directly impacted companies:

Click to enlarge
click to enlarge
Facts
I believe starting with the known facts is an excellent place to start. Here are the key highlights:
The SEC, as of August 31st, is seeking "Public Comment on Asset-Backed Issuers and Mortgage-Related Pools Under Investment Company Act".
The SEC, as of August 31st, is seeking under a separate concept release, public comment on "interpretations of a provision in the Investment Company Act – Section 3(c)(5)(C) – that may be used by some companies engaged in the business of acquiring mortgages and mortgage-related instruments such as some REITs".
Federal intervention, regarding agency mortgage backed securities (MBS) and agency-mREITs, has not been proposed or enacted as of September 1.
Government Sponsored Entities (GSE) still possess implicit Federal Government guarantees. GSE entities include Fannie Mae (OTCQB:FNMA), Freddie Mac (OTCQB:FMCC), and Ginnie Mae.
The private sector initially provides the capital to fund the GSE MBS. Secondary markets, including Hatteras (NYSE:HTS) and Cypress (NYSE:CYS), trade GSE MBS based upon duration, yield, coupon rate, and par value amongst other specific agency-MBS criteria.
Agency-MBS, which is GSE paper, is not the same as Treasury Bills or Treasury Bonds. Agency MBS refers to the GSE MBS, not U.S. Treasury Bonds. The private sector, not the Federal Government, provides the capital for GSE MBS.
The Federal Reserve chairman has stated the Federal Funds rate will remain low for 2-years. This has flattened out the Treasury Bill and Treasury Bond yield curve.
If the yield curve remains flat or inverted, when compared to the past 3-4 years, then this can potentially reduce the agency-mREITs' net profits.
What do Agency-mREITs Own?
Agency mREITs own agency-MBS. An excellent proxy to track is iShares Barclays MBS Bond (NYSEARCA:MBB). MBB has a 1-year trading range of $103-$110 per share. MBB is non-levered. Agency mREITs, however, are levered 5x - 9x. This is a key principle to why the yields are 15% and up. If the yield curve changes, the leverage can hurt agency mREITs, including MFA Financial (NYSE:MFA), and its book value per share.
Here are MBB's top daily holdings, as of August 31st. These represent the GSE MBS held within the iShares Barclays MBS Bond fund. The fund's goal is to own "investment grade agency mortgage-backed securities sector of the United States". This is very similar to what agency mREITs own, though MBB is non-levered. MBB was up for the day. Non-levered GSE MBS are not being sold off in panic.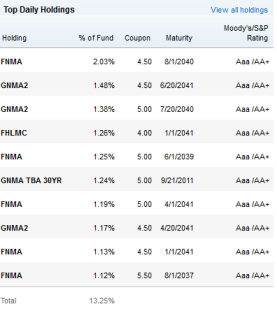 The 2-year MBB performance has experienced a 3.5% total annualized rate of return. This is not impressive, but the holdings are GSE, liquid, and not designed to produce high-yields.

Click to enlarge
Rumors
These rumors are unsubstantiated and causing swings in agency mREIT stock prices:
Removal of REIT status rumors, for companies such as American Capital (NASDAQ:AGNC), are circulating. This involves the SEC's request for public comment pertaining to agency mREITs. Individuals, and investors, can not conclude an outcome that has 60 days to play out. Agency mREITs play an active role in providing liquidity in the GSE MBS market space. Publicly traded agency mREITs are required to comply with SEC filing data. Investors in GSE MBS have a pro-agency mREIT bias to convey in the next 60-days.
There are rumors of an implementation of a new Federal intervention nationwide refinancing program. The program, as speculation suggests, would provide low interest rates. This would apply nationwide and include home owners with underwater GSE mortgages. GSE Ginnie Mae President stated such actions are "getting way ahead of itself" and "It's really disconcerting to hear all this hype that something is imminent and that that's something the markets are trading off". If this action fully played out, agency mREITs could potentially suffer due to prepayment risk.
Conclusion
The U.S. Government does not move fast. The country witnessed how the U.S. debt issue was fixed at the last possible moment. The rumors of a SEC REIT decision is unfounded as there are 60-days for public comment. A Federal Intervention nationwide refinancing program has not publicly been announced as required by law. These actions could not possibly be implemented, assuming they were approved, overnight.
Many third parties would be negatively impacted by any drastic Federal intervention in the U.S. debt markets. Banks, insurance companies, investors, agency mREITs, international investors, and others all have a vested interest in the final outcome. They will have their legal counsel input to the policy makers.
The agency mREIT securities, however, can swing wildly despite based upon pure speculation. Separating facts from fiction is key to sleeping at night. One day at a time. As the facts change, I can change my agency mREIT investing strategy.
I personally am continuing with my long agency mREITs strategy, using protective puts.