Aluminum prices have been hit hard since April. The aluminum ETF ALUM fell from 16.36 on 4/11/11 to a low of 11.19 on 8/8/11. Aluminum looks poised for a rally.
The fundamentals are looking better. Just recently, RUSAL (the world's largest producer of Aluminum) CEO Oleg Deripaska, forecasted strong aluminum demand to continue and revised upwards its average aluminum price forecast for the year to $2,700 per tonne from $2,500-2,600 estimated in March. He further added that aluminum consumption in China, the world's largest producer and consumer of the metal, would rise 15 percent this year to 19 million tonnes, compared with an April forecast of 8 percent. Global demand was likely to rise 13 percent to 46 million tonnes in 2011, it said.
This bodes well for the other big players in the space such as Alcoa (NYSE:AA) and Aluminum Corp of China.
Boeing (NYSE:BA) recently got a double dose of good news. It received FAA approval for the Dreamliner as well as the new engine upgrade for the 737. Both these developments further bode well for Boeing, but also aluminum producers.
Only Alcoa trades in the U.S. RUSAL and Aluminum Corp of China trade on the Hong Kong exchange.
Alcoa has dropped from 18.47 on 4/8/11 to a low of 11.11 on 8/19/11, a drop of over 40%. ALUM, the aluminum ETF, dropped about 32% over a similar period. I think the rapid decline is exaggerated. The price has recovered a bit since 8/19/11 and now trades at 12.57. It is also above the 20 day moving average which to me indicates a short term bullish bias on the stock.
click to enlarge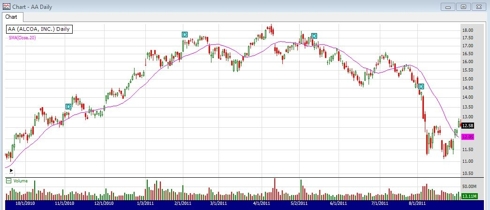 Both from a fundamental and technical perspective, Alcoa is likely to rally from here, perhaps at least to around 14.
Disclosure: I have no positions in any stocks mentioned, but may initiate a long position in AA over the next 72 hours.