Well, on Wednesday, August 31, Stryker announced that it is going to buy Concentric Medical for a hefty sum of $135 million, all in cash, by the beginning of the fourth quarter of 2011.
All in cash, right? Yes. And does Stryker's present financial health allow for that? Let's find out.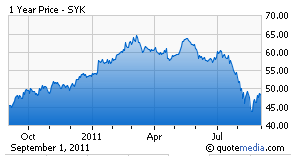 In the last quarter, sales increased by 16.3% to $2.05 billion from $1.76 billion same period last year. Global sales of Reconstructive, MedSurg, and Neurology and Spine products showed an increase of 7.4% to $916 million, 15% to $773 million and 52.6% to $356 million, respectively. It seems that the neuro-technology and spinal care market is on the rise. In fact, sales are projected to go up to 5-7% this year if the foreign currency levels stay more or less constant.
In the net earnings section, we definitely see a decrease in the gross profit margin to 65.2% from 67.8% and net operating income margin to 19.6% from 22.7%, same period last year. It can be attributed to the acquisition and transaction charges, integration costs, and even the cost of inventory stepped up to present market value. And if the company buys Concentric Medical as planned, it is again going to show up in the Q4 and annual financial reports.
But do you notice something here? Well, I am not a medical expert, but do you remember the acquisition of the Neurovascular Division of Boston Scientific Corp. (NYSE:BSX), which stands as the global leader in the $900mn neurovascular market all over the world, specializing in producing technology for minimal invasive haemorrhage and ischemic stroke treatment?
Said Stephen P. MacMillan, Chairman, President and Chief Executive Officer of Stryker:
With the acquisition of Boston Scientific Neurovascular we are further broadening our footprint in one of the fastest growing and innovative segments of the medical technology market. We look forward to the ongoing introduction on next generation neurovascular devices that will improve outcomes for patients and help drive accelerating sales growth.
Now we will see the same move repeated yet again when Stryker buys Concentric Medical, which is famous for its devices for treatment in cases of acute ischemic strokes (AIS).
Stephen P. MacMillan said:
Stryker is committed to advancing care within the interventional neurovascular space. The acquisition of Concentric Medical and its leadership team provides us with the opportunity to leverage our global distribution capabilities and help bring innovative treatment options to the large and underserved ischemic stroke population.
It seems the company is all set to gain maximum exposure and share in the vast global neurovascular market. To go by the track record, the company's profitability margin seems to be good according to other related companies. The present return on investment is around 15.05%, much better than 8.29% of Zimmer Holdings (ZMH), Inc., 6.13% of Exactech Inc. (NASDAQ:EXAC) and 3.6% of CONMED Corp. (NASDAQ:CNMD). The total debt to assets at 9.38x and total debt to equity at 14.24x seems to be pretty much in control, which means optimum value to the common investors.
Summing it up with my silly advice, Stryker seems to be in a pretty stable state, with future growth potential. That leads me to say it is a good investment for us retail investors.
Disclosure: I have no positions in any stocks mentioned, and no plans to initiate any positions within the next 72 hours.