August was interesting - we've seen one of the biggest single-day crashes in the stock market's history, huge volatility which boosted the VXX to levels we haven't seen in over a year, incredibly low yields on fixed-income instruments, a parabolic continuation of the gold bull market, and other things which have scared the living daylights out of big money managers and individual investors alike. In the last few weeks, we've seen the market cautiously creep upwards as the panic selling finished and safe-haven assets became less appealing.

Thursday's data brings us concrete evidence that we'll probably avoid the theorized double-dip recession that is still eating away at the market's confidence. Sales figures were better than expected, as were car sales. Manufacturing expanded yet again, which is especially bullish given how pessimistic the market has been in this particular segment of the economy. On top of all that, there have been fewer unemployment benefit applications. None of this data suggests that another recession is right around the corner. August's crash was in large part due to that fear, so the bullish correction isn't purely based on the hopes of a QE3.

Despite the good news, markets tanked today (September 1st) in part due to the rally that bulls have been enjoying all week overheating the indices and due to the uncertainty surrounding the unemployment report. Safe-haven assets have been mixed in performance. Gold (GLD) has been flat for a few days, struggling to break $1830/oz, supported by potential inflation and popularity but suffering from a return to risky assets. The Swiss Franc (the "gold" of currencies) experienced a huge rally earlier in August even relative to the safe-haven dollar, and is rapidly returning to its prior levels as shown in this chart (courtesy of Yahoo! Finance).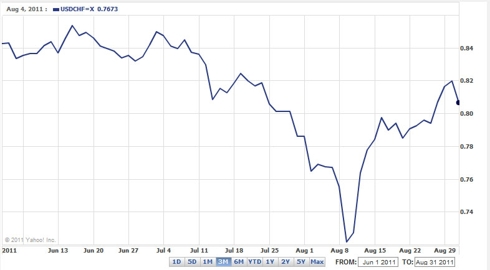 Click to enlargeThe one safe-haven that has been the most reluctant to return to normal levels has been Treasury Bills, which have stayed extremely low even throughout the latest market rally. Here is a chart to show just how relatively low they've stayed:
Type

of

T

-

Bill

Current

Yield

Yield

1

Month

Ago

3

Months

Ago

1

-

year

Note

.10

%

.22

%

.18

%

5

-

year

Note

.90

%

1.32

%

1.60

%

10

-

year

Note

2.15

%

2.77

%

2.96

%

20

-

year

Note

3.10

%

3.72

%

3.83

%

This is all after the strong performance in the treasury bill market for the first half of 2011. Many speculators are beginning to think that we're close to the highs of a huge bond bubble that will rock the markets upon a collapse as outline in this article by the Wall Street Journal. The hype over fixed-income guru Bill Gross' big mistake this year betting against the T-bills adds another argument against the current rates: If Bill Gross (a brilliant bond investor with a proven track record) thought they were too low in the early months of this year, they are incredibly low now. Keep in mind that European debt crises, China slowdown fears and America's colossal deficit have been everyday news since the 2009 crash, so not much has really changed except corporate profits which continue to improve.

This is a huge part of the reason that the stock market rally isn't finished yet. Yes, the indices have already been rocketing upwards with the Dow Jones (DIA) finally breaking 11,600 briefly and the S&P (SPY) surpassing the key 1220 level. Bernanke's comments and Jackson Hole may have also implied a QE3 which has probably helped the rally to an extent, but the fact remains that the bond markets still have very unattractive yields and they haven't been sold off yet (neither has gold).

If anything investors should be concerned with buying government debt if government debt is what is spooking the markets (especially if you're looking at debt from troubled European governments). These fears shouldn't be having such a severe effect on company-based stocks or demand-driven commodities while fixed-income remains so strong. Upon an expected or better employment report tomorrow (September 2nd), we may begin to see the bond bubble begin to burst open as people evaluate equities based on intrinsic value opposed to macroeconomic rumors. Looking at the S&P for the last 10 days, today (September 1st) was indeed just a pause in a larger uptrend that doesn't have any reason to slow down (yet).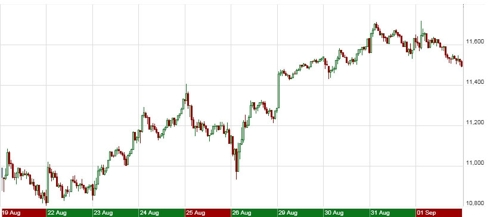 Click to enlarge

In conclusion, keep tight stop-limits on your shorts if you have them. The bulls have much more than QE3 hopes supporting the rally, and you don't want to be caught on the wrong end of the next move. Treasury bill yields haven't been this low since 2009, as people thought the financial world itself was going to implode. It's really hard to justify a T-bill purchase now, as the rest of the safe-haven assets are emptying out into equity markets and the dollar's strength relative to the euro and its problems has already been priced in. If more people leave safe-havens (particularly T-bills), risky assets like stocks should see more buyers soon.

An Inverse ETF for Treasury Bill Bears:

Proshares Short 20+ Year Treasury ETF (NYSEARCA:TBF)

and for extra leverage...

Proshares UltraShort 20+ Year Treasury ETF: (NYSEARCA:TBT)

Disclosure: I am long TBT.