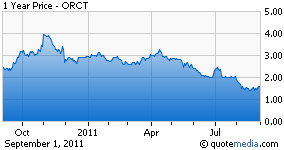 It is not often that I come across an opportunity that begs to be taken advantage of. Now let me just say that if our firm moved into the stock (or in this case, sold short) we would attract too much attention and be unable to get a solid position. Therefore I am going to give this information to everyone here and they are free to do as they see fit with this information. The fact is, at one time, Orckit (NASDAQ:ORCT) traded at $12.42 in 2006 and now it trades at a depressing $1.60 with an enormous debt load. This is the dark shroud of bankruptcy.
ORCT has reduced revenue by 30+% over the last 5 years and has a debt load of 98% debt to capital. The Current ratio for ORCT is .81 meaning if they collected all of their current assets and they still need 20% more just to be able to pay all their current liabilities. Just this quarter, the company has taken out $26M in short term financing but only has $17M in cash and generates a net income of - $5M. Over the last trailing 12 months ORCT has earned - $1.10 per share. Cost of revenue usually represents about 50% of their costs and they spend even more than cost of revenue on their selling expenses. On a YoY basis, ORCT spends the same on R&D as it does on selling expenses, yet revenue has decreased YoY significantly. As cash levels continue to bleakly deteriorate, revenues become stagnant, and liabilities continue to grow. The future of this company is looking quite grim indeed.
The only company that has managed to come back from such a dismal outlook was a little computer company known as Apple (NASDAQ:AAPL). ORCT lacks the direction and product advantage that Apple possessed and still possesses by an incredible margin. Speculation suggests seeing this company filing for delisting or bankruptcy in the next 12 to 18 months.
Disclosure: I have no positions in any stocks mentioned, and no plans to initiate any positions within the next 72 hours.