Heineken NV (HINKY.PK) is the world's third-largest brewer of beer by volume, after Anheuser-Busch InBev (NYSE:BUD) and SABMiller (OTCPK:SBMRY). Like its major competitors, Heineken is a foreign company (Dutch) and its shares trade in the U.S. as a bank-sponsored ADR, with each ADR representing 0.5 shares of the Amsterdam-traded shares. The company reports in euros, and financials are converted to USD for this article at a euro 1.40=USD$1.00 exchange rate.
In 1863, Gerald Heineken purchased a failing Amsterdam brewer, Haystack, and proceeded to convert it into the largest brewer of premium beer in the world. The Heineken family maintains a major stake through a 58% ownership in Heineken Holding NV, which in turn holds 50.01% of the brewer. Heineken operates in 70 countries and owns 125 breweries, offering over 200 beer and cider brands. Known for its premium labels, Heineken's brands include its namesake and largest, Heineken, in addition to Amstel, Birra Moretti, Cruzcampo, Foster's, Kingfisher, Newcastle Brown Ale, Ochota, Primus, Sagres, Star, Strongbow, Tiger and Zywiec.
In 2010, HINKY generated 35% of EBIT from Western Europe; 21% from North, South & Latin America; 25% from Africa & Middle-East, 14% in Central & Eastern Europe; and 5% from Asia Pacific. Global market share of total brewery production is pegged at 10%.
Last week, the company reported first-half earnings and they were a bit disappointing. The company reported adjusted earnings growth of 5.7%, with organic revenue growth representing a gain of 3.9%. EBIT matched organic revenue growth and expanded by 3.9%, but consensus estimates called for growth in the 10% to 11% range. Operating cash flow for the first six months totaled $1.09 billion. However, management painted a gloom and doom outlook for the second half, reflecting a full year earnings estimate of no growth over 2010. Reading between the lines, earnings for the second half will therefore fall 4% to 5%, even as revenues continue to expand, to compensate for the nice bump in the first half. Consensus estimates had been for between 10% and 13% earnings growth for the full year.
Management outlined the second half anticipated weakness:
Bad weather in July and Aug. reduced demand in the EU;
Weakening consumer confidence in the U.S. is creating lower volumes. With declines in July, the U.S. market now equals revenues generated in France. Volumes in Greece have declined 13%;
Higher input costs are squeezing margins;
An aggressive multi-year cost savings, consolidation, and brewery-closing program is wrapping up;
Marketing costs are trending higher.
For 2011, revenues are expected to be $24 billion, and HINKY carries a market capitalization of $28 billion. The balance sheet is well managed with net debt of $11.75 billion at the end of 2010. A steady decrease in debt over the next few years is anticipated courtesy of its strong cash flow, with 2011 debt reduction estimated at $750 million.
Globally, overall beer demand has been stagnant to falling for several years. Brewers have grown market share by acquiring and merging - followed by cost cutting and restructuring. Beer pricing environments have been difficult as rising commodity costs and stiffer competition from smaller regional breweries have cut into profit margins Volume growth has been anemic, except for Asia Pacific, mainly due to changes in consumer buying habits in mature markets during the recession.
To offset these changes, Heineken is increasing its marketing budgets. Marketing costs increased from 13.0% of revenues to 13.7%, and mirrors increases by Anheuser-Busch InBev. While seemingly a small percentage increase, it represents an additional $250 million in annual advertising expenditures.
In addition, management is targeting more cross marketing of its existing brands, introducing current labels to a more diverse international market. Management is also anticipating spending about 1.0% to 1.5% of revenues on new product research and development.
There are some concerns with HINKY's acquisitions during the past few years. For example, the company purchased FEMSA in Mexico for $5.7 billion in 2010 with the anticipation it would become a contributor in overall volume and profit growth. However, for the first six months, Mexican volumes grew by a paltry 0.6% versus modeled growth of 8%. At the time of the acquisition, some analysts chided the company for paying too much, and those naysayers seem to have been right, at least in the short term. There are critics who believe management has historically overpaid for underperforming acquisitions and this is the root cause of lower operating margins compared to its peers.
The current social disruptions in the Middle East have negatively affected Heineken, as the region has been a growth driver in recent years.
Heineken's premium beer niche is well suited for the potential improvement in consumer spending trends in emerging markets where consumer are beginning to favor upscale labels as disposable income grows. For example, the largest percentage growth in operating profit for the first half was from Asia Pacific with a 22% increase in profits on volume growth of 8%, followed by Africa with a 6% increase in operating profits on 8.5% volume growth.
Return on Invested Capital peaked in 2007 at 14.0%. It then slid to a low of 7.3% with the onset of the global recession. Management has been clawing its way back and is anticipated to generate ROIC in the 9.5% to 9.7% range this year. ROIC is expect to improve over the next four years, growing to between 13.0% and 13.5% based on further cost-cutting programs and higher operating margins. If ROIC achieves these targets, earnings growth will follow.
Earnings per ADR share in 2010 were $1.71 (based on an exchange rate of 1:1.33). New consensus estimates call for EPS per ADR of $1.87 this year, $2.05 in 2012 and $2.31 in 2013. This would represent a 9.7% EPS growth rate, mainly backend loaded.
Heineken pays a semi-annual dividend and usually represents approximately a 25% to 30% payout ratio. The 2011 dividend is expect to be $0.52 per ADR and could grow to upwards of $0.63 in 2013. The dividend current yield is 2.1%.
With the announcement of weak second half guidance along with the current market malaise, ADR prices have sold off quite dramatically. Share prices have fallen from over $30 in June to a low of $23.70 right after the announcement. Prices have rebounded a bit to the $24.80 range.
Below are 1-, 3- and 5-year comparable stock charts of HINKY, Anheuser-Busch InBev (BUD) and SABMiller (OTCPK:SBMRY):
1 Year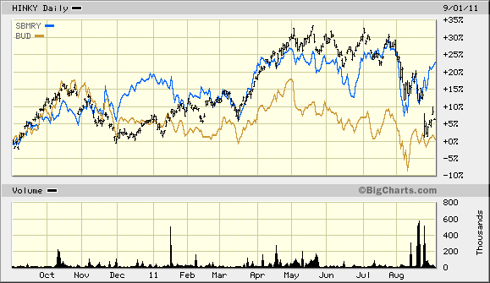 3 year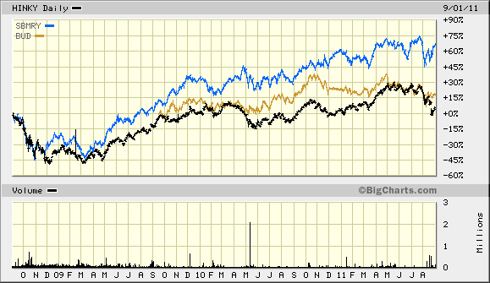 5 year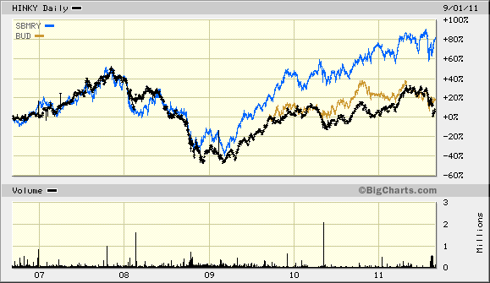 The bullish case for Heineken focuses on a rebound in margins and ROIC, better market penetration in emerging markets, continued cost-cutting programs, and successful cross marketing of brands into new geographic locations. While Europe comprises of about 49% of EBIT, the future growth for Heineken will come from its increased exposure in the emerging markets. Trading at just 1.1 times revenues, versus 2.3 and 3.7 for its competitors, HINKY seems to be undervalued for patient investors with a 3-year timeframe.
More information can be found in the company's latest investor presentation.
An underappreciated benefit of being a Heineken shareholder is the need to continually perform due diligence on the company's products. I am on my way to the fridge for another "quality test".
As always, investors should conduct their own due diligence, should develop their own understanding of these potential opportunities, and should determine how it may fit their current financial situation.
Disclosure: I am long HINKY.PK, and have been a shareholder since 1998.