When I began researching the 30 large cap companies that make up the Dow Jones Industrial Average I was unsure which would be my favorites and which would be at the bottom of the list. The key metrics I chose to evaluate these stocks with are P/E ratio (past and forward), debt to equity ratio, dividend yield, dividend history, payout ratio, and finally the stocks beta. I also took into account the larger economic factors at play and how they may affect the company's performance.
As I have mentioned in previous articles, I am of the opinion that there is somewhere between a 25-40% chance that the United States has already or will slip back into another recession. I base this feeling on the recent extreme volatility of markets as well as the slew of negative economic indicators (both here and abroad).
The Fed has pledged to keep interest rates pegged at low levels until at least March of 2013. I see this as the rope around our waist as we slide down the slope of economic downturn. It is my belief that this will hold us out of recession and keep us in a period of long-term low growth rates.
The sovereign debt crisis seems to have Europe in an absolute bind. Every sliver of bad news that they get quickly makes its way across the pond and disrupts our markets. With this information in mind we will now move on to my top 5 picks as well as my bottom 3 choices.
click on image to enlarge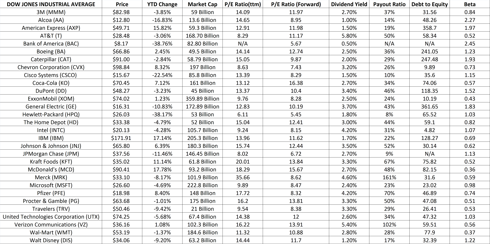 Top 5 Picks:
I am very partial to high yielding income stocks with strong balance sheets and a long stable history of paying and raising dividends. So it was not much of a surprise to me that my list (3.80%) had a higher average than the Dow (2.86%). The difference in the average payout ratios was negligible as both were near the 40% mark. Also my picks had a much lower debt to equity ratio level of 37.06 compared to the index average of 86.89.
Johnson and Johnson (NYSE:JNJ) engages in the research and development, manufacturing, and sale of various products in the health care field worldwide. Some of its most well known products include: Band-Aid, Neutrogena, Acuvue contact lenses, and Tylenol. JNJ currently has a strong dividend yield of 3.50% with a payout ratio of 52%.
It has proven to be very consistent when it comes to its dividend history. It has been issuing dividends since 1944. Also it has been able to perpetually raise payouts for 47 straight years. Johnson & Johnson is up 6.39% so far this year and it is viewed by the majority of investors as top flight choice in the health care industry. It has a strong cash position with over 29 billion dollars in cash.
JNJ has a small beta of .62 which says that it is not a very volatile stock. Investors who are looking for a large amount of capital appreciation should be looking somewhere else. However, if you are looking for capital preservation and a safe dividend than Johnson & Johnson is second to none.
One final reason that I am partial to JNJ is because of the sector it resides in. In the past healthcare has proven to be one of the few recession resistant industries. If you think there is a good possibility of recession and are looking for a great company, then JNJ might be the stock for you.
AT&T (NYSE:T) is a global telecommunications company with a large market cap of $166 billion. T is trading at a low P/E ratio of 8.29 with share prices of $28.48. The true value of this corporation comes from its outstanding dividend which is yielding 5.80%. At this time T has a dividend payout ratio of 50% there is still room for the dividend to grow. Speaking of growth AT&T has increased its dividend for the past 28 years.
What makes AT&T even more appealing is when you look at these metrics in terms of its major competitor Verizon (NYSE:VZ). T is trading at half the multiple level of VZ, has none of its long term debt issues, and is still has a larger dividend yield.
This is one of the strongest endorsements out there for AT&T. Yesterday (August 31st) the US Department of Justice put a hold on AT&T's merger with T-Mobile (OTCQX:DTEGF). This has caused the stock to retract off its August highs. This could provide a great entry point for investors looking to get into a fantastic high yielding Dow stock.
Chevron Corporation (NYSE:CVX) engages in petroleum, chemicals, mining, power generation, and energy operations worldwide. This oil giant is the second largest oil company in the United States behind fellow Dow member Exxon Mobil (NYSE:XOM). It has a solid dividend yield of 3.20% which is 70 bps higher than XOM. This is coupled with a great history of paying dividends. CVX has consistently paid a dividend to its shareholders since 1912 and has raised it for 24 straight years.
By observing the companies P/E ratios Chevron is trading at a slight discount to XOM. Also it has outpaced Exxon in YTD growth and have a lower debt to equity ratio. These are all bullish signs for the oil giant. According to its Beta numbers CVX is a bit more volatile than XOM, but it is still less than market average.
With future economic outlook very uncertain it is not clear in which direction the price of oil may head. I would look to target $95 as a possible entry point to get into CVX.
Intel (NASDAQ:INTC) engages in the design, manufacture, and sale of integrated circuits for computing and communications industries worldwide. It is another $100 billion company and is trading at 9.24 P/E ratio. It has a very strong cash position with over 11 billion on hand.
Its current dividend yield is an impressive 4.20%. It has paid a cash dividend to its shareholders since 1992. Since 2003 Intel's dividend has steadily increased at a 33 percent compound annual growth rate (CAGR). With a 31% payout rate there is still a ton of room for growth. Intel's debt to equity ratio is extremely low at only 4.26.
Tech companies have been hammered recently on tough economic outlook. Intel is down over 4% on the year. This could be an opening to pick up some shares of this big yielder inexpensively.
McDonald's (NYSE:MCD) with 90 billion served McDonald's is the largest fast food company in the world. It has a presence in 119 countries with some 32,000 restaurants. I think that McDonald's with its strong balance sheet and global presence is the perfect income stock for an uncertain economic outlook. Also the fast food industry has been proven to be very recession resistant.
One major reason I'm a proponent of McDonald's is because of its large presence in the emerging markets. In fact McDonald's is often seen as a symbol of globalization and the American way of life. At the beginning of the year 39% of revenues came from the US, 41% from Europe, and 19% from APMEA (Asia, Pacific, Middle East, and Africa) region. The APMEA is the fastest growing sector in the company. McDonald's is projecting that between 175 and 200 new restaurants will open in China this year. I love where the growth in McDonald's revenue stream is coming from.
MCD is also very strong in terms of its dividends health. At present it has 2.70% yield and a payout ratio of 49%. MCD is known for its extremely high profit margin and this has been reflected in its stock price as it has shot up 17% YTD. It has increased its dividend for 34 consecutive years and currently have a 5 year growth rate of 27.5%.
This could be the most stable dividend stock in the market if the country was to be hit with another recession. With all that said, the stock hit its 52 week high on August 31st. I would look for some type of retraction before adding to a position.
Bottom 3 Picks:
Bank of America (NYSE:BAC) is a financial holding company that provides banking and non-banking financial services and products to individuals, small- and middle-market businesses, large corporations, and governments globally. BAC as well as other financial stocks have been hammered in by investors as of late. On August 23rd it hit a recent low of $6.30 a share. Since then it has bounced off of that hard on the news that Warren Buffet is dropping $5 billion of capital into the bank. However, sitting at a share price of $8.17 it is still down 38% on the year
Bank of Americas dividend is just as bad a shape as its share price. It is currently sitting at a puny 0.5% dividend yield. The treasury earlier this year denied BOA's request to raise its dividend. As it has shown in the last month BAC is also far more volatile than the market with a Beta of 2.45. With the company being embroiled in the Countrywide lawsuit debacle, the financial stocks getting hammered by the market, and the weak state of its dividend, I see no reason to consider Bank of America as anything more than a possible speculative play.
Hewlett-Packard (NYSE:HPQ) offers various products, technologies, software, solutions, and services to individual consumers and small- and medium-sized businesses, as well as to the government, health, and education sectors worldwide. This company like BAC, has been in the news as of late. HPQ came back with extremely disappointing earnings in Q2 and also announced its plan to sell off its PC business. This has drawn a ton of criticism focusing on the company's seemingly lack of a plan. The stock price responded brutally dropping by 27% since August 2nd. HPQ offers a dividend yield of 1.80% with a payout ratio of 8%. It also has a debt to equity ratio of 65.52.
At this moment one may think that HPQ is very cheap considering it is trading a multiple of just above 6. However, this could only be true if you believe that the company is headed in the right direction. I agree with the overwhelming majority here in stating that HPQ seems to be going nowhere fast. This is why I advocate keeping your distance from this company.
Walt Disney (NYSE:DIS) together with its subsidiaries, operates as an entertainment company worldwide. The main reason that I am negative on Disney is because of its extreme reliance on consumer spending. As I mentioned earlier I think that our economy will see long term low growth rates with a legitimate chance of slipping into a recession.
It has been increasing revenue lately but this has mainly been due to rising prices as opposed to larger admission numbers. The recession is still being felt by Disney. DIS is experiencing higher costs at ESPN as well as in its movie studios which is also weighing on its bottom line. As of August 31st it was down 9.20% on the year. Its dividend yield is a meager 1.20% with a payout ratio of 17%. It has a solid history, issuing dividends for the past 55 years. With consumers still under pressure as the economy moves forward I simply don't feel that the outlook is very positive for DIS.
Disclosure: I have no positions in any stocks mentioned, and no plans to initiate any positions within the next 72 hours.