Silicon Valley has a long history of producing companies that disrupt their respective fields. From Apple, to Google, to Cisco, these companies all change their industries, and make our lives easier. The company we are highlighting today is another child of Silicon Valley, Intuit (NASDAQ:INTU).

Intuit, founded in 1983, provides a range of financial software and solutions to ordinary people, small businesses, and large scale financial institutions. Its Quicken and TurboTax products are synonymous with consumer finance, and TurboTax has helped close many tax-preparation businesses over the years, all while rewarding shareholders along the way. Since its IPO in 1993, Intuit has returned over 1,700%, trouncing the S&P 500's 168% advance. What is interesting about Intuit is that it did not reach its all time high during the dot-com bubble, but rather this year.




We feel that Intuit has more room to grow, and the company has several growth initiatives, including:
Shift into the cloud. As Intuit's CEO Brad Smith pointed out on the last conference call " A typical QuickBooks Online customer who only purchases the Financial Management Services pays us $24.95 a month. By comparison, an average QuickBooks Pro desktop customer pays about $200 for the software every 2 to 3 years. So the mix shift to QuickBooks Online, as well as QuickBooks Enterprise, which carries an even higher price point, is quite favorable." This shift into the cloud version of QuickBooks is leading to an acceleration of growth, which is what allowed Intuit to post its first profitable quarter outside of the tax-filing season.
Continued growth in electronic tax filings. Shifting demographics and the "natural advantage" of digital tax filing will allow Intuit to continue to grow the TurboTax install base. As younger people begin to file taxes, they intuitively wish to file them electronically, having grown up around technology.
International expansion: Intuit has turned its focus outside the US, launching QuickBooks in Canada, the UK, and Singapore. Intuit's global business grew 15% in the last fiscal year, and with a new focus on emerging markets as well, we feel that international business will be a large driver of Intuit's continued success.
Intuit has been committed to growing its business, and has not held back in investing in initiatives such as Intuit Health and Mint. All this investment has been funded with internal cash, and Intuit's balance sheet has just $500 million of debt. What is more impressive is that Intuit has been able to do this while consistently buying back stock. Intuit has repurchased $1.4 billion in stock this fiscal year and has authorized a new buyback program totaling another $2 billion. But what has us most excited and confident about Intuit's future is that they have initiated a quarterly dividend of 15 cents, which yields about 1.2%, which shows that management is truly confident in Intuit's future prospects, for dividends are initiated only during prosperous times for a business.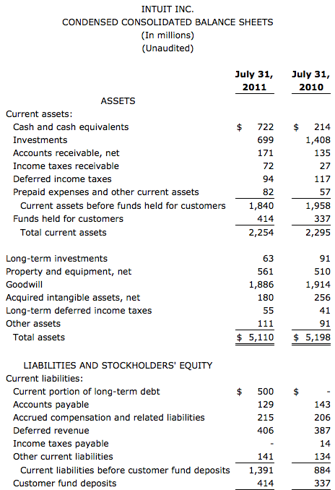 We feel that Intuit is a great investment due to the continued migration to the cloud, as well as the international expansion of its accounting and financial products. Intuit is committed to both investing in growth and rewarding shareholders. We feel that the prospects for future growth at Intuit are bright, and feel that now is a great time to add to or initiate a position in a leading software company that, in our opinion, is just beginning to realize its true potential.

Disclosure: I am long INTU.