Sometimes in times of market turmoil, it pays to stick with the tried and true. Stocks that have consistent and sticky revenue streams, solid and growing dividends and reasonable valuations should provide solid refuge during turbulent times. One such stock is Sysco.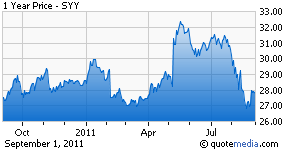 Sysco (NYSE:SYY) – "Sysco Corporation, through its subsidiaries, distributes food and related products primarily to the foodservice or food-away-from-home industry in North America and Europe. The company offers a line of frozen foods, such as meats, fully prepared entrees, fruits, vegetables, and desserts; a line of canned and dry foods; fresh meats, custom-cut fresh steaks, other meat, seafood, and poultry; dairy products; beverage products; imported specialties; and fresh produce." (Business description from Yahoo Finance)
8 reasons to buy Sysco at under $28 a share:
1. It is selling near the bottom of its five year valuation range based on P/B, P/E, P/S, and P/CF.
2. SYY is providing a generous dividend yield of 3.7% and it has raised its dividend payout by an average of over 8% annually over the past five years.
3. Sysco is priced right at long term technical support (See Chart).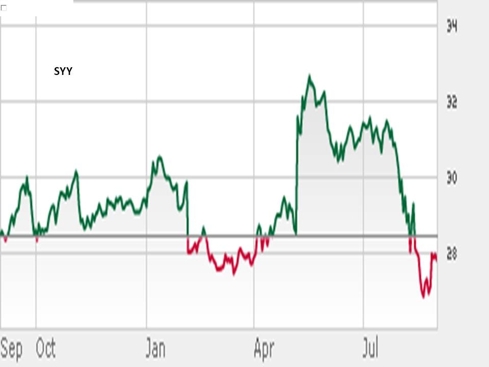 Click to enlarge
(Click to enlarge)
4. Sysco has an A+ rated balance sheet, a low beta (.71), and is selling at under ½ of annual trailing revenues.
5. Initiatives to consolidate purchasing, build regional distribution centers and better control inventory should improve margins over time.
6. Sysco has long and established relationships with almost all restaurant chains which provide a steady and consistent source of revenue growth. It is projected to grow revenues by around 5% in both 2011 and 2012.
7. Consensus EPS estimates for 2012 have risen slightly over the past three months and SYY is selling for just 12 times next year's earnings.
8. The median analyst price target on Sysco is $32.50.
Disclosure: I have no positions in any stocks mentioned, and no plans to initiate any positions within the next 72 hours.