ETF Spotlight on SPDR KBW Regional Banking (NYSEARCA:KRE), part of an ongoing series on individual exchange traded funds.
Assets: $410.12 million.
Objective: SPDR KBW Regional Banking ETF tries to reflect the performance of the KBW Regional Banking Index, which is an equal-weighted index that holds publicly traded companies that do business as regional banks or thrifts.
Holdings: Top holdings include: Community Bk Sys Inc (NYSE:CBU) 3.26%, Cvb Final Corp (NASDAQ:CVBF) 2.62%, Wintrust Financial Corp (NASDAQ:WTFC) 2.80%, Boston Private Finl Hldgs (NASDAQ:BPFH) 2.69% and Signature Bk New York (NASDAQ:SBNY) 2.62%.
What You Should Know:
State Street Global Advisors is the fund provider of KBE.
KBE has an expense ratio of 0.35%.
The fund is down 14.14% over the last month, 14.42% the past three months and 19.07% year-to-date.
Sector allocations include: Regional Banks 95.11% and Thrifts & Mortgages 4.89%.
"The banks included in KRE's portfolio exhibit more of the characteristics we'd expect from traditional regional banks – conservative loan books, considerably less leverage, and business models centered around gathering local deposits," according to Timothy Strauts, Morningstar analyst.
Those who feel the banking sector is still in for some painful times may consider the inverse option: Short KBW Regional Banking (NYSEARCA:KRS).
The Latest News:
The Federal Housing Finance Agency is set to file lawsuits against more than a dozen big banks over their roles in packaging and marketing toxic mortgage securities, The New York Times reports.
The recent bounce in the financial sector and Warren Buffett's $5 billion bet on Bank of America (NYSE:BAC) have triggered speculation that banking ETFs have finally hit bottom and are due for a turn.

Lackluster economic data sent financials falling ahead of the broader S&P on Thursday, according to BusinessWeek.
Regional banking executives expect weaker projections from the government but they see a double-dip recession, according to Sterne, Agee analysts Todd Hagerman and Robert Greene.
The sector is contending with new regulations and higher capital requirements while cutting jobs.
"While we remain encouraged by the progress management is making both in terms of underlying credit quality and efficiency initiatives, our sense is that upside in the shares … is challenged given the limited growth opportunities, weak core profitability, and lack of capital flexibility, particularly for 2011," commented the two analysts.

SPDR KBW Regional Banking
click to enlarge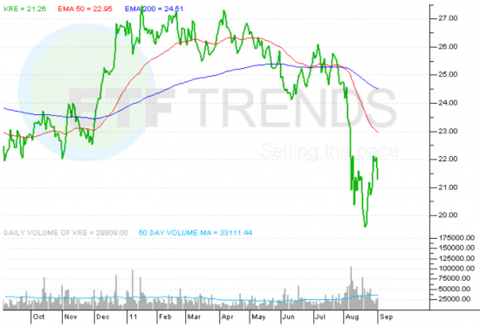 Max Chen contributed to this article.
Disclosure: None