Following the global financial crisis in 2008, a currency war has erupted.
The Economist covered the topic last October, when it quoted Brazil's Finance Minister Guido Mantega as stating that an "international currency war" had broken out.
GDP, by definition, is composed of a few factors — consumer spending, government spending, investment and net exports. If central banks cannot boost consumer spending or investment, and the government's budget is fixed, boosting net exports may be one way to increase GDP.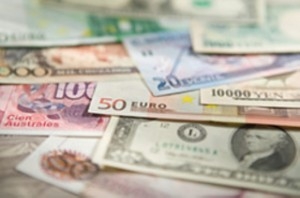 Although central banks are unable to directly control manufacturing companies, they can bend the rules in their favor by debasing the currency.
In terms of manufacturing, a country with a weaker currency may have a slight advantage over a country with a stronger currency, as manufactured goods priced in a weaker currency may appear cheaper (and therefore more desirable) to consumers.
Yet, this policy of debasement cannot work if every bank is following it. After all, currencies are priced relative to one-another. Currency values are a zero-sum game, and if one currency is weakening, then another one must be strengthening.
Evidence of the fact that the race to debase is failing may be seen in recent manufacturing data.
On Thursday, European manufacturing data came in worse than anticipated.
Germany's data was particularly bad. The German manufacturing sector is traditionally believed to be the strongest in the eurozone. Yet, on Thursday, Germany's manufacturing index reported at 50.9, below the expectations of analysts, who were expecting a reading of 52.
French manufacturing also contracted.
In the U.S., ISM manufacturing came in better than expected at 50.6. Analysts were expecting a figure of 48.5.
Still, August ISM was down slightly from the prior reading of 50.9.
The problem may simply be a lack of demand for the manufactured goods, as the global economy contracts.
One group that may have benefited from the currency war are those investors with long positions in gold. Since central banks began their policy of debasing, the precious metal has seen its value skyrocket.
Although many now believe that the gold market is undergoing a bubble, a currency's value against gold may be the only accurate measure of comparison left.
Still, the ISM beat in U.S. manufacturing may shed some positive light on the economic recovery. Perhaps the negative data in the eurozone is a primarily a regional problem.
The euro depreciated against the dollar on the news. Will that contribute to stronger European manufacturing data in the future?
Important Note
Content, including research, tools and securities symbols, is for educational and informational purposes and should not be intended as a recommendation or solicitation to engage in any particular securities transaction or investment strategy. You alone are responsible for evaluating which securities and strategies better suit your financial situation and goals, risk profile, etc. The projections regarding the probability of investment outcomes are hypothetical and not guaranteed for accuracy or completeness. They do not reflect actual investment outcomes and are not guarantees of future results, and do not take into consideration commissions, margin interest and other costs that will impact investment outcomes. Content may be out of date or time-sensitive, and is subject to change or removal without notice. Supporting documentation for any claims made in this post will be supplied upon your email request to editor@zecco.com.
At the time of distribution of the material contained herein, neither Zecco Trading nor Zecco Forex was a market maker or acted as the contra-party for customer transactions through the firm's principal accounts for the securities discussed.
Zecco Holdings, Zecco Trading, Zecco Forex, and their officers/partners/employees may hold a nominal financial interest in any of the securities discussed herein, with the nature of the interest consisting of, but not limited to, any option, right, warrant, future, long, or short position.
Neither Zecco Trading nor Zecco Forex has participated as a manager or co-manager in public offerings of the securities mentioned herein within the last twelve months.