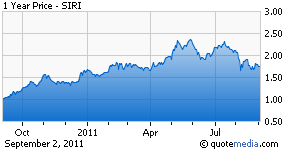 In a recent article, we talked about how Sirius XM (NASDAQ:SIRI) could learn a thing or two from Netflix (NASDAQ:NFLX), particularly for its ability to raise subscriber prices in so called recessions.
Each time it has instituted a price increase, the stock has soared. It raised prices recently in July, only seven months after it had already raised rates in November of 2010. With such pricing expertise, I can't help but wonder if Sirius XM has taken notice? After all, Sirius continues to be compared to Netflix and many other subscription services.
The premise of the article surrounds the question of "value." Or more specifically, how can Sirius present the price increase in a manner that it does not disrupt the business and/or alienate its loyal customers? In comparison to Netflix, its subscriber growth continues its uptrend in the face of two announced increases in less than 10 months. The answer lies within its value proposition. This is where we need to investigate Sirius a little bit more.
As each day passes, I become more intrigued about this topic and try to assess a parallel between Sirius' model and that of other subscription services. This time, let's take a look at cable and satellite TV, specifically the likes of Time Warner Cable (TWC), Comcast (NASDAQ:CMCSA) and DirecTV (DTV). What they have in common is that they all tend to raise prices on an annual basis and nobody seems to care. The question is why or why not?
In a recent article in the Los Angeles Times I was surprised to learn that there is something in the cable TV industry called "rate hike season." It is one that is marked by Time Warner Cable. What is remarkable about this time of the year is that cable subscribers expect routine rate hikes just as much as my neighbors here in South Florida expect hurricanes each August. The attitude is, "it's just something that happens, so why not just tape up your windows and stock up on canned goods."
In the LA Times article, it states that Time Warner Cable sends users a rather self-congratulatory information packet. In it, the company lauds a series of cable achievements before informing readers that they can expect a number of across the board rate hikes. Cable service in many markets is jumping 5%. An installer visit is jumping 50% to $30. The cost for installation of digital phone or broadband is increasing 65% to $33. DVR service is seeing a $1 hike. Again I ask, what can Sirius learn from the cable TV industry?
The Answer Lies In Its Value
When the idea of satellite radio was first brought to light prior to the merger of both Sirius and XM, the primary goal and business justification was that the satellite radio industry would do in the automotive radio market what cable TV did in the television market, that is to say "add choice" or variety.
For the most part, I am of the opinion that the unique idea of satellite radio still makes sense today. It is undeniable that Sirius does in fact present a wider range of choices and in various instances, better audio quality. It has also been argued by Sirius pundits that the cost of the satellite radio subscription is not worth the price in large part due to the likes of Pandora (NYSE:P). In other words, why pay for radio when there are free alternatives? This is where Sirius must prove its value, especially in a prelude to a rate increase.
The value lies in Satellite 2.0. I became aware recently from an unnamed source that Satellite 2.0 may now arrive sooner than investors expect. The unnamed source hinted at CEO Mel Karmazin's always uncanny desire to "under-promise only to over-deliver." Investors should have some reasons to believe that 2.0 just might be available this fall despite what we learned during the Q2 conference call, in which it is said to be ready some time in Q1 of 2012.
For Sirius to institute an increase of what some firmly believe to be no less than $2, satellite 2.0 has no choice but to be a "game-changer" and I sense that it will. Because in discussing the rate hike methods of cable TV, Sirius must produce greater than or equal value to its subscribers in order for the rate increase to have "hurricane-like" expectations; or in other words "routine." What the source also hinted at is that satellite 2.0 will bring with it time-shifting, DVR-like recording features, more storage in portable devices as well as channels with on-demand content. Speaking on "on-demand," it will allow subscribers who have missed an episode of Jim Cramer's Mad Money to catch up before the next show. Sounds like cable TV doesn't it?
I have become aware that not all of the shows will have on-demand capabilities. Not only will the ability to record stations be expanded with more hardware, but investors should now expect a two-way Internet communication system that would let subscribers create personalized radio channels. Again, this is where the "Pandora-like" features come into play as management hinted during the most recent conference call. Just as in Pandora, users will be able to "vote up or down" the type of songs they're listening to.
It is said that 2.0 will then conduct an algorithmic search for similar types of music and create a virtual playlist for the user, one that will allow users to skip songs without changing the channel. Investors should also expect Satellite 2.0 to possibly be on Google's (NASDAQ:GOOG) Android-based platform and will have built-in support for Wi-Fi, Bluetooth as well as Internet access. The radios will be upgradable via the satellite transmission similar to that of smart phones. If that is not value, I don't know what is. Sirius will effectively migrate from a "radio company" to a "technology company" while stealing some thunder from Pandora, a company that is suffering from anemic cash as well as patent disputes.
Summary
The bears always seem to tout how Sirius faces rigid competition from Pandora, Slacker and others. But the reality is Sirius is making money. I don't know how much clearer this can be stated. The latter companies are the ones that should be concerned about a growing Sirius subscriber base, one that will gladly pay $2 more for what is to be significantly more value.
Investors have every right to be frustrated with the stock, but everyone should be excited about Sirius XM the company and how it continues to execute. I continue to maintain that in these tough times, the best way to maintain your sanity is to keep things in perspective. Sirius XM continues to operate on all cylinders and the company is performing well. If you believe in the wisdom of Warren Buffett like I do, than you should believe that the stock will eventually perform well.
Disclosure: I am long SIRI.