Shoes are something that we all need, and are fashionable and functional. We like them to be just as stylish as they are comfortable to wear. According to a Consumer Reports National Research Center poll, women, on average, own 19 pairs of shoes. Some wealthier women own over 100 pairs. Imelda Marcos is said to own 5,400 pairs of shoes, changing them three times a day and never wearing the same pair twice. Keeping that in mind, let's take a look at some shoe stocks that you can consider adding to your portfolio.
Deckers Outdoor Corporation (NASDAQ:DECK)
Deckers has been endorsed by Oprah Winfrey for their popular UGG brand shoes. Oprah helped the company take off after expressing her love for their footwear on her show. However, this company is much more than just UGGs. Deckers is a best-of-breed shoe maker that also makes the following brands: Teva, Simple, Mozo, Sanuk, Ahnu, and Tsubo. They have a diverse offering of styles for men, women, and children. They operate with zero debt and have a PEG of 0.81. Their earnings are expected to grow annually at 22.5% for the next five years. Deckers has a healthy profit margin of 13.42% and an operating margin of 21.03%. Look for them to continue steadily increasing their sales and earnings as loyal customers update their shoe styles and new customers climb aboard "the deck."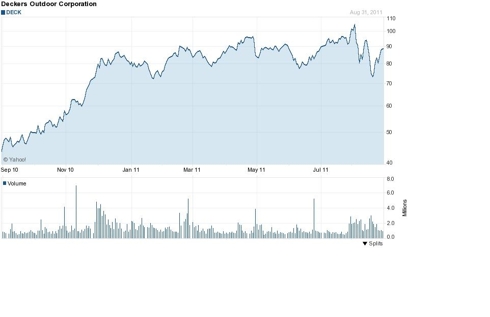 Click to enlarge
Crocs Inc. (NASDAQ:CROX)
Crocs started out with their distinctive Swiss-cheese-style shoes with the holes in them. Their comfortable Crosslite material provides a nice form of unique shoe comfort. Although the shoes with the holes maybe the first thing that comes to mind when hearing the name Crocs, they have many other styles for a variety of activities that are geared to adults and children. They have $179 million in cash compared to only $3.26 million in debt. Just like Deckers, Crocs has an attractive PEG of 0.81. They are expected to grow earnings annually at 25% for the next five years.
I have tried the Amaretto men's casual shoe model and was not impressed. I put them to the test walking for five miles at a time for 3 days. The padding of the soles was not what I expected and they made the muscles in my feet tired and sore. This does not happen when I wear New Balance sneakers. (Unfortunately, New Balance is not a publicly traded company). Although I haven't tried other Crocs models, I have heard that most of their models are comfortable for walking for long periods of time.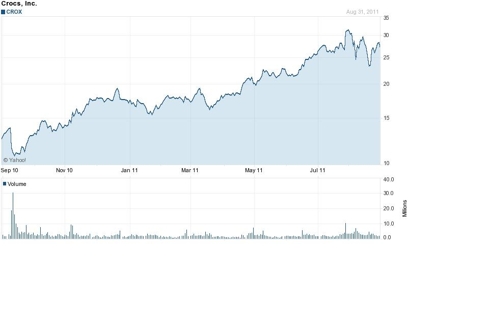 Click to enlarge
Foot Locker (NYSE:FL)
Foot Locker is currently operating 3,426 retail stores, primarily located in malls in the U.S. and overseas. They sell their athletic footwear, apparel, and accessories under the following names: Foot Locker, Lady Foot Locker, Kids Foot Locker, Champs Sports, Footaction, and CCS. They also operate a segment that sells directly to customers via catalogs and websites. They pay a nice 3.1% dividend and are valued well with a Forward P/E of 11.39 and a PEG of 1.39. Their stock is trading at only 1.5 times book value, which reinforces that great value.
However, their earnings have average -2.18% per year for the past five years, and they're expected to earn 8.78% per year for the next five years, which lags the expected earnings for the companies in the S&P 500 of 10.72% Compare that with the expected annual earnings of the overall shoe sector of 16.23%, and Foot Locker looks inferior.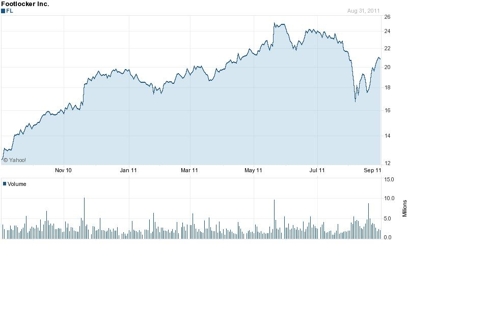 Click to enlarge
Skechers (NYSE:SKX)
Skechers is a California-based designer, developer and marketer of casual and athletic shoes for men, women, and children. They have a large variety of styles that includes work shoes, athletic shoes, boots, sandals, sneakers, casual shoes, and dress shoes. Skechers has reality TV's Kim Kardashian as their TV commercial star; she markets their Shape-Ups brand.
Skechers has had issues with a glut of inventory following some bad press that the Shape-Ups brand sneakers do not do what they claim to do. The company claimed that Shape-Ups were supposed to give you better posture, improve your blood circulation, trim and tone legs and buttocks while walking, strengthen back muscles, reduce cellulite, and tighten abdominal muscles. The thick, curved soles of Shape-Ups are supposed to mimic walking barefoot. Some lawsuits were filed claiming that the Shape-Ups caused injury to the user because they changed the user's gait. Their stock has taken a hit as a result, going from the $40s down to the teens.
I feel that this negative news and inventory glut has already been priced into their stock. Skechers stock has stabilized this summer and is beginning to slowly rise again. Their stock now shows great value as it is trading at $3 under book value per share. They have 1.8 times more cash than debt. They are expected to grow earnings at 15% annually for the next five years. Expect them to bounce back from these levels as they improve their inventories and return to positive and healthy sales and earnings growth.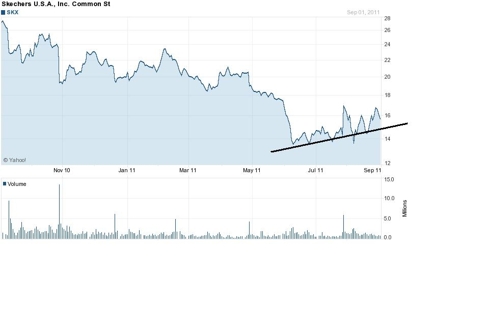 Click to enlarge
DSW Inc. (NYSE:DSW)
The Designer Shoe Warehouse is a retailer that sells all types of shoes for everyone (adults and children) and also sells accessories such as handbags and hosiery. They sell over 100 different brands, including Converse, Birkenstock, Adidas, Skechers, Timberland, Caterpillar, Nike, and many more.
DSW's rewards program entices customer loyalty as they earn points that convert to discounts on future purchases. It also provides rewards members with free shipping and birthday coupons.
Their stock is fairly valued with a forward P/E of 14.07 and a PEG of 1.63. This value is reinforced as their stock is only trading at 2.6 times book value per share. DSW pays a 1.3% dividend. In the past five years they have grown earnings at an annual rate of 16.4% and are expected to grow earnings annually at 10% for the next five years. Expect their stock to match the returns of the S&P 500 in the next few years.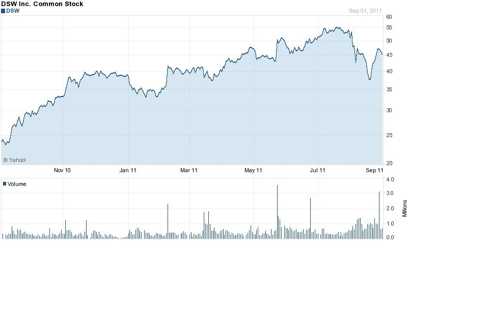 Click to enlarge
Steve Madden LTD. (NASDAQ:SHOO)
Steve Madden is a Long Island, N.Y.-based company that sells footwear for adults and children under the following brands: Steve Madden, Steve Madden Kids, Madden Girl, Stevies, Candies, and more. They also have selections of sunglasses, hosiery, outerwear, bedding and jewelry. They offer their products through various department stores and retailers, their own retail outlets, and via their own website.
They're operating with zero debt and are well-valued with a forward P/E of 13.12, a PEG of 1.10, and with their stock trading at only 3.5 times book value per share. Steve Madden has grown earnings annually 24.5% the last five years and is expected to grow them at 15% for the next five years. Expect their stock to beat the market and rise at 15% each year compared to the S&P 500's expected return of 10.72%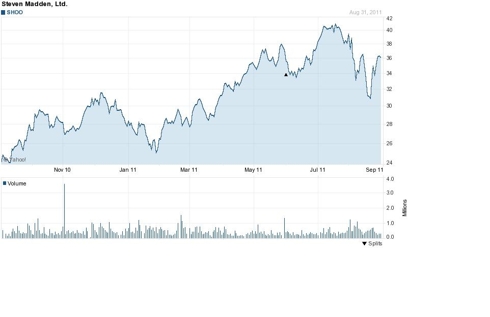 Click to enlarge
Conclusion
As we all need to replace our various footwear on a regular basis, and as many feel the need to update their shoe racks with new styles whether they need them or not, the demand for shoes will remain stable. All of the shoe companies mentioned in the article should continue to thrive. Keep in mind that earnings growth is directly related to stock price growth. All of these are expected to have double-digit earnings growth in the next five years, with the exception of Foot Locker. However, Foot Locker does pay a 3.1% dividend, which when combined with their expected earnings, brings their total yield to 11.8%. Personally, I like Sketchers as a turnaround story for the long term as I feel they will bounce back from their recent troubles and increase sales, earnings, and therefore their stock price from here. Skechers' stock screams value right now, and I want to take advantage of the potential stock appreciation.
Disclosure: I am long SKX.