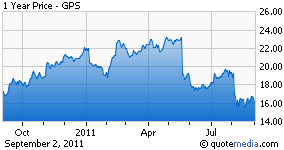 By Brian Sozzi
Gap (NYSE:GPS) is in trouble, no ifs, ands or buts about it. No need to mince words further, the second quarter will go down as one of the more challenging periods for Gap where all divisions reported comparable store sales that were worse than a year earlier. Broadly uncompetitive product at each division plus an inflation hit in the first half drove down gross profit margins by 297 bps. Unfortunately, the situation at Gap does not appear promising as we round the corner and head for the critical holiday season.
While management has done an impressive job at controlling operating expenses, the real deal is that the marketing messages are falling flat. When traffic does cross the lease line, it's smacked with product, mostly in women's at Gap and Banana Republic that are not striking the correct emotional response. Therefore the business has become a promotionally driven business.
The story of the company (pun intended) is caught in a gap of acknowledging the stock's present valuation and potential for a spring 2012 revival and reality of bad monthly sales reports. As of right now, the market is saying the near-term trends of the business will dictate stock price performance, not what a five-year discounted cash flow model spits out. In the world of Gap, August was a tough one on a two-year comp basis (meaning given where the product is this year there is no chance of improving on 2009/2010 sales numbers). September comp comparisons will loosen up a bit, but then become trying when attempting to surpass the holiday season.
All of the shenanigans at the company has sparked quiet murmurs within the analyst community that Gap should break itself up. This is something I once believed to be unthinkable, but now not so much as management's focus has to be on fixing the Gap brand instead of trying to be everything to everyone (mid-tier brand in Gap, luxury brand in Banana Republic, and low income destination in Old Navy). If this unwinding of a conglomerate model were to occur, it must occur now as Gap is moving forward with an international rollout of its various brands both in brick and mortar and online. Admittedly, the topic is one I need to put our arms around a bit more.