The following from chartoftheday.com shows a different view of the dismal employment situation.
Click to enlarge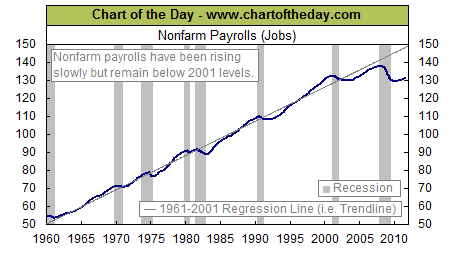 The current number of non-farm payrolls is below those of 1999-2001. The population has grown from about 280 million in 1999 to approximately 312 million today. So, adjusted for population growth, employment is in much worse condition than the above graph indicates.
The following graph shows the non-farm payroll data normalized to total population.
Click to enlarge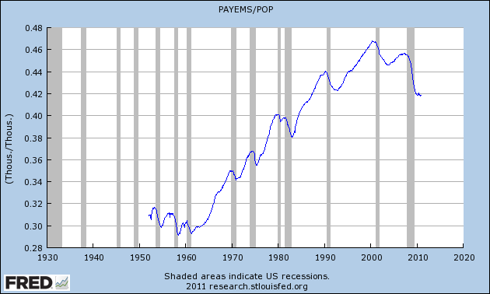 Click to enlarge

The above graph shows that employment levels (as measured by non-farm payrolls) have fallen back to early 1987 levels.
The other factoid taken from the above graph is that population normalized employment has reached the low point of a recession that started at the turn of the century. There was a failed attempt at a recovery 2003-07. Then the recession resumed.
The title of this article could well have been "Non-farm Payrolls at Levels not Seen since Early 1987."
What this graph is specifying in hard data is an employment depression.
While the U.S. stock market can be supported in this massive depression by global earnings, if global economic activity slows down where will support for current earnings come from? And more earnings growth?
Europe is definitely slowing under the austerity demands stemming from the sovereign debt crisis. Asia is slowing under the attempts of central banks to stem inflation.
Where is the growth going to come from?
Disclosure: I have no positions in any stocks mentioned, and no plans to initiate any positions within the next 72 hours.
Additional disclosure: I am long several dividend paying S&P 500 stocks.