In this weekly options article, I usually add some color to options activity highlighted by fellow Seeking Alpha contributors Frederic Ruffy, Andrew Wilkinson and optionMONSTER. It appears that all three have taken off early and/or altered their schedules for the long holiday weekend, therefore this week I wanted to change things up just a little bit.
For the record, Ruffy did post a column, but filed it about an hour earlier than he does on most Fridays, I believe. I receive it early via email. You can read it
here
. Wilkinson also posted
a column
, but it came too late for me to include any of his highlights. Such is life ahead of a three-day weekend in the stock market.
And, truth be told, I have been a tad on the distracted side this week. Having grown up on the Canadian border, I have gone through most of my life identifying with that country more than my own. As such, I am big hockey fan with an allegiance to any Canadian team. The Toronto Maple Leafs top that list.
This week,
former Leaf Wade Belak committed suicide
. It came as a shock to the hockey world,
but not necessarily a surprise
as Belak's passing makes it
three deaths
among NHL role players known as "enforcers" this spring/summer.
Frankly, if I can use the small platform I have to raise awareness regarding mental illness, particularly in the above-mentioned context, I'll take the opportunity. I think it transcends most of the other things I/we do everyday anyhow. That said, this is an investment site and as news of Belak's death broke, other than follow the story, I did what often comforts me - I looked at stocks.
In the process, I came across one that intrigued me.
Callaway Golf (NYSE:ELY)
: Callaway continues to work through
some serious problems
. In the process, its stock has lost nearly half of its value over the last 52 weeks. I think it's overdone.
High-end consumers keep on spending
and golf tends to be a high-end sport. Callaway simply has not keep up with the trend.
That said, it has acknowledged its problems, keeps addressing them - in part by getting a bit more lean and mean and using the cash savings to improve marketing - and should move through this period.
I view the stock as a long-term holding. By long-term, I mean for a minimum duration of 3-5 years. I intend to execute a multi-pronged strategy to go long ELY.
First, I will sell ELY October $5.00 puts at or around Friday's closing bid of $0.25. Considering my long-term time horizon I would not mind getting put shares of ELY at an effective price of $4.75. It closed Friday's session at $5.25. I will also open a separate long position in the stock. My instinct says to write covered calls, but given the likely size of my position, the strategy does not appear to have enough of a pay-off, particularly if I get shares called away at $6.00 in November or February. I might complement the stock position by going long ELY November and/or February $6.00 calls.
Apple (NASDAQ:AAPL)
: Throughout the market volatility, AAPL has remained one of the best stocks to write puts on. Generally, when I suggest this strategy, I offer up strike prices with breakevens that are quite comfortably away from where AAPL will, in all likelihood, fall by options expiration day.
If, however, you're really aggressive
and
have the cash to back up what might turn into a $37,000 long position in AAPL stock, you could consider the AAPL Sept $370 put, which last traded at $7.30 as of Friday's close. Minus a trading day, you have time decay on your side (September options expire on the 17th). At the same time, you'll get considerably less than $7.30 for selling the put, but going into the holiday season, I would be willing to take the risk, assuming, again, I have the cash set aside and the desire to go long AAPL.
Potash (NYSE:POT) and Research in Motion (RIMM)
: Speaking of hockey and Canada, the country is home to polar opposites in Potash and Research in Motion. Headquartered in
Belak's hometown
, Saskatoon, Saskatchewan, Potash helps represent a nation's pride. So much so that
the Canadian government refused to let BHP Billiton
(NYSE:
BHP
) take Potash out.
After a considerable pullback, POT looks ready to retest $60 a share. I want to go along for the ride, therefore I might buy some POT January '12 $60 calls when the market opens on Tuesday. They last traded at an ask of $4.75. I would be comfortable adding to any long position in POT down as low as $55 and just past $60.
Click to enlarge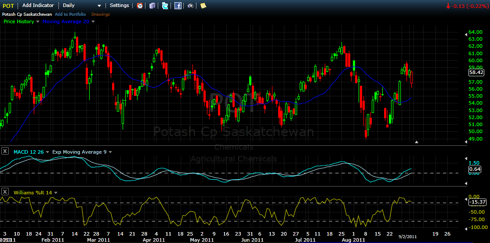 Chart courtesy of FreeStockCharts.com
)
As for RIM, to put it kindly, I just don't see Canadians making a major stink if a foreign entity makes a bid for the company. If I were in Parliament, I might quietly solicit offers. When RIM gets laid to rest, it will look better for Canadians, if it does not happen alongside Nortel Networks (
OTC:NRTLQ
). Plus there's a fresh plot set aside in America next to Palm's grave.
Yesterday,
I offered one way to play the continued collapse of RIM
, using a mix of going short the stock or buying puts alongside the hedge of buying weekly or monthly calls and selling weekly or monthly puts to play any temporary upside. Today, I throw out another strategy for consideration.
RIM
reports earnings on September 15th
. Between now and then, I don't see a whole heck of a lot happening. In fact, while the stock might dump when Co-CEO Jim Balsillie opens his mouth, I don't see it falling below $20 until QNX and
the innovative BlackBerry music service
proves to be the latest in a series of failures come mid-2012.
With that in mind, I think it actually makes sense to sell RIMM weekly puts for a while to generate some income. You can use the proceeds to buy long-dated put options, particularly deep in-the-money as well as far out-of-the money contracts with January 2013 expirations.
Consider this one example of how you could play it:
Sell RIMM September OTM puts. I think anything below $26 keeps you safe from assignment. Look at this way, even if RIM embarrasses itself again on the 15h, it would need to lose about 20% to fall to $24. I don't think round two of the collapse will happen quite so soon. The September $24 puts fetched $0.41 at Friday's close.
Buy RIMM Janaury 2013 $20 put for $2.67, as of Friday's close.
No matter how bearish you are on a stock, I think you have consider, realistically, how it will behave. Remember stocks are not family members. And just as you should not fall in love with them, you should not hold a grudge. You're not stepping on the lines of loyalty by making a somewhat bullish bet as you bide your time waiting for the long-term story to unfold.

As I continue to improve my views on trading, I think seeing things from this type of perspective and making better uses of hedges are two key areas I need to focus on. My most recent writings on RIMM help illustrate this thought process.

Disclosure: I have no positions in any stocks mentioned, but may initiate a long position in ELY, POT over the next 72 hours.

Additional disclosure: I may open or close positions in any of the stocks mentioned in this article, often using options, at any time. I am also long RIMM Janaury 2012 $15 puts as part of an experiment where I set out to lose $600. See my article from July 12 to learn more.