This is an exclusive interview with Keith Neumeyer, President and Chief Executive Officer at First Majestic Silver (NYSE:AG).
Q: The overall mining industry has experienced inflationary pressures throughout the first half of 2011, how do you plan to control costs and maintain margins going forward?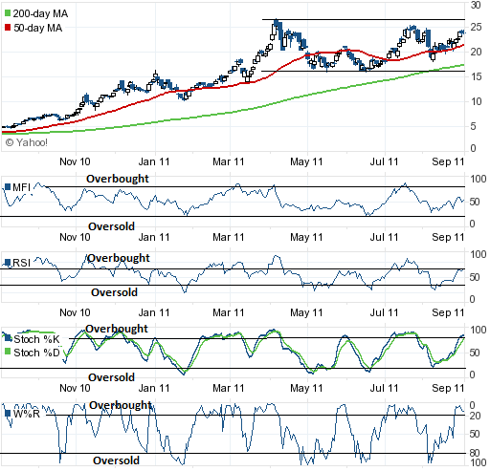 A: That's correct, the entire industry has experienced higher costs of everyday items such as chemicals, energy, petroleum and labor. However, we've benefited from higher silver prices at a much faster rate and therefore our cash margins have grown much more substantially which helps minimize the extra costs. In addition, to help combat the continued threat of higher costs (if in fact they continue), we are upgrading a number of items at our operations. First, we recently installed a new automated cyanide feeder at La Encantada that reduces the rate of cyanide consumption by over 30%. This same system will be installed at each of our operations. We are also installing the same induction furnace technology used to melt precipitates at La Encantada at both La Parrilla and San Martin. These induction furnaces use about 50% less energy than the current furnaces and produce a higher quality Dore bar resulting in a much more efficient operation. And lastly, as our production continues to increase year over year, the economies of scale will have a positive impact on our overall costs.
Q: Are there any constraints currently affecting your mines, such as political, environmental, or labor wise?
A: Mexico continues to be the best jurisdiction for mining companies to do business internationally. The reasons are; great geology which is generally very under explored, the government is politically very friendly and supportive to mining with supportive regulations, and environmental and labor laws are also within reasonable and workable standards.
Q: What happens when Mexican workers demand higher wages?
A: Pressures exist for all mining companies active in all countries around the world. Personally, I believe it's long overdue that these areas of the world are beginning to receive benefits from growth within their economies. Due to increasing metals prices and the renewed investment into the mining sector, small communities once impoverished are now becoming bustling communities. It's very important, as any responsible company should, to be sensitive to local concerns and needs. We at First Majestic take our social responsibility very seriously and wages is only one component of our responsibility.
Q: What is your long-term silver price outlook and do you think we'll ever see silver at $5 an ounce again?
A: I'll answer the last part of the question first. No, it's not very likely silver will ever be $5/oz again. Actually, you probably have a better chance at seeing gasoline below $1/gallon than silver at $5/oz. Silver is undergoing a rerating. The actual fundamentals of the metal are slowly being understood. The supply/demand fundamentals due to the growing industrial demand is very robust and will likely to see +$100/oz silver process in the not too distant future.. The long-term historical ratio between gold/silver is 16 to 1 and I feel we are headed back to approximately those levels.
Q: What characteristics set First Majestic apart from the rest of the silver producers?
A: For starters, we're the purest silver producer in the world. In the first half of 2011, 97% of our revenue came from the sale of silver which is extremely unique. This figure compares to Hecla (NYSE:HL) at around 50% and Pan American (NASDAQ:PAAS) around 65%. For investors looking for exposure to higher silver prices, First Majestic (AG) offers the best leverage and liquidity. We also have a very impressive production growth profile that is estimated to double our production over the next 3 years to reach, and very likely, exceed 16 million ounces. Another important yet sometimes overlooked characteristic is that our operations are focused 100% in the mining-friendly country of Mexico. In the current days of political and financial uncertainty, Mexico remains one of the most stable countries in the world to operate and we will continue to focus on opportunities within this growing country.
Q: I read that the company is planning a dividend next year. Can you elaborate on any details?
A: Yes, personally I've had a goal of paying a dividend for some time. We are currently discussing the commencement of a dividend in the first quarter of 2012, and I feel it's an important step in the overall growth of the company. We currently have over $100M in the bank and even while undertaking the costs of two major construction projects we expect to maintain a strong treasury into the year end. We require all the necessary approvals to commence the payment such of dividend; however, it's something we are seriously considering but not yet certain.
Q: What other near-term catalysts should investors be focused on?
A: Over the next several months, we anticipate a number of positive catalysts. The current mill expansion project at La Parrilla is going very well and is on schedule to be completed by year end. This increased capacity will begin to ramp-up to hit its designed rate of 1,600 tpd (tons per day) by the first quarter of 2012 resulting in the La Parrilla operation doubling in size to over 3.0 million silver equivalent ounces of production in 2012. Simultaneously, our Del Toro Silver Mine is under construction and is expected to be the next game changer for the company. This operation will be big and is expected to be our largest mine by 2014. An Economic Evaluation will be coming out in November outlining all the parameters for Del Toro which will outline the final design/size and operational parameters of this new and very exciting operation. First production from Del Toro is anticipated to commence in the third quarter of 2012. In addition to the work underway to increase our production levels, a very large drilling and exploration program was launched in early 2011 which will result in new NI 43-101 Reserve/Resource estimates being released on each of our five core assets over the coming quarters.

Summary
All sounds very bullish for both silver and the company. There doesn't seem to be much holding back the company, besides the price of silver. And the increased production and cost-cutting should boost profitability. Further, a dividend would attract income investors to the stock, boosting its price. From Mr. Neumeyer's comment of a 16:1 gold-silver ratio, that would predict a price of $112/oz., $118.75/oz., and $125/oz. for silver assuming an $1800/oz., $1900/oz., and $2000/oz. price for gold, respectively. With silver currently at $41/oz. and gold at $1800/oz., the stock should be nearly a three bagger.

Disclosure: I am long AG.