While the first stop of most investors looking for gold exposure are the gold ETFs, investors looking to generate high alpha from gold ought to seriously consider junior gold equities, particularly New Gold Inc (NYSEMKT:NGD).

Three reasons I prefer NGD over Gold ETFs:

1) You get your physical gold exposure at a deep discount: When you buy into a SPDR Gold Shares (NYSEARCA:GLD) or iShares Gold Trust (NYSEARCA:IAU) you're paying current market prices for your gold exposure. With spot prices currently at $1800, buying the ETF gets you gold at $1800. Buying into a junior gold equity like NGD, you're getting your physical exposure at a deep discount since extraction and production cash costs are much lower-- ~$350/ounce in the case of NGD. Everything above that price point flows directly to the company's bottom line.

2) You're buying into experienced operators that can add real operational value: While gold is now behaving more like a monetary commodity, why not buy into an asset that provides you with both monetary safety as well as commercial value? When you buy gold ETFs or bullion, your asset is literally sitting in a vault. When you buy into an NGD, you have an experienced management team whose sole expertise is running mines, identifying and acquiring new mining assets and getting more bang for every ounce mined and sold. They know the market and can tactically adjust their strategy to generate the most value per ounce-- this gives you operational flexibility that a metal sitting inside a vault simply cannot.

3) Industry-wide M&A activity gives you additional upside: The mining industry in general, and the mid-cap space in particular, is experiencing heavy M&A activity. NGD itself has been on a heavy buying spree, having purchased the mining assets of Richfield Ventures Corp that could quadruple its reserves. If NGD continues on this current path it will either grow itself into the major league of gold miners, or it will get taken out by one of the behemoths looking to buy its terrific mining assets and stellar growth. Considering M&A premiums are in the 70% range, this is an added value catalyst that gold sitting in a vault just cannot generate.

While the headline for the self-proclaimed gold "experts" is how Gold ETFs have outperformed the broader market, the headline for the genuine gold insiders is how Gold ETFs underperformed relative to the juniors, especially NGD. Take a look at the charts below:
| | | |
| --- | --- | --- |
| Returns as of 09/01/2011 | GLD | NGD |
| 1 month | +12.7% | +23.2% |
| 6 months | +27.1% | +34.9% |
| 12 months | +46.1% | +113.9% |


In the 12 months ending 09/01/2011, NGD outperformed GLD by a whopping 68%.





To be clear, gold ETFs play an important role in any portfolio -- and with ~$75 Billion tracking GLD, investors clearly see the value of diversifying from stocks and into hard assets. I'd rather be long GLD than the broader market right now. However, it's important to realize there are additional ways to get your gold exposure that can be more value accretive, and NGD is one of those under-the-radar options.


NGD: Tale of the Tape

Profile: NGD is an intermediate gold producer with a portfolio of global assets in the United States, Mexico, Australia, Canada and Chile. (Google Finance)

Management: Randall Oliphant is NGD's current executive chairman. Previously he was CEO of Barrick Gold Corp (NYSE:ABX), the world's largest gold company. Soon after his stint at Barrick he joined NGD to capitalize on the inefficiencies in the market that could only be addressed by a smaller, more nimble gold company.

Financials:
Annual
Quarterly
2010-12
2009-12
2008-12
2011-06
2010-06
Income Statement
Revenue
530
324
218
172
112
Operating Income
142
-141
-181
72
24
Net Income
177
-194
-103
79
59
Earnings Per Share
0.45
-0.64
-0.69
0.16
0.15
Shares Outstanding
395
306
148
429
400

Value Catalysts:
Strong Cash Flow Growth: 131% yoy
High Net Profit Margins: 41%
Solid Balance Sheet: $500M in cash
Increasing Margins Per Ounce: +74% since 1Q2010
Major Properties Coming Online: El Morro in Chile; Blackwater in British Columbia and New Afton in Western Canada
Click to enlarge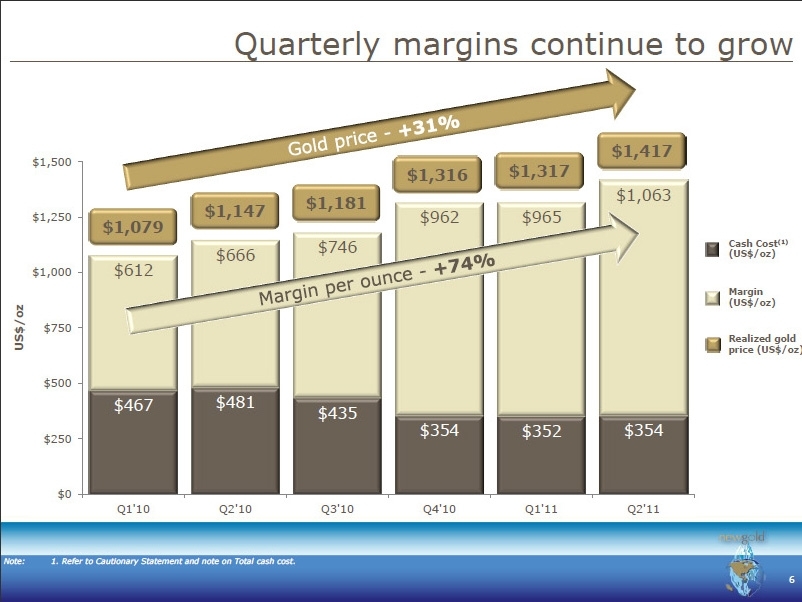 Disclosure: I am long NGD.