The appeal of mortgage REITs is the stable cash dividend during an exceptionally low interest rate environment. The SEC sent the mortgage REIT market into a tizzy on Wednesday after saying that it is considering changing the exemption status of the mortgage REIT market.
Mortgage REIT Overview
Mortgage REITs take advantage of a tax status to invest in mortgage related real estate assets. REITs can invest in both physical real estate assets and real-estate related securities like mortgage backed securities (MBS). REITs electing the take advantage of the tax status must distribute 90% of taxable income as dividends. The primary advantage of using the REIT tax designation is that these companies do not pay state or federal corporate taxes on dividends paid to investors. Instead, the taxes are paid by the REIT equity holders (investors).
50 Year Exemption
Passed in 1940, the Investment Company Act regulates how some investment firms are organized in order to minimize conflicts of interest in complex operations. But an exemption was given to companies engaged in the mortgage banking business.
The SEC said late Wednesday it will solicit public comment to determine if mortgage real estate investment trusts should be regulated as investment companies and therefore subject to the Investment Act of 1940. These REITs have been exempted from the Investment Act for some 50 years under a certain statute originally intended for mortgage banks only. The SEC noted the Investment Act did not foresee the explosive growth of mortgage securities or the flood of other mortgage investors that have entered the industry.
Evolution of Mortgage REITs
According to a recent press release by the SEC:
The mortgage markets have evolved and expanded, and the provision has been used by a wide variety of types of pooled vehicles and other companies unforeseen at the time of enactment. These issuers include certain mortgage-backed securities issuers and certain REITs.

The SEC is concerned that mortgage-related pools potentially are making judgments about their status under the Investment Company Act without sufficient SEC guidance on the interpretive issues that arise under that provision.
Loss of Leverage Brings Risk to Yields
A big concern for mortgage REITs is they will lose their ability to employ high levels of leverage if they are subject to the Investment Act. Mortgage REITs have high dividend yields partly because the managers use high leverage, which can boost returns. The REITs also use low-rate, short-term debt to finance their bond purchases. The chart below (click to enlarge) shows current yields and valuations (price-to-book value) for some of the larger mortgage REITs.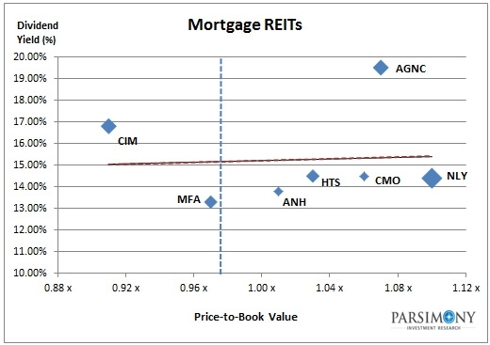 Mortgage REIT investors should definitely keep this unforeseen risk on their radars...it will change the game for mREITs.