Following the news that Starz Entertainment (LSTZA) won't renew its content contract with Netflix (NASDAQ:NFLX), the company's stock took a big hit on Friday trade. Losing close to 10 percent of its value by early afternoon trade—and near 30 percent from all time high. What is next for the stock?
[Click to enlarge]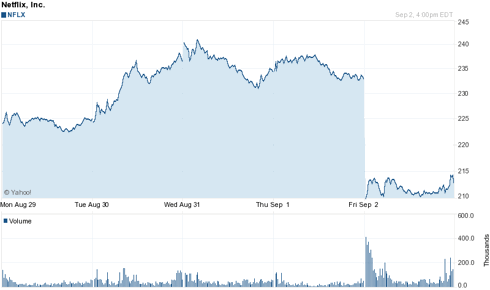 Since this is perhaps the most controversial stock of the last two years, arguments go both ways. The momentum crowd continues to claim that the stock is a "buy," as it looks at earnings growth momentum. The fundamentalist crowd continues to claim that the stock is a "sell" or even a short, concerned about the company's ability to maintain profitability.
So far, the momentum crowd has been on the right side of the game, but now the rules are changing, and it is on the wrong side of the trade. Fundamentals are turning against Netflix, as the company faces challenges from all directions: from content providers like Starz Entertainment and CBS, as we discussed in a previous piece; and from competition, on both ends of its business, by Amazon.com (NASDAQ:AMZN), Hulu, and Wal-Mart (NYSE:WMT) on the one side, and Blockbuster (OTC:BLOAQ) and Coinstar (NASDAQ:CSTR) on the other. Let's take a look at each competitive threat:
Hulu has so far been Netflix's sole competitor in the video-streaming side of its business. But nowAmazon.com, that has been considered a potential competitor for quite sometime, is officially jumping into video streaming race; and so is Wal-Mart. That's not good news for the momentum investors, who believe that the stock can reach for the stratosphere.
Coinstar, on the other side, has been Netflix's sole competitor in the traditional video rental business—after Blockbuster's bankruptcy. But now Blockbuster is back with a new owner, Dish Network (NASDAQ:DISH) that decided to keep the chain open; and as of an announcement made on Friday, Dish is planning to enter the video-streaming business, too.
Compounding the problem is Netflix's strategy to raise its service bundle from $9.99 to $15.99. This helps Amazon.com, Blockbuster video and Coinstar more than it helps Netflix itself. Consumers who want the traditional video service can return to Blockbuster video or to Coinstar, while consumers who want streaming only can go to Amazon.com, Hulu, and Wal-Mart.
The bottom line: Netflix's problems aren't confined to content; they extend to competition. The company sells somebody else's content using a public network (that is about to get more expensive to use), with a technology that isn't proprietary. It's a matter of time before its business model is squeezed from all directions.
Disclosure: I am short NFLX.