AT&T (T) has declined 7% since the announcement that the Justice Department is looking to block the AT&T/T-Mobile merger. This decline is offering investors an opportunity to acquire shares with a solid 6% dividend. AT&T is a great company that not only provides investors with a great dividend yield but a chance for appreciation as well.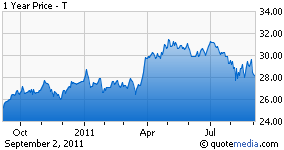 Here are some highlights I like about the AT&T business:
9.5% increase in wireless revenues, with a 7.4% increase in wireless service revenues.
Total wireless subscribers increased 1.1 million in the second quarter of 2011. AT&T now has a total subscriber base of 98.6 million.
Wireless smartphone sales increased to 70% of total post paid sales, in the second quarter of 2011. This was the highest percentage in the history of the company.
Mobile computing subscribers increased 545,000, almost double the amount when compared to the second quarter in 2010. Mobile devices are a huge growth opportunity for wireless carriers and will continue to drive growth. AT&T only has 4 million mobile devices on its network.
Second quarter operating income was $6.2 billion, an increase of $100 million when compared to the same quarter in 2010. AT&T had a net income of $3.6 billion. This came in a little less than 2010 which mainly had to due to an increase in expenses.
AT&T plans to reduce debt and return value to shareholders through dividends. AT&T has reduced debt by $3.4 billion over the last 12 months. AT&T has also paid $2.5 billion in dividends during the second quarter of 2011.
I understand that AT&T may ultimately have to pay T-Mobile $3 billion in cash as well as another $3 billion in assets due to the breakup fee that was negotiated. This has been factored into the shares and should not be a big drag on the company going forward.
AT&T has a steady business with great prospects in the wireless side of the business. Wireless accounts for 50% of the business and will continue to be a big part of the business. Even though AT&T has seen a drop in net income due to an increase in expenses, I don't see the dividends being endangered. I'm bullish on AT&T and feel that pullbacks provide investors a great opportunity to invest in a company with a solid dividend.
Disclosure: I own wireless stores that directly compete with AT&T wireless