There are a plethora of E&P companies in energy. If you choose well, they grow over the long term. The big, slower growing ones even pay decent dividends. However, if you want really good dividends you have to choose the Limited Partnerships. These pay great dividends -- much more than a lot of bonds. The good or bad other factor is that their stock prices tend to go up and down with the price of energy.
To me this is a good thing. It provides a hedge against inflation. Longer term the price of energy (oil, natural gas, coal, and uranium) is forecast to go up due to increasing demand, even without other inflation. If you are a longer term investor, you can buy the limited partnerships with nearly complete peace of mind. If energy prices rise over the longer term, the stock prices of the energy LP's will tend to rise too. If these companies are well run, this last is even more assured. Three companies that fit the above description are Cheniere Energy Partners LP (NYSEMKT:CQP), Boardwalk Pipeline Partners LP (NYSE:BWP), and Energy Transfer Partners LP (NYSE:ETP).
Since some people may wonder what these companies do, so I have include a brief description of each below.
Cheniere Energy Partners (CQP) through its wholly owned subsidiary, Sabine Pass LNG, owns and operates the Sabine Pass LNG receiving terminal in western Cameron Parish, LA on the Sabine Pass Channel. CQP's primary business objectives are to generate stable cash flows sufficient to pay the initial quarterly distribution to its unit holders and, over time to increase its quarterly cash distribution. CQP is currently developing its proposed liquefaction project at its Sabine Pass terminal which would transform the terminal into a bi-directional LNG processing facility capable of importing foreign sourced LNG and exporting U.S. natural gas as LNG. The liquefaction project is planned to enter service in mid-2015.
Boardwalk Pipeline Partners (BWP) is a master limited partnership. It is engaged through its subsidiaries in the interstate transportation and storage of natural gas. Boardwalks' three interstate natural gas pipeline systems have approximately 14,200 miles of pipeline and underground storage fields with aggregate working capacity of approximately 167 Bcf. Customers have the flexibility of accessing diverse supplies of gas in the Mid-continent and Gulf coast and connecting to other interstate pipelines that reach the Northeast, Midwest, and Southeast. Lowes (NYSE:L) owns 100% of the general partner, Boardwalk GP, LP, which owns 64% of BWP. The chart below (click to enlarge) gives the investor an idea of BWP's Operating Revenue Growth.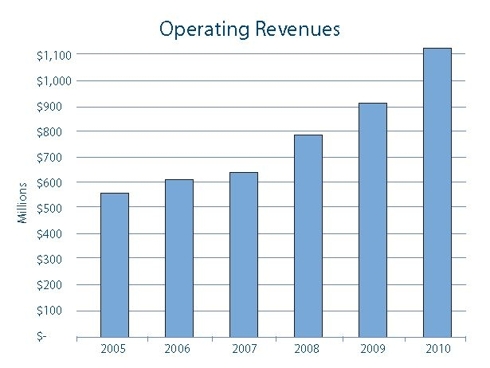 Click to enlarge

The chart of BWP's supply sources (below, click to enlarge) indicates that it is not likely to see its resources dry up in the near future.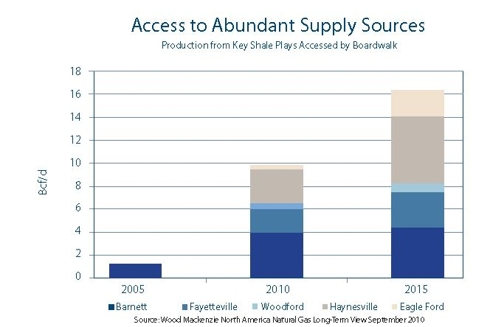 Click to enlarge

Energy Transfer Partners LP (ETP) is a publicly traded partnership owning and operating a diversified portfolio of energy assets. ETP has pipeline operations in Arkansas, Arizona, Colorado, Louisiana, Mississippi, New Mexico, Utah, and West Virginia. It owns the largest intrastate pipeline in Texas. ETP currently has natural gas operations that include more than 17,500 miles of gathering and transportation pipelines, treating and processing assets, and three storage facilities located in Texas. ETP also holds a 70% interest in Lone Star NGL LLC, a joint venture that owns and operates natural gas liquids storage, fractionation, and transportation assets in Texas, Louisiana, and Mississippi. ETP is one of the three largest retail marketers of propane in the U.S. It serves more than one million customers across the country. On Aug.5, 2011, ETE (the parent of ETP) announced the full syndication of the $3.7 million acquisition provided by Credit Suisse to finance the announced acquisition of Southern Union Company (NYSE:SUG). The acquisition is on track to complete in Q1 2012. The acquisition will cause SUG to contribute its 50% interest in Citrus Corp. to ETP in exchange for $2B. The cash proceeds from this will be used to repay a portion of the acquisition financing and to repay existing SUG related debt to maintain investment grade metrics.
ETE is a publicly traded partnership, which owns the general partner of ETP and approximately 50.2 million ETP limited partner units; and the general partner of Regency Energy Partners and approximately 26.3 million Regency limited partner units.
The table below contains some of the fundamental financial information for these companies. The data are from TD Ameritrade and Yahoo Finance.
| | | | |
| --- | --- | --- | --- |
| Stock | CQP | BWP | ETP |
| Price | $15.10 | $24.91 | $43.72 |
| 1 yr Analysts' Target price | $20.00 | $31.95 | $52.55 |
| Predicted % Gain | 32% | 28% | 20% |
| PE | N/A | 22.18 | 27.41 |
| FPE | 503.33 | 17.06 | 17.35 |
| Avg. Analysts' Opinion | 3.0 | 2.6 | 2.4 |
| Miss Or Beat Amount For Last Quarter | +$0.24 | -$0.08 | -$0.11 |
| EPS % Growth Estimate for 2011 | -112.30% | -8.20% | 64.20% |
| EPS % Growth Estimate for 2012 | 137.50% | 8.10% | 27.90% |
| 5 yr. EPS Growth Estimate per annum | N/A | 3.37% | 13.41% |
| Market Cap | $2.45B | $4.95B | $9.13B |
| Enterprise Value | $4.59B | $8.02B | $16.67B |
| Beta | 0.36 | 0.05 | 0.49 |
| Total Cash per share (mrq) | $0.34 | $0.27 | $0.64 |
| Price/Book | -- | 1.53 | 1.77 |
| Price/Cash Flow | 100.75 | 11.22 | 13.06 |
| Short Interest as a % of Float | 1.49% | 0.52% | 2.29% |
| Total Debt/Total Capital (mrq) | 134.27% | 48.56% | 56.32% |
| Quick Ratio (mrq) | 1.4 | -- | 1.03 |
| Interest Coverage (mrq) | 0.84 | 1.38 | 2.47 |
| Return on Equity (ttm) | -- | 6.68% | 6.72% |
| EPS Growth (mrq) | -111.74% | -81.30% | 173.56% |
| EPS Growth (ttm) | -107.52% | 1.55% | 24.72% |
| Revenue Growth (mrq) | -43.27% | 2.06% | 28.43% |
| Revenue Growth (ttm) | -44.75% | 8.74% | 4.95% |
| Annual Dividend Rate | $1.70 (11.30%) | $2.10 (8.40%) | $3.58 (8.20%) |
| Gross Profit Margin (ttm) | 87.98% | -- | 39.32% |
| Operating Profit Margin (ttm) | 54.09% | 35.16% | 18.94% |
| Net Profit Margin (ttm) | -6.52% | 21.45% | 12.18% |

The data for CQP is confusing at best. It fell before the overall market fell. Before that, it had a strong uptrend. It would seem that it fell as commodities started to fall as the Fed started tightening (or easing less).
Its earnings are forecast to shrink dramatically this year, but they are forecast to grow dramatically next year. It is also forecast to have the largest stock price gain (32%) of the three stocks. It currently has the highest dividend. However, it has too much debt. It has a trailing twelve month Net Profit Margin of -6.52%. Ugh! It has questionable ability to pay its debts easily. This could put the dividend in jeopardy soon.
This looks like an eventual good growth opportunity. However, I am unsure of the timing. It might be best to wait until the stock starts going more definitively upward. A recession might punch holes in a number of the forecasts for this stock.
BWP has fallen with the falling market and falling energy prices. However, it seems to be a very stable stock with a Beta of 0.05. Energy prices seem to have stabilized. It will most likely hold its value well. It is forecast to gain 28%. Plus it pays a 8.40% dividend.
You might want to wait to see how the market reacts to the disappointing NonFarm Payrolls data before you commit to any new stock. The market moved down on Friday, but that could be a one day phenomenon -- or not. Also the German constitutional court will vote on the legality of the EU bailouts on Sept. 7, 2011. This is another critical moment. If the court finds the bailouts illegal, it will spell trouble for the EU. On top of this the Finns are saying they want collateral for the bailout. This is a problem too. Still BWP looks like a great bet at its current valuation.
ETP is in much the same boat as BWP, except ETP is forecast to have much higher growth than BWP this year, next year, and over the next five years. There is some added uncertainty due to the new acquisition cited above. However, this looks like a strong stock that you could leg into at almost any time. The coming events concerning the EU bailouts legality question (mentioned above) should still be taken into account in your decision about the timing of any buy. Legging in is probably a good idea.
The 2 year charts of these stocks are below (click on each to enlarge). However, I did not find them particularly instructive. The fundamental data seems likely to play a much larger role in the valuations of these stocks. They are after all quasi bonds.
The two year chart of CQP is below: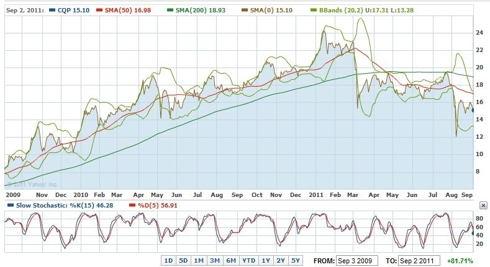 Click to enlarge

The two year chart of BWP is below: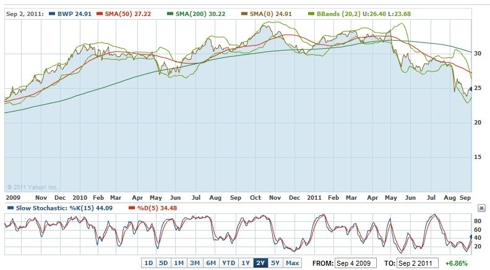 Click to enlarge

The tow year chart of ETP is below:
Disclosure: I have no positions in any stocks mentioned, but may initiate a long position in ETP, BWP over the next 72 hours.