With so much volatility in the market lately, investors aren't sure what's safe and what's dead money. Starting with the risk of another recession, added by the risk of a default and a European financial collapse and now, on top of all of that, a weak jobs report, can you really blame them? Most investors are doing the same thing: selling (Closing as well as Shorting) stocks and buying the "Safe-Havens". Money has been pouring into Treasuries (TLT,IEF,SHY) and Gold (GLD) as those securities have been considered safe. With the inflated prices of the "safe" assets, are they really that safe?
[Click images to enlarge]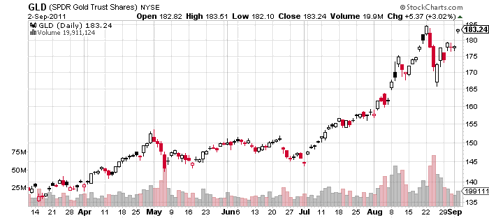 According to Ben Graham, the stocks that are cheapest are the safest as they can't go much lower, yet they can go so much higher. However, those that have been bought into at an unsustainable rate may face a sudden and dramatic downturn. We saw that recently when gold fell nearly 10% in a sharp move. After all, once "everyone" has put their money in the safe, warm arms of gold bars and the U.S. Government, the market prices will be very high and there won't be any more buyers.
The stocks will have been sold until they are basically free and there won't be any more sellers. This type of situation is an optimal entry point - it provides both Fundamental and Technical reasons to buy. Notice that I said reasons, as most people that are moving the prices so wildly are using excuses and emotions. Now that you know why it's time to enter, what's the best way to enter? There are many great stocks at a deep discount which I have written about in previous articles. Some of these include AT&T (T), Intel (INTC) and Coca-Cola (KO). A value investor in this market feels like a kid in the candy shop, everything is at a great price and looks so good! One of the best ways to take advantage of this current market condition though would be to buy General Motors (GM), a stock that is seeing an extreme discount.
First off, what are some of the main reason GM is so cheap right now? It's always good to have the risks as a first priority. One of the reasons is GM's bankruptcy. Many investors fear GM will repeat itself and even go bankrupt again. This fear has only been heightened by the fear of another recession. Then GM would be in a similar situation to what it was at. Another fear is the potential $35B pension shortfall that GM may have to face. There are other risks, but these two have been making the price of GM really sink recently. What I hope I can make you realize is that GM is still a good investment despite these risks. It has been showing many signs of improvement and is at the point in its stock price that the risk is becoming less and less important.
I just gave you the two reasons investors are afraid of GM, but why might investors feel safe with GM? For starters, GM has 32.77B in cash. That is almost as much as its market cap. It also has 12B in debt which leaves it at a Debt/Equity ratio of .28. A more important statistic stemming from all of this cash is its enterprise value which is currently at 15B. Comparing this to the market cap of 34.5B essentially means that for every $1 you spend on GM, its cash and cash equivalents will be giving you about $.60 back (includes debt and market cap in calculation).
This alone points to GM's deep discount. Another simple statistic to take a look at is the P/E of 4.65. With a P/E this low, even if GM isn't able to grow its earnings, you will still be earning over 20% a year on purchase price. This type of discount provides safety unmatched by the securities that are considered the safest. GM could lose Billions in cash, underperform analyst expectations for five years and still be profitable for shareholders.
There are reasons to shy away from GM but with the current market price, the risk/reward is definitely favorable. In fact, many of these fears a Bull may say are "countered" by some of the signs of improvement. For example, analysts expect GM to grow earnings at an annual rate of about 10.5%. This type of growth usually carries a high price tag, perhaps even a P/E of above 20. Although, GM's P/E is under 5. These earnings may not actually be seen of course, especially considering the weak jobs and sales reports. Although, as I said before even without any growth, GM will still provide a very high return.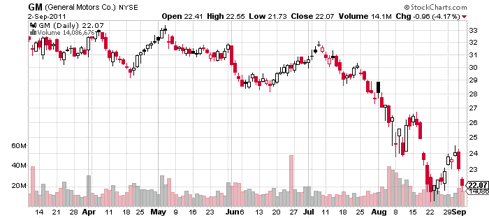 GM has also been able to deliver a ROE of 28% with a relatively small amount of debt. Competitors Toyota (TM) and Ford (F) have been struggling to keep up, even with their massive amounts of debt. To be fair, GM has received a bailout from the government which has allowed it to maintain its competitive edge. Nonetheless, it is beating its competitors and the charts are still dropping!
GM is at a great price, even though it may be able to produce a very high return for shareholders. Even conservative intrinsic value calculations are pricing the company at above $30, which means a gain of 50%. These gains may take years to materialize and you may see your investment continue to lose before they do, but the value investor realizes that time is on his or her side and if the price goes lower, it only means an even better opportunity.
GM has seen a rocky past and many are forecasting a bleak future. GM is hated on Wall Street because of the bankruptcy and the more recent risks associated with the pension shortfall and recession. In my opinion, these fears have been overstated in the price, considering the relatively small risk of a double-dip recession and the amount of cash GM has. GM is priced like a penny-stock even though the odds are in its favor.
Investors and traders see so much risk in GM that it actually isn't risky anymore. While most are putting everything in the safe-havens, GM is becoming the safest-haven. GM can withstand a substantial blow and still be a good buy. It may not fit all of Graham's criteria as a value stock since it doesn't pay a dividend and is actually a new company (because of the bankruptcy), but it does have a very high margin of safety. Even with a higher valuation, its prospects would be attractive and at this price, it's even better. After all, the risk of losing a nickel almost doesn't matter when you stand to gain a dollar.