After my article on Canadian Imperial Bank of Commerce (CBIC), Bank of Montreal (NYSE:BMO) seemed to be the next popular choice.
Since the beginning of July, we have seen the Montreal Bank in news. On July 5, BMO announced the complete acquisition of the Marshall & Ilsley Corp (NYSE:MI), one of the major bank holding companies based in Milwaukee. With consolidated assets worth around $50.8 billion and a total deposit of around $38.3 billion, Marshall & Ilsley is prominent in the niche of commercial banking, community banking, treasury services and wealth management. Marshall & Ilsley has been merged with the Harris Bank to form BMO Harris Bank N.A., part of BMO Financial Group.
"The acquisition will also result in an expanded U.S. private banking presence for BMO and the addition of M&I's asset management and institutional trust businesses will increase our U.S. presence, add scale and bolster our global investment capabilities," said Bill Downe, President-CEO of BMO Financial Group.
It is notable that the company is focusing on increasing its U.S. presence, especially in the private and commercial banking, institutional services and wealth management niches.
And this was even further reiterated from that fact that the company has been significantly expanding its capital markets presence in Boston. "Over the past two years, BMO Capital Markets has been significantly expanding its presence in the U.S. Since the end of 2009 we have tripled the size of our office in Boston from seven employees to 22," said Perry Hoffmeister, Head of U.S. investment and corporate banking, BMO Capital Markets.
If I remember correctly, BMO acquired AMCORE Bank N.A. on April 23, 2010, and Lloyd George on April 28, 2011. Interestingly, the Diners Club North America was bought from Citigroup (NYSE:C) in December 2009. Are we seeing a trend where BMO is slowly shifting its base towards asset management and commercial banking big time?
If we look below, global commercial banking is on the rise. Perhaps, BMO is on the right track.
[Click to enlarge]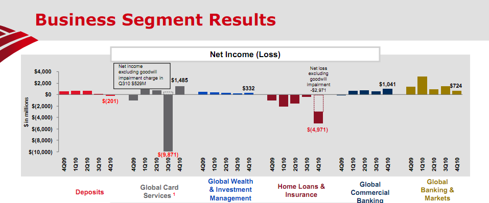 Although the return on average equity doesn't seem to be satisfactory, registered at 13.45%, compared with CBIC's 21.62%, not to even mention of 101.48% of Grupo Financiero Galicia S.A, I would still like to see how it comes out in the next quarter or two.
I would do a Part-II on Bank of Montreal in a couple of days, focusing on hard-core financial reports. Stay tuned.
Disclosure: I have no positions in any stocks mentioned, and no plans to initiate any positions within the next 72 hours.