Altria Group, Inc. (NYSE:MO) is the parent company of Philip Morris USA, John Middleton and Philip Morris Capital Corp. Philip Morris International (NYSE:PM) was spun off in 2008. PM sells cigarette products exclusively outside of U.S. borders. MO sells cigarettes exclusively in the U.S. There are compelling reasons for investors to consider Altria a core portfolio stock holding. This is especially true during times of turbulent stock markets.
5 Business Units
MO's core brands include Marlboro, Benson & Hedges, Merit, and Virginia Slims. MO's primary revenue driver is cigarettes within the U.S. Cigarettes provide in excess of 80% of Altria's operating profits. The company does also have operating profits in four other business units: smokeless tobacco (12% operating profits); cigars (3%); wine (1%); and financial services (2.4%). MO is the biggest seller of cigarettes within the U.S. MO's U.S. tobacco market share is approximately 50%.
Smokeless Tobacco Growth
MO owns the leading smokeless tobacco brand names, such as Copenhagen and Skoal. These two core brand names increased their combined second-quarter retail share up 0.8 share points compared to the prior year. Smokeless tobacco is providing a current 12% of MO's operating profits.
More cigarette smokers are trying smokeless tobacco. This transition to the smokeless tobacco industry leaders provides growth opportunities for MO to market and prepare for in the near term.
Ste. Michelle Wine Estates Growth
The winery growth continues to shine on MO's income statement. The wine segment rose 9.4% for the second quarter year-over-year, and increased 8% for the first 6-months of the year in comparison to the prior year.
Although this business segment is only 1% of operating profits, the growth continues to improve. Ste. Michelle Wine Estates continues to receive positive feedback and reviews on their wines. This business segment has the potential to move to a 5-6% operating profit segment.
click to enlarge images

Legal Risks
Readers should be fully aware of Altria's legal risks. In the annual report, SEC 10K, pages 17 - 52 highlight ongoing lawsuits, results of lawsuits, legal proceedings, regulatory risks, and all other legal issues. These issues are not trivial and are extensive in scope and financial claims.
Shareholder Friendly
Income investors know management's focus upon increasing dividends, stock buybacks, and providing market-beating stock returns. The above table shows a 3-year 29.3% total annualized rate of return compared to the S&P 500's return of 13.0%. MO has beat the S&P 500 every year since 2000.
Summary
In a turbulent market, MO is one stock which operates independent of the economic landscape. Cigarettes are a legal U.S. product. Some people choose to smoke. Key rationale for buying this stock include:
MO has a .45 beta compared to the overall stock market. When other equities are volatile, MO's stock price trades within a narrow range. MO has traded between $22.75 - $28.13 for the past 52-weeks.
MO's dividend has been raised 45 times in the past 42 years. Management is clear on rewarding shareholders with sharing profits and sound financial decisions.
MO continued to show investors that dividend increases are a key focus. On August 26th, 2011, MO increased their quarterly dividend 7.9% from 38 cents per quarter to 41 cents per quarter. The annual dividend yield is 6.1% based upon a $26.72 MO stock price.
MO continues to aggressively buy back shares. On January 27th, the company committed to buying back $1 billion in MO shares during 2011.
MO continues to see progress in smokeless tobacco sales and wine sales. These product lines will provide growth markets for the upcoming years.
MO, on July 20th, confirmed that earnings per share (not counting one-time adjustments) will increase between 6-9% for the year. EPS figures should arrive at $2.01 - $2.07 per share. This represents a reasonable 13x price-to-earnings multiple for a sound company.
In 2011, Fortune magazine ranked MO number one in the tobacco industry for financial soundness and long-term investment.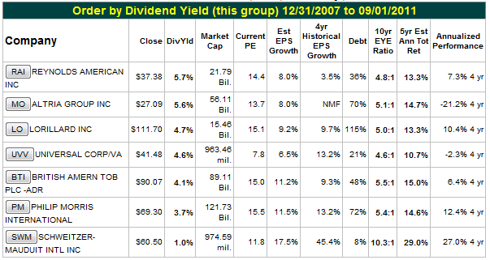 Reynolds American Inc. (NYSE:RAI)
Reynolds American is the second leading cigarette producer in the United States, behind Altria. Core brands include: Winston, Doral, Camel, Salem, Pall Mall, Kool, and Vantage. Winston and Camel are the key brand names in terms of revenues. BTI owns 42% of RAI common stock. RAI sold their international business to Japan Tobacco in 1999. RAI management has been more aggressive in dividend increases than stock buybacks. This is due to BTI's significant RAI-ownership.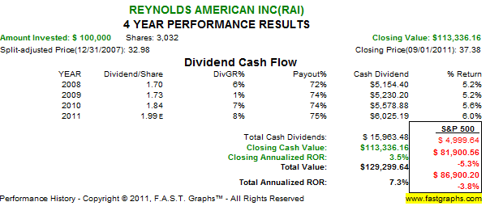 Lorillard, Inc. (NYSE:LO)
Lorillard, Inc. is a producer and marketer of cigarettes. Core brand names include Newport, Kent, True, Maverick, and Old Gold. Newport, however, was 90% of LO's 2010 revenues.
The company was spun off from Loews Corporation in June 2008. Loews interest was spun off to the Carolina Group. The Carolina group receives one LO share for every three Carolina Group shares. LO has been very aggressive in stock buybacks and dividend increases.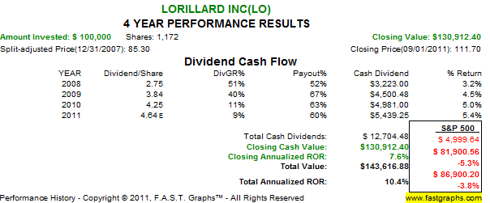 Universal Corp. (NYSE:UVV)
Universal Corp.is the largest leaf tobacco importer and exporter worldwide. Key business activities include the buying, selling, processing of tobacco to companies involved in cigarette, pipe tobacco, and also cigar producers. Operations exist in 35 countries. Core tobacco products are flue-cured and burley.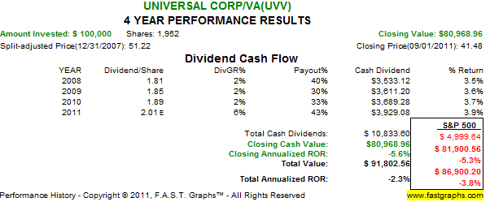 British American Tobacco plc (NYSEMKT:BTI)
BTI is one of the largest tobacco companies in terms of revenues, profits, and product offerings. BTI does own a 42% stake in Reynolds American via Brown & Williamson. The business model is similar to PMI. BTI produces, sells, and distributes tobacco products worldwide. Core brands include: Dunhill, Kool, Benson & Hedges, Lucky Strike, and Kent.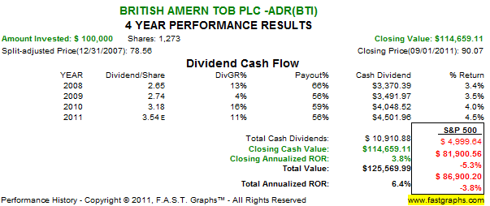 Philip Morris International, Inc. (PM)
Philip Morris International produces, sells and distributes a diverse offering of tobacco products outside the United States. The company separated from Altria (MO) a few years ago. Altria sells cigarettes and tobacco offerings in the U.S. The business is based out of Switzerland. Core products include Marlboro, Philip Morris, Chesterfield, Parliament, and L&M.
Operating profits can be viewed by the following areas: European Union, 37.6%; Eastern Europe, Middle East and Africa, 27.5%, Asia, 26.6%, Latin America & Canada, 8.3%.
PM has factories in over 50 worldwide locations.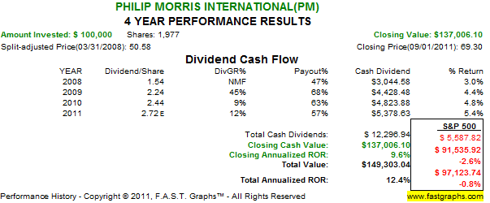 Schweitzer-Mauduit International Inc. (NYSE:SWM)
Schweitzer-Mauduit (SVM) offers high quality paper to the companies engaged in the tobacco industry. Product offerings include cigarettes, reconstituted tobacco leaf, plug wrap, and tipping papers. The company's core business customers are the industry leaders of retail tobacco products. The company is based out of Georgia, U.S. The company does have operations in over 90 countries.