Make no mistake about it, Netflix (NASDAQ:NFLX) is in disarray. The company announced its new pricing model on July 12th. The stock preceded to tank from an intraday high of $304.79 on July 13th to as low as $203.35 on August 22nd. Don't blame macro events, NFLX has officially lost its momentum.
One hundred dollar drops do not happen to strong stocks or as the result of some masterful tweak to a subscription service's pricing model. Have a look at Apple (NASDAQ:AAPL). Over the last year it has not experienced anything close to that type of sustained and concentrated freefall through flash crashes, major market corrections and two Steve Jobs-related stories in less than nine months.
After recovering modestly from that August 22nd low, Netflix got hit with more bad news the day its rather abrupt price change took effect. On the news that Liberty Starz (LSTZA) decided to protect the integrity of its programming and end contract talks with Netflix, the stock plummeted as much as 12.9 percent overnight.
As the short case finally comes to, let's consider what lays ahead for Netflix.
When the company reports Q3 earnings (Yahoo! Finance puts the date at October 25th), we'll get a glimpse at how the price change impacted the subscriber mix for about one month (September) of the July-August-September third quarter.
Assuming most consumers make up their minds by the end of September (it's probably safe to assume that most already have), one month could be enough to see the effects. It's more likely, however, that we will not get a truly realistic handle on things until the Q4 report. Netflix itself contends that Q3 will not be pretty, but come Q4, they'll rack up $1 billion in revenue.
Here's how Netflix sees things going down, as of its Q2 letter to shareholders:
(Click all images to enlarge)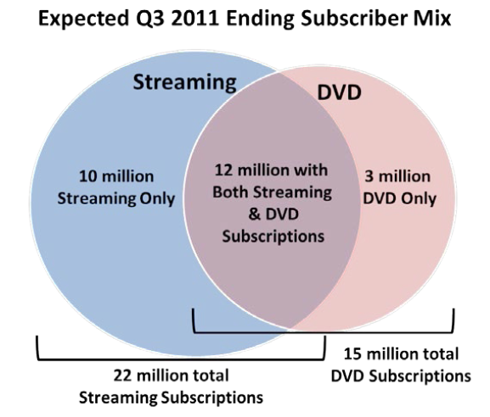 When Netflix released that visual, I scoffed. Compare the breadth and quality of the company's streaming service with that of its DVD offering and the answer is clear -- more people will go DVD only than Netflix anticipates.
While the Starz news could cause more subscribers to jump ship, it must receive proper perspective. Sony (NYSE:SNE) movies remain absent from Netflix streaming -- and it now looks doubtful they'll ever come back (remember when Netflix referred to the "temporary removal" of the content?). But the rest of the Starz content stays, as far as I know, through February 2012. Therefore, while it's bad PR, it might not cause a mass subscriber exodus.
The bigger story revolves around what I have been harping on for months -- content dilution. Starz confirmed that I was on to something by citing content dilution as the primary reason for its decision. This leaves Netflix in an incredible pickle, as Starz is surely not the only studio unwilling to give its programming away to Netflix who then effectively resells it for a song.
If Netflix misses by even a little with its subscriber projections, expect more abrupt changes. I am on record, several times, as stating that I think more people will go to DVD only than Netflix anticipates. If this happens, expect much lower guidance and, quite possibly, revenue and EPS misses. I would not be shocked to see the company report a loss at some stage in 2012 as content acquisition obligations come due, subscriber growth stagnates or possibly goes backwards and the high relative cost of servicing increased DVD shipments takes its toll.
It will now come down to how -- and how quickly -- the company reacts. I think Netflix will find a way to raise cash in an effort to get its streaming service where it needs to be. Up until now, the company has plowed money saved on DVD delivery costs and reaped from torrid subscriber growth into buying new digital content. Under my scenario, both sources of cash flow cease to exist.
Consider the following numbers from Netflix's most recent 10-Q. Pay close attention to costs associated with DVD delivery. If they rise as a result of the price increase, as I predict, the flood gates open even more, as content acquisition and international expansion costs continue to grow exponentially.

Netflix could raise cash through some type of secondary stock offering or other type of tightrope act. The more likely scenario, however, is that Netflix spins off its DVD business. After the price hike, I wrote that that's exactly what would eventually happen. Netflix responded to that claim in its Q2 shareholder letter:
Because we believe we can best generate profits and satisfaction by keeping DVD by mail as a division, we have no intention of selling it. In Q4, we'll also return to marketing our DVD by mail service, something we haven't done for many quarters. Our goal is to keep DVD as healthy as possible for as many years as possible.
First, the only reason why Netflix wants to "keep DVD as healthy as possible" is because the movie studios that effectively call Netflix's shots want to keep it as healthy as possible. Like so much of what this company says, the line about not spinning off DVD is ephemeral smoke and mirrors.
I don't see how, short of some other cash infusion, Netflix can stay in business without making this move.
Simply put, streaming is the future. Netflix CEO Reed Hastings has said as much on many occasions. Netflix needs loads of cash to get its streaming service to where it needs to be to command the subscriber numbers it thinks it can today, even as streaming remains inferior to DVD. If I am correct and DVD delivery costs rise, while subscriber growth goes south, cash flow evaporates.
By selling the DVD unit, Netflix would take a massive hit. Under such a scenario, I think the company's stock would plummet to less than $100. It would then take the cash from the sale of the DVD segment and plow it back into digital content, overpaying every step of the way in a frantic attempt to make streaming worthy of tens of millions of subscribers.
The big question -- can Netflix find a sucker to buy a business that has the year 2000 written all over it? In fact, that's a huge question. Don't forget, whatever happens as a result of the price hike, subscriber-wise, Netflix still has to pour money into international expansion and digital content acquisition, which becomes even more urgent in light of the Starz news.
Under the bull case for Netflix, everything the company does, going forward, must go off without a hitch. If the subscriber mix does not come in as Netflix predicts and more consumers opt for DVD only, things will turn into more of an absolute mess than they already are. Without a cash infusion, preferably by selling the DVD segment (and lifting that considerable overhead off its back), something Len Brecken predicted earlier this year will, all of a sudden, not sound so crazy: The long-time Netflix bear predicted bankruptcy and a sub-$5.00 stock by the end of 2012.
At this point, I am strongly considering buying out-of-the-money NFLX puts ahead of its Q3 and Q4 earnings reports. As the quarterly reports draws near, I will discuss specific ways that I plan to play the continuation of the implosion.
Disclosure: I may open and close positions in any of the stocks mentioned, often using options, at any time.