Rush Enterprises (NASDAQ:RUSHA) is a full-service, integrated retailer of commercial vehicles and related services. Through its network of Rush Truck Centers, the company provides one-stop service for the needs of its commercial vehicle customers, including retail sales of new and used vehicles, aftermarket parts sales, service/repair stations, and financing/leasing-related products. Rush's gross profit by revenue category is shown below (Image Source: 2010 Annual Report).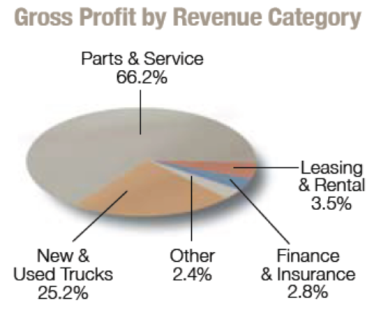 Financial and Valuation Summary
Rush's revenue is on track this year to outpace previous peak results witnessed in 2006. Relatively higher absorption rates should drive earnings above the previous cyclical peak in coming years. This will be driven primarily by increases in its higher-margin parts and services revenue stream, an acceleration in commercial truck sales to satisfy pent-up demand, and a larger product suite via Navistar.

Investors should expect peak earnings during this commercial truck cycle of greater than $2.50 per share for Rush (2013) and normalized earnings of about $1.50 - $2 per share (Rush is currently trading around $17 per share). This earnings potential is well above its five-year earnings range of $0.64 and $1.46. Assuming a forward market multiple of about 13x, Rush's shares have upside to about $30 in the most optimistic of valuations and downside valuation risk to the high teens based the lower end of a normalized earnings estimate and applying 13x multiple to such estimate.

On a discounted cash-flow basis Rush's shares are worth about $21 each. Due to the timing of cash flows (free cash flow will be significantly negative this year), Rush is valued slightly lower under a DCF process than with traditional earnings multiple analysis. However, its prospects for outperformance during the coming commercial truck upswing indicate significant valuation support at today's levels.

We make our DCF valuation model template available for investors here to use to value Rush and any other operating firm. And we would consider adding the company to our Best Ideas portfolio under $14 per share based on the downside estimate displayed in the table above.
Key Strengths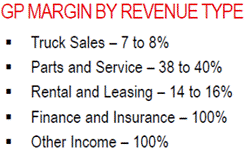 The firm's parts and services segment generates roughly 60% to 70% of total gross profit. This is a higher margin and recurring revenue stream -- more lucrative than truck sales and its rental and leasing business lines (Image Source: Investor Presentation)

Parts and services continue to grow rapidly

. The firm is the only authorized dealer for Peterbilt, made by Paccar (NASDAQ:PCAR) and International parts in the territories it serves. The company has capabilities for all makes and models at its locations – truly a one-stop service for the needs of commercial vehicle customers.
Key Weaknesses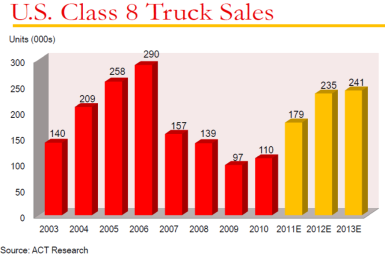 Despite high parts and services revenue, peak performance is still heavily levered to the cyclical trucking industry. New and used commercial vehicle sales (60% to 70% of total revenue) are tied heavily to the health of the economy and freight volumes. (Image Source: Investor Presentation).

The firm has tiny company-wide operating margins (less than 3% in each of the last three years), but typical of the dealer industry. Nonetheless, this leaves little margin for error.

The firm's debt load is somewhat aggressive. Total debt, including floor plan, to total cap is about 50%. Floor plan financing creates a dependency on the health of the capital/credit markets. Plus, its rollup strategy will create additional debt.

The firm's return on invested capital is weak. Rush is not generating

economic value for shareholders (ROIC<WACC). However, even a poor company can be a great investment at the right price.
Key Opportunities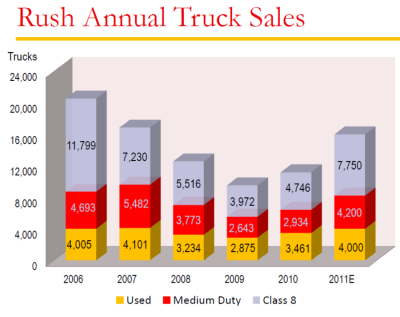 The age of the truck population is the oldest in some time, revealing a source of pent up demand. Plus, the cyclical replacement cycle appears to be accelerating. From its second-quarter press release: "The second quarter marked our first meaningful increase in Class 8 and medium-duty truck sales since Class 8 industry orders began increasing in November 2010" (Image Source: Investor Presentation).

The addition of its new Navistar division provides additional presence via yet another OEM. Rush continues to expand the scope of existing commercial equipment offerings.

Its higher-margin and recurring parts and services revenue continues to grow and provide a solid earnings base.

Rush has further runway with respect to geographic expansion. It currently has 65 locations in just 14 states.
Key Threats/Risks


Though addition of Navistar helps, exposure to Peterbilt is still large percentage of business. Sales of new Peterbilt trucks accounted for approximately 40% of the firm's total revenues in 2010.

The firm lacks material competitive advantages. Rush competes with a large number of independent dealers, factory-owned dealers, and independent service centers. There is significant competition both within the markets it currently serves and in markets that it may enter. Moreover, its dealership agreements generally do not contractually provide the firm with exclusive dealerships in any territory.

Management has goals to achieve $5 billion in revenue on 20% ROE. Total revenue is on track to hit about $2.5 billion this year. Efforts to double the top-line from here could create significant overpayment and selection risk with respect to future acquisitions and further heighten the firm's debt load. In our opinion, the firm will have to take some drastic measures in order to reach ROEs anywhere near 20%.

Investors have little influence on the strategic direction of firm. W. Marvin Rush and W. M. "Rusty" Rush collectively control more than 34.1% of the aggregate voting power of the firm's outstanding shares and voting power.

Inventory will be a significant drag on near-term free cash flow. Inventories have advanced considerably during the upswing and into the second quarter of 2011. We expect these inventories to provide a cash-flow boost once backlog is recognized, however.
Disclosure: I have no positions in any stocks mentioned, and no plans to initiate any positions within the next 72 hours.